Fritz Bennewitz, the German master of Brechtian drama, would gently grip her face, plugging her blooming dimples with his forefingers and say, "Excellent, excellent". This was around 1982, during rehearsals for the Kannada adaptation of Brecht's epic comedy, Mr Puntila and his Man Matti, which he was then directing. That was the first big acknowledgement of Umashree's talent, but this praise hardly meant anything to her in those days.
First, she did not understand the importance of either Brecht or Bennewitz, and amateur theatre was not the place to earn money. She was there perchance, thankful for the opportunity but impatient to get back. It was the professional and touring rural stage, in and around Tumkur and Bangalore, that had literally kept her alive since 1978.
With Gulabi Talkies and the national award for acting, a talented Kannada actress triumphs over disdain and prejudice.
It was by accident that Umashree, who was last month declared winner of the national award for 2007, for her performance in Girish Kasaravalli's Kannada film Gulabi Talkies, had become an actress. She was unschooled and there had been no entertainers in her family, which was traditionally into weaving. "It appears a little strange that I am now being feted with the national award, but I took to acting because I had to feed myself after my husband deserted me and my mother refused to take me back. I was 17 and had a little girl, and was pregnant with another child," she said. "I felt helpless and contemplated suicide, but then a kind soul took pity and led me to the stage. I worked very hard, struggled and have miraculously survived. My mother never accepted me. For her, acting was akin to prostitution."
Living on the edge most of the time, Umashree accepted whatever roles came her way, her judges not people like Bennewitz, but those who sat in the back benches of those tents in the villages. "If their whistles rent the air and they made their farmaish, my day was made and there was hope for the next one," she says. After a point, besides rural theatre, she found opportunity in what was known as "industrial theatre", meaning hobby troupes in public sector organisations. It was a vibrant scene and became her established route for sustenance. But her occasional appearance on the amateur stage for legendary directors like B.V. Karanth ensured her skills were sharpened on a different whetstone. In fact, to this day, her role as Sakavva in the play Odalala, directed by C.G. Krishnaswamy, is rated highly in amateur theatre.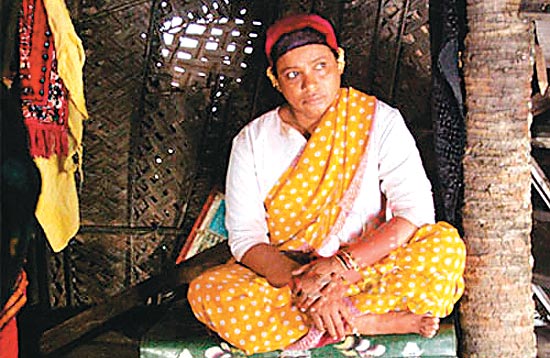 Like theatre, cinema too was an accident for Umashree. One day, when she had accompanied her actress-friend Pramila Joshai to the sets of the film Pattanakke Bandha Patniyaru, the desperate search for a person to do a tiny role of an office secretary ended with her. She was given a pair of trousers and a shirt to wear; they put a curly wig and thrust a cigarette into her hand. It lasted for just a couple of minutes. After this, she landed a slightly bigger role—of a woman who seduces a newly-married and dissatisfied man—in the movie Anubhava. The role, in a way, typecast her for nearly a decade. "It came to be considered a cheap role because it was in Kannada," she says. "But if it had been done by Smita or Shabana in Hindi, people would have seen it as a work of art. I became popular with this role, but I realised that my dignity as an actress had come crashing."
The years that followed saw her getting paired with N.S. Rao, who does Dada Kondke-like roles in Kannada cinema. She mouthed pedestrian dialogue, often loaded with sexual innuendo, in over 70 movies. Her popularity grew and she became financially stable, but there were many who felt her talents were being wasted. Her deliverance from this would come only with the death of Rao. "I had no work for a year after his death. I don't feel embarrassed I played those roles. But there was one thing that hurt me deeply. I was never amoral in life, but because of these roles people perceived me as a fallen woman," she says. However, by 1995, she had, with some effort, recast herself as a screen mother and grandmother.
After the uncharted chaos her career had become, rediscovery by a brilliant filmmaker like Girish Kasaravalli for the role of Gulabi, a Muslim midwife caught in the vicious currents of communalism, was perhaps yet another accident. Actually, people always knew her potential. As early as 1982, T.S. Ranga, who introduced Nana Patekar to films and cast Smita Patil and Om Puri in his masterpiece Giddh, had cast Umashree in a docudrama on lepers. Ranga also introduced her to Bennewitz. "Between then and now she was lost. She is not cerebral like Shabana, but depends on instinct, like Smita, I'd surely place her alongside those two fine actresses," says Ranga.
In a rare tribute, Kasaravalli, who never recasts his lead players, has cast Umashree again for his next film. "Her strength lies in not overly sentimentalising something. Her range is stupendous," he says. "As Gulabi, she neither became melodramatic nor subjected herself to great restraint. In her cheer you can perceive her loneliness."
Another turn in Umashree's eventful life is that she now plays a part in Congress politics. She was nominated an MLC and unsuccessfully contested an election. "Politics is my future. When I get no more roles, politics will take care of my loneliness," she says.