The low, flat-topped hills of south Orissa have been home to the Dongria Kondh long before there was a country called India or a state called Orissa. The hills watched over the Kondh. The Kondh watched over the hills and worshipped them as living deities. Now these hills have been sold for the bauxite they contain. For the Kondh it's as though god has been sold. They ask how much god would go for if the god were Ram or Allah or Jesus Christ?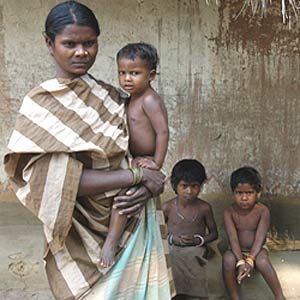 Red terror?: A tribal woman with her children in Dantewada
...
Read More from Outlook
Prakash Singh / Several commissions were appointed from time to time at the state and central levels for reforms in the police, but their core recommendations were never accepted.
Neeraj Thakur / While cutting India's rating, Moody's had cited policy challenges in addressing a prolonged economic slowdown and its deteriorating fiscal position.
PTI / Three-time winners CSK endured their worst outing last season, a far cry from the manner in which they are dominating in this IPL edition.
Chinki Sinha / It disturbing but it is important to remember that violence repeats itself in the same ways. Meena Kandasamy's poem is a poem that is invested in the social.