The low, flat-topped hills of south Orissa have been home to the Dongria Kondh long before there was a country called India or a state called Orissa. The hills watched over the Kondh. The Kondh watched over the hills and worshipped them as living deities. Now these hills have been sold for the bauxite they contain. For the Kondh it's as though god has been sold. They ask how much god would go for if the god were Ram or Allah or Jesus Christ?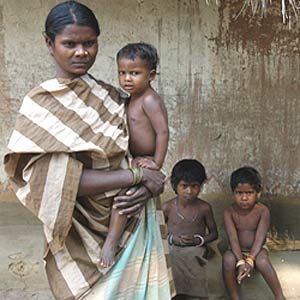 Red terror?: A tribal woman with her children in Dantewada
...
Read More from Outlook
Outlook Web Desk / Uttarakhand Chief Minister Pushkar Singh Dhami reiterated his appeal to Chardham yatris to stay where they are and not to resume their journey before the weather improved.
Outlook Web Desk / Kushinagar is the final resting place of Gautama Buddha where he is believed to have attained Mahaparinirvana after his death and is among the most important pilgrim spots for Buddhists.
Jayanta Oinam / Follow live cricket scores and updates of India vs Australia warm-up match in Dubai. Both teams are in the T20 World Cup 2021 Super-12 stage.
Outlook Web Desk / The Supreme Court asked the Uttar Pradesh govt to record statements of remaining witnesses in the Lakhimpur Kheri case.