The low, flat-topped hills of south Orissa have been home to the Dongria Kondh long before there was a country called India or a state called Orissa. The hills watched over the Kondh. The Kondh watched over the hills and worshipped them as living deities. Now these hills have been sold for the bauxite they contain. For the Kondh it's as though god has been sold. They ask how much god would go for if the god were Ram or Allah or Jesus Christ?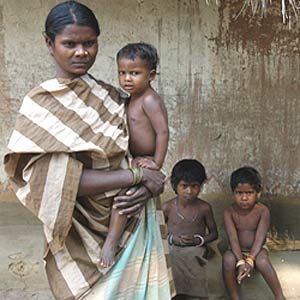 Red terror?: A tribal woman with her children in Dantewada
...
Read More from Outlook
Seema Guha / Apart from in-person meetings with Joe Biden and Kamala Harris, PM Modi will address the UNGA and Quad summits and may share India's concerns on use of Afghanistan as a terror hub.
Outlook Web Desk / Lack of concurrence has been cited by the sources as the reason behind the cancellation as India along with some other members expressed dissent to the proposal.
PTI / KL Rahul said Punjab Kings 'haven't learnt from previous mistakes' after his team gifted the match to Rajasthan Royals.
Outlook Web Desk / The armed forces are the best response team to deal with emergency situations and it is hopeful that necessary arrangements will be made... without delay.