The low, flat-topped hills of south Orissa have been home to the Dongria Kondh long before there was a country called India or a state called Orissa. The hills watched over the Kondh. The Kondh watched over the hills and worshipped them as living deities. Now these hills have been sold for the bauxite they contain. For the Kondh it's as though god has been sold. They ask how much god would go for if the god were Ram or Allah or Jesus Christ?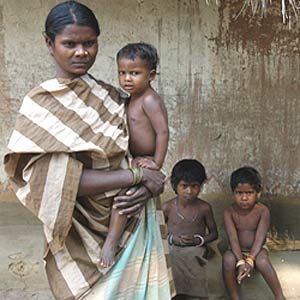 Red terror?: A tribal woman with her children in Dantewada
...
Read More from Outlook
Harish Manav / Brahm Mohindra, Manpreet Singh Badal, Tript Rajinder Singh Bajwa, Aruna Chaudhary, Sukhbinder Singh Sarkaria and Rana Gurjit Singh sworn-in as cabinet ministers.
Bharat Singh / The number of votes of backward and SC/ST fraternities in the state is very high and that is the primary reason why BJP is giving preference to them anddesignating them on ministerial posts.
PTI / Follow live cricket scores and updates of Chennai Super Kings vs Kolkata Knight Riders. Both teams are unbeaten in the UAE leg of IPL 2021.
Sandeep Sahu / Cyclone 'Gulaab' is likely to move westwards and cross the north Andhra Pradesh-south Odisha coast around. Wind speeds could reach 75-85 km/hr, gusting up to 95 km/hr, during landfall.