Out of the blue, in early October, PM Narendra Modi, otherwise a known bitter critic of the Nehru-Gandhi dynasty, decided to invoke both Nehru and Indira at an election rally in Hissar in Haryana. For the first time ever, PM Modi was urging schools to have a special five day cleanliness campaign for children, from November 14th, Nehru's 125th birth anniversary, to November 19th, Indira Gandhi's 97th. Speaking at the rally Modi said, "every school and anganwadi should hold cleanliness campaigns on the five days." He added, "We are not in the politics of untouchability."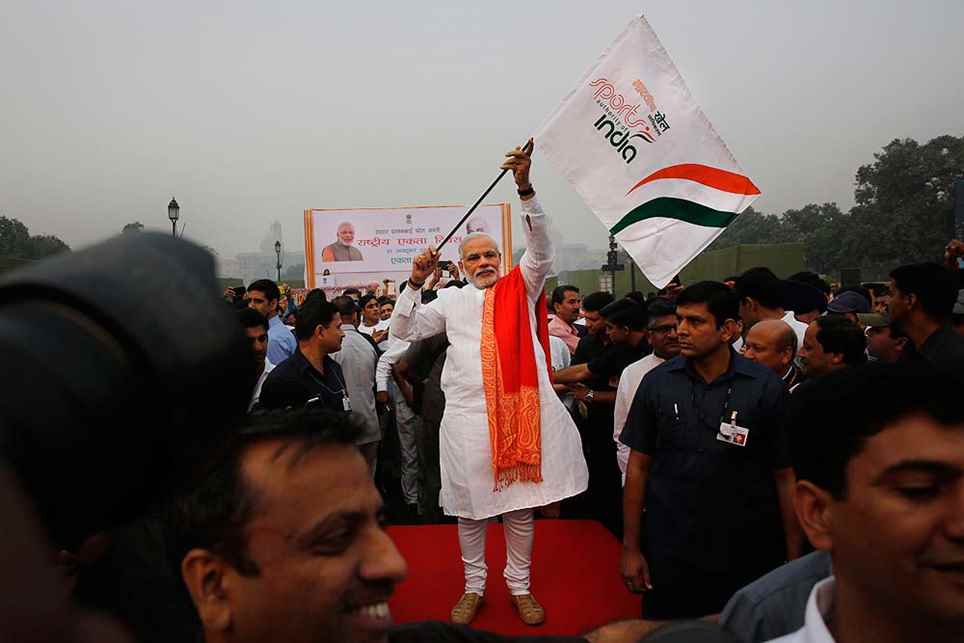 Prime Minister Narendra Modi flags off a run for unity to mark the birth anniversary of Indian freedom fighter
and first Home Minister of Independent India Sardar Vallabhbhai Patel in New Delhi.
Evidently, the medium is the message here. The PM's shunning untouchability actually meant gobbling political turf belonging to the Congress. Sources in the BJP confirmed that the PM's U-turn on Nehru and Indira wasn't simply an act of benevolence or a desire for inclusiveness. It was a well thought out strategy. Modi, wanted to use the two anniversaries of Nehru and Indira to give impetus to his Clean India campaign. More than that, the astute politician in Modi was actually working towards stealing the thunder from the Congress by connecting his own campaign to Congress's icons. If there was any chance for the Congress to grab attention over anniversary celebrations of two of its biggest icons, Modi was ensuring that the Congress was robbed of just that.
If there was shock, the Congress did not reveal it then. Modi's invocation of the Nehru-Gandhi dynasty had come five months after Congress president Sonia Gandhi had resigned from the official panel to commemorate Nehru's 125th birth anniversary. Till now there had been only studied silence from the PM and the government on any plans for Nehru's anniversary celebrations. Fearing a complete washout, the Indian National Congress (INC) had got down to some serious business itself. The Congress wasn't going to allow the NDA government to relegate Nehru, its greatest icon ever, to the dusty attic. Already, Modi had successfully appropriated both the Mahatma and the Sardar, so far only Congress's icons, as his own. On Gandhi jayanti on October 2 and Patel's birth anniversary on October 31, Modi had reduced the Congress party to be mere spectators on the fence. Modi was now slowly moving in to capture more Congress turf.

President Pranab Mukherjee, Vice President Hamid Ansari, Prime Minister Manmohan Singh and Congress
President Sonia Gandhi during the 124th birth anniversary of former Prime Minister Pandit Jawaharlal Nehru,
in New Delhi on November 14, 2013.

For almost a month now, the INC committee led by former Karnataka governor Sheila Dikshit had been working on elaborate plans for a year-long calendar of celebrations for Nehru's 125th birth anniversary. As the Congress party planned and prepared for the occasion, trusted lieutenants in the BJP started raising the flag on what a Congress celebration for Nehru could mean for the BJP and the government. The estimate wasn't too rosy.
A highly placed source confirmed, "for the BJP, a strictly Congress celebration for a national icon like Nehru clearly meant presenting the Congress party with an opportunity that it had long waited for. Broadly speaking, it meant two things. One, that in the name of Nehru, the Congress party would find a very legit excuse to re-group and re-energise its otherwise disheartened cadre and, two, that through Nehru, the Congress would find its way back to re-assemble all non-BJP and non-Hindutwa forces under one umbrella." He added, "After all who can refuse an invite from the Congress party to celebrate Nehru's legacy? From the Left parties to the right wingers, if invited, everyone would have to be present at a function marking Nehru's contributions." What's more, it would also provide the Congress the fighting chance to hog media attention that such a celebration would receive. So far, Modi had successfully hijacked all media space, even on October 31st, Indira Gandhi's death anniversary, with his Run for unity for Sardar Patel. Clearly then, the Nehru celebrations had the potential to dent Modi's long going affair with the media, where the media would be forced to focus on a subject other than Modi, this time the Congress activities because of Nehru.
Surely, this wasn't what Modi's idea of Congress-mukt Bharat was willing to accept. It also wasn't something the resurgent BJP, was willing to allow. After all, 2014 was the first time that the BJP had dealt the Congress a deathly blow at the polls. It was also the first time that the BJP had not just managed to push the Congress party to the background but even dislodged them from the common man's psyche. How then could the BJP allow the Congress, a chance that could remotely help them revitalise?
So, on October 19th, less than a month for Nehru's anniversary, PM Modi decided to move centre-stage again. The national committee on Nehru's birth anniversary celebrations was re-constituted, carefully excluding the members of the Gandhi family. If the invocation of Nehru was going to be inevitable, then the NDA government wanted to turn it into an opportunity for itself. Sources in the BJP confirmed, "It would be stupid if we let the Congress walk away with this. Positioning is a very important aspect of marketing strategy and this event could well be all about positioning one self." And in 2014, who would know that better than the BJP?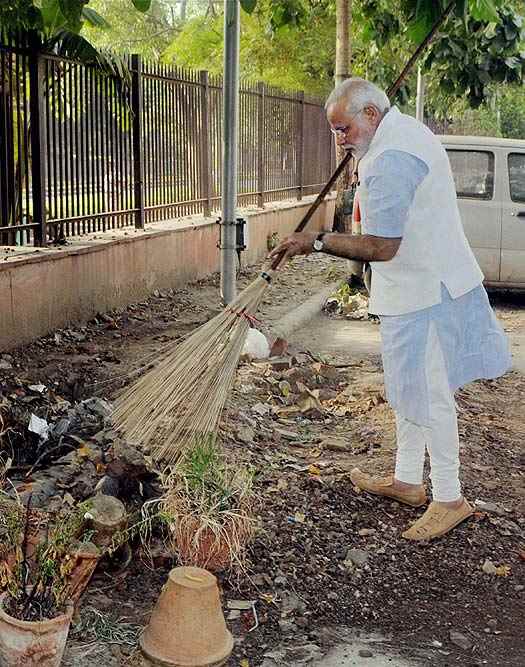 Prime Minister Narendra Modi wields the broom during a surprise visit to the Mandir Marg Police Station
after launch of 'Swachh Bharat Abhiyan', in New Delhi.

A senior Congress leader also a part of the 29-member Congress committee on Nehru celebrations explained, "You have to understand that Nehru is a glue that holds the Congress party. A celebration like this gives us the unique opportunity to enthuse our cadres along the lines of Nehruvian principles. It helps us bring people together who believe in secularism, modernity and one-ness of India. That could mean people from within the Congress or outside." He added, "Electorally, how it would unfold is a different matter. But November 14 celebrations would be our tool to put together everyone and every party who has the same ideology as ours."
Political analyst Pawan Khera added, "The entire event of Panditji's anniversary celebration would be around the Congress. The NDA government wants to deny the Congress party that space." Kherafurther emphasised, "Modi has no serious commitment to any icon or cause. As an able media manager every event is designed to turn himself into an icon. Every action of Modi is about hogging media attention and about projecting himself and no other."
So is the Nehru anniversary celebration a political gameplan for Modi? Short of saying yes, Sheila Dikshit reiterated, "There was an announcement by the PMO that no anniversaries of any leaders except Mahatma Gandhi would be celebrated by the government. We formed our committee only then. Thereafter what thought crossed their (government's) mind, I don't know." Was it a political strategy? Dikshit responded, "BJP came into power on its own for the first time only in this election. Before this the entire history of India concerns only the Congress party. They can try to appropriate our icons but people know history. It will be a futile attempt."
Does usurping Congress icons then stem from a lack of internationally known icons in BJP's own kitty? Perhaps more. No doubt, the BJP would need to educate people about its own ideological icons before establishing them as pan Indian idols. But if the BJP truly wants to wipe the Congress out from the political landscape of the country, it will have to pillage the party of its icons who provide the Congress its basic subsistence and the ability to re-establish its necessary connect with the masses. Defeating the Congress party electorally then would be just one part of Modi's long term plan. For a Congress-mukt Bharat, the BJP will have to erode the Congress's socio-political base by stripping it of its icons. It is after all an interesting method to boost pan-India credentials and to nip in bud an aggregation strategy that the Congress could have chanced upon.
***
Nehru Celebrations: Congress Plan
All Congress offices, AICC, PCC, BCC to be lit up from Nov 13 to 15
Huge portraits of Pandit Nehru to put up in all party offices
All Congress workers and visitors to take a pledge to pursue Nehrivian principles of secularism, modernity and one-ness of India.
A meet to be chaired by Congress president Sonia Gandhi to be held in Delhi's Talkatora stadium on Nov 14
JN Memorial fund to organise Nehru memorial lecture to be delivered by President Pranab Mukherjee on Nov 13
School children to be singing at Nehru's Samadhi on Nov 14 morning
JN Memorial fund to host a cultural programme on Nov 14 evening
An international conference of world leaders also on the cards
Seminar on Nehru to be organised by Indian universities all year through
Seminar on Nehru planned also in the Cambridge university
Books and films on Nehru to be released
---
This web exclusive story does not appear in print