Under Attack...
2012: Meerut-based Navnirman Sena beheads Mayawati statue in Uttar Pradesh
2012: Members of Hindu Jagaran Vedike barge into a private party in Mangalore and beat up people
2012: Mob attacks girl in Guwahati as she leaves pub
2011: Anna aide Prashant Bhushan attacked in his chambers by Bhagat Singh Kranti Sena members
2009: Shiv Sangram Sangathan cadre attacks editor of Marathi daily, Loksatta
2009: Forty members of Shiv Sena attack offices of TV channel IBN Lokmat
2009: Members of the Sri Rama Sena attack girls drinking at the Amnesia pub in Mangalore.
***
Is it moral policing or plain thuggery? Whether it was the madness in Mangalore last week or the shameful events in Guwahati a month before, vigilante groups are weaving a fresh thread of violence across the country. Most claim to act in the name of 'Indian tradition', attacking women dressed in western attire or the partying crowd. However, they are also taking to task those they perceive as being corrupt or unpatriotic. So if the Hindu Jagaran Vedike re-enacted at the Morning Mist homestay in Mangalore what the Sri Rama Sene had at the Amnesia pub three years earlier; in Uttar Pradesh, the little-known Navnirman Sena took out its wrath on a Mayawati statue, calling a live press conference even as they beheaded it, to announce their displeasure with the corruption and scams that had taken place under her chief ministership.
Ironically, though, this Meerut-based Sena was set up in opposition to those who can be called the very 'pioneers' of vigilantism in the country—the Shiv Sena and its offshoots in Maharashtra. Believed to have links with the Samajwadi Party, this Sena was created "to counter the attacks on north Indians by the Maharashtra Navnirman Sena (MNS) in Mumbai and other parts of the state." One of their first acts was to burn a district office of the Shiv Sena in Meerut.
And to think it was the Sena which set the template for hooliganism, be it in rounding up couples on Valentine's Day or in mounting a campaign against non-Maharashtrians in the state. Even when Bal Thackeray's estranged nephew Raj set up his own MNS, he imported the vigilante tradition from the parent party. No one is spared vigilante ire in the state, not even media houses and journalists. Workers of the Shiv Sangram Sangathan attacked Loksatta editor Kumar Ketkar's house in 2008. They were upset with an article he had written in the Marathi daily about the state government's plans to erect a statue of Maratha warrior Shivaji. A year later, the offices of IBN Lokmat were attacked in Mumbai after the news channel carried stories criticising the Shiv Sena. Several people in the office were beaten up and hurt seriously, with Sena workers using iron rods to hit people and destroy office property.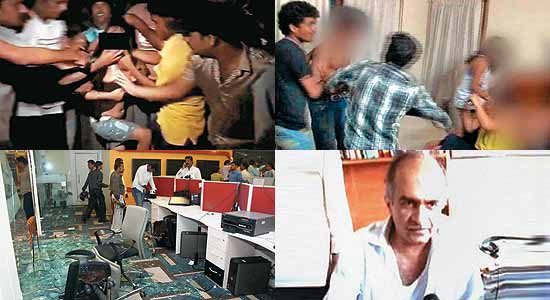 Slide into violence Guwahati, Morning Mist, IBN Lokmat, Prashant Bhushan
Meanwhile, another Bal Thackeray acolyte floated the Sri Rama Sene, whose exploits range from vandalising M.F. Husain paintings to mischievously hoisting a Pakistan flag on a government building in Bijapur to the infamous Amnesia incident where men and women were dragged out and beaten up for following what they perceived as 'western culture'.
What's worrisome is that the numbers and clout of such vigilante groups is only growing. The states often turn a blind eye to their doings, or express helplessness; the delayed reaction and the pro-active participation of the local media encourages them only further. Media presence, in fact, often amplifies violence, if not bring it about. As CPI(M) politburo member Brinda Karat says, "Such groups exist only because they have the patronage of the state government and functionaries in the ruling party. They are lumpen elements who are helped by the perverted mentality of orthodoxy in the name of Hindutva."
To get a sense of what she means, one only has to hear what HJV's Karnataka convenor, Jagdish Karath, told Outlook in the wake of the Morning Mist incident. "We have been working for the protection of the Hindu community for 25 years," he said. "That particular night, four girls in short dresses were partying with eight young men at an illegal venue. None of them was husband and wife or brother and sister. The drug and sex mafia is active in Mangalore. Local people attacked them because of this. We believe in democratic values."
Karnataka's record in protecting its people has been particularly poor in recent years. Be it the Bajrang Dal-led attacks on Mangalore churches to the Rama Sene's activities or HJV's recent burst of violence, the BJP-ruled state is believed to turn a blind eye to the lumpen elements of the Hindutva brigade. It could perhaps learn from another BJP-ruled state, Goa, which recently opposed Sri Rama Sene chief Pramod Muthalik's intention to set up a unit of the outfit in the state. Goa chief minister Manohar Parikkar, in fact, threatened to arrest anyone associating with vigilante groups.
In contrast, the people who were arrested in connection with the 2009 Mangalore incident roam free today. Likewise, members of the Bhagat Singh Kranti Sena (BSKS), who entered lawyer Prashant Bhushan's chambers last year, stripped his clothes and beat him up for allegedly supporting a plebiscite in Kashmir, were given bail a day after the incident.
"The administration," says human rights activist Vrinda Grover, "just makes token statements after the incidents occur, it takes no preventive action or sufficient punitive action against these illegal bodies." She, in fact, goes so far as to say, "The state keeps saying that the Maoists are a threat to internal security but actually these groups are becoming a bigger challenge to our internal security and fundamental rights. These groups will completely erase the people's faith in the Constitution of our country. Don't forget these are the groups which pro-actively participate in riots and anti-social actions. "
The vigilantes think otherwise. BSKS president Tejinder Pal Singh defends his cadres' attack on Bhushan and tells Outlook: "We attacked him because he supported Kasab and Afzal Guru. He supported the demand for a separate Kashmir and blamed the Indian army for the killings in J&K. We registered a complaint but the police took no action. We were bound to act against these anti-nationals." Taking matters into their own hands, that's the vigilante call, and dangerous precisely for that reason.
---
By Amba Batra Bakshi and Panini Anand