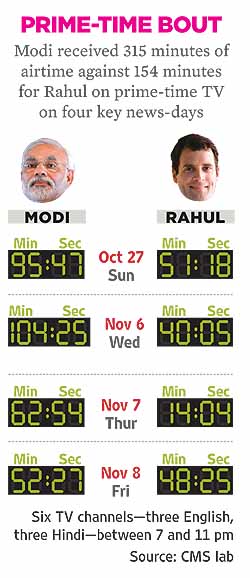 The Great Diktat
Election Commission's guidelines for TV
No political party should be given substantially more coverage than the others.
Balance implies that to no reasonable person should it appear that one political party is being projected to the exclusion of others.
In any constituency, only one candidate should not be projected. While it is not necessary to cover every single candidate (as some constituencies may have several more important candidates should be covered in any reports from a constituency.
***
"Indian news channels don't let minor matters like equality trouble them. They're obsessed with the man, to the point that Modi-fixation has become a clinical condition which may soon require treatment," writes media columnist Shailaja Bajpai in the Indian Express. For want of a better word, let's call it Modiitis, a perceptual affliction that makes one person look brobdingnagian. There is also Rahul Gandhi, he of the more feckless attempts to gain giant status from Gulliver's Travels. Like the power of hypnosis or that of mirrors creating an infinity of reflections, the power of mind-numbing footage repeats expands Modi and Rahul to towering presences, looming in airspace.
"This (the impression that it's a Modi-Rahul fight) is a fantasy created by the media."
Footage repeats of crowds that swarm together and multiply, never-ending speeches, cameras zooming, panning, zeroing in to close-ups and pulling out to take in a screenful of all-hailing heads and raised arms. Posters in which fellow leaders are shown as puny, online worship rituals, even a NaMo rap. On television, especially English news, more than in print, everything else is filtered out when they speak. Modi gets far more coverage than Rahul does, but then the latter gets far more than the scores of leaders from other parties in this federal polity. It's like two promos that never end.
Television news, chiefly English news, is demonstrating to Modi that the way it kept the 2002 anti-Muslim riots in Gujarat in the public memory, it can, when it is working to your advantage, keep you highly visible: Modi's first steps at a commerce college in Delhi, a speech to a business federation, another at a media conclave, a dialogue at a business channel. Industry backers have followed him; so have advertisers.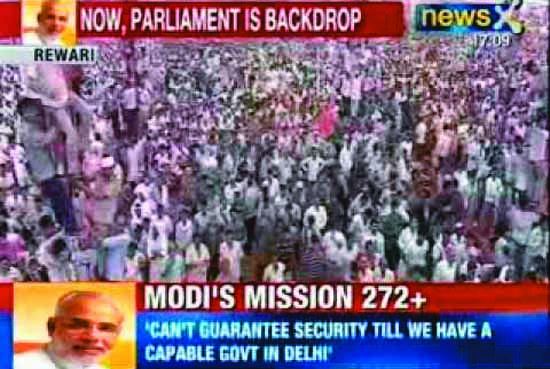 Multiplier effect TV coverage of Narendra Modi's rallies is repetitive, relentless
In the other camp, things are not too different, though they may be trailing a bit in the jousting for airspace. From the comments of Prime Minister Manmohan Singh and other cabinet colleagues who have expressed willingness to serve under Rahul, he seems the likely prime ministerial candidate. Rahul strides in, rolling his sleeves. The cameras zoom in. He has an answer, a repartee, a provocation. It's relayed immediately in a multitude of ways, television time, YouTube, Twitter, Facebook. The retort too. Unwittingly, it's become a presidential form of debate, one that Modi and the BJP always wanted. Are we witnessing a TV-projected presidential election campaign?
"Leaders have always been projected, even during coalitions. But Modi has used the media strategically."
Questions that are likely to cause them discomfort are never put to them. From all accounts, both dislike engaging with the media. So they call the shots. Both Modi and Rahul have large teams rolling along with them. A multiplicity of cameras, lots of footage that no TV editor would refuse. Satellite coordinates from which the team's footage will be available are tweeted to TV channel heads. Most take the bait, fearing that they will miss on something others are taking up. They don't care if the TV channel has sent its team, usually one OB van; they send their own footage, shot from multiple cameras and angles, straight to the TV channels. "At a recent rally out of Delhi, Rahul's team managers just sent a brief on how we could align our transponders with the coordinates furnished by them," says a TV news editor.
What is troubling is that the reality of Indian politics is far more complex than the binary being projected by the media. Especially so when two sets of elections come one after another: five states going to the polls in 2013, and a general election, or 'finals', in 2014. A brief analysis: in the last general election, more than half of India's voters did not vote for the Congress or the BJP. They might well be waiting for alliances to fructify. Says Jay Panda of the bjd, "For the last 25 years, every single government has been a coalition government. It will require many regional parties to be part of an arrangement before a government is formed."
"Regional players are leaders in their own right. A rebuttal by Nitish against Modi did get noticed."
What's worrying many media analysts is the logical question: is such coverage influencing viewers to favour a bipartisan polity and a two-horse race? Will mindsets be so fixed by TV-watching that viewers' behaviour will change too, as futuristic dystopias would have it? "The two-horse race motif has come to dominate election news coverage in many countries, taking after the US model—who's ahead, who's behind? The real issues, the larger political context—these things get left out," says Arvind Rajagopal, a professor at New York University. The media, he says, finds the simple two-head format appealing, and makes the case for coverage that does not lose itself in the binaries of Left versus Right or corporate-friendly economics versus welfare economics. Broad­casters grudgingly admit that it's the this-against-that format which makes for compulsive viewing. Pavan Varma, a former bureaucrat, now media advisor to Bihar chief minister Nitish Kumar, says, "While the Modi-vs-Rahul slanging matches play out, leaders with real mass base in the states find little coverage or discussion. There's an attempt by the BJP to make this appear like a presidential contest: the English channels seem to have swallowed this."
It is almost bizarre the way the media has done an about-turn. Its relationship with Modi began in acute (mutual) distrust after the 2002 anti-Muslim riots in Gujarat. Modi would simper, sulk or simply glare at a reporter who dared asked what ought not to have been asked. Eleven years on, it has turned to almost unquestioning obsession. Since his victory in the 2012 Gujarat elections, he was unofficially projected as the BJP's prime ministerial candidate, though the formality of making it official was completed only recently. Television, more than print, has become an unquestioning recorder. "What can we do if Modi speaks for 50 minutes and Rahul Gandhi or Sonia Gandhi speak only for 10 minutes?" asks Rajat Sharma, head of India TV. "My complaint is that they don't engage with the media and unlike in the west, where their absence in interactions is questioned, we have not done so." But another television channel editor says the media has "displayed a balanced approach".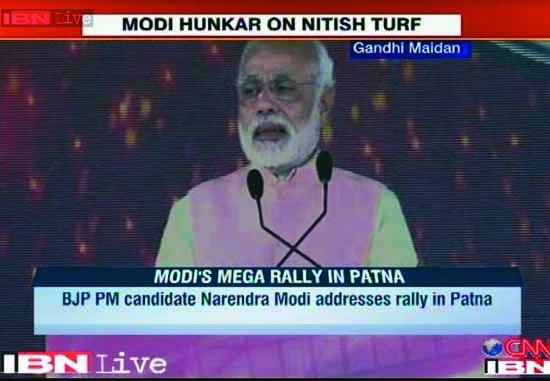 "We have been kind to Modi, Rahul, Sonia. Anywhere else they'd be questioned. Here, they stay unavailable."
Some tracking agencies confirm what's visible: that one man is certainly getting the better of it, coverage-wise. Modi got 14.6 per cent of the news share, an agency that tracked six news channels in September-October said. Rahul got no more than 3.49 per cent. "But beyond these two, there is a vast spectrum of political, economic opinion. There are parties that articulate niche interests, who also deserve to have a voice in the political space. If they are subsumed under the umbrella of the two big parties, our democracy will lose all its meaning," cautions Padmaja Shaw, a professor of communication and journalism at Osmania University, Hyderabad. It's a view Gaurav Bhatia, a TV commentator and Samaj­wadi Party member, endorses. "I need to remind (our TV news channels) that one-sixth of the population of India lives in Uttar Pradesh. And the Gujarat model of development, which the news channels keep harping on, is specific to that state, and not (necessarily suited) to the whole country. More importantly, for a man being projected as prime minister, his secular credentials cannot be left unquestioned."
Curiously, there are some regional channels, not really known well even in the state they belong to, that strain to add to the discourse—even though they are drowned out. Pudiya Thalamurai, a Tamil channel, for example, tries to do a balancing act whenever there is talk of the Gujarat model of development. "We try to remind our viewers that 2002 cannot be washed away, even if Modi does a sadbhavana yatra," says S. Srinivasan, an editor at the channel. It's a brave fight: like opinion polls, which are partial to the main parties and ignore smaller ones and independents, television news channels seem to have skewed the discussion.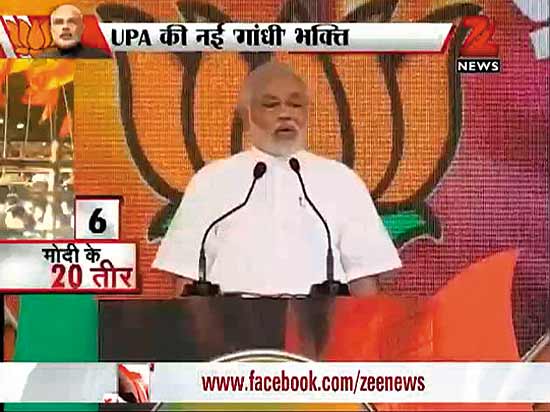 Will this impact the elections? Panda says it may impact the English-speaking viewer but will have zero resonance in the states, which will play a crucial role in 2014. As Shaw cautions, "Corporate ownership and the electronic media have increased lobbying power—but a media wave is not the same as an electoral wave. Many conditions still have to come together for the two to coincide." It would not entirely be out of line to mention that the media is better off taking a sceptical, adversarial approach to politics. It's the best prophylactic against any 'itis'.