The process of ranking the best professional colleges began with extensive secondary research to establish the criteria for selecting the master list of colleges and institutions. Only those institutes with government recognition (accreditation/affiliation) and with at least three passed out batches were considered. Then, detailed questionnaires were sent to over 1,200 colleges in nine streams: Engineering, Medical, Dental, Social Work, Law, Hotel Management, Fashion Technology, Architecture and Mass Communication. These questionnaires were also put on the Outlook and MDRA websites. Repeated follow-ups were undertaken to get responses from the colleges.
Given the quantum and quality of responses, six streams—Engineering, Medical, Dental, Social Work, Law and Hotel Management—were deemed fit for objective analysis. These were evaluated on a combination of objective and perceptual data (with equal weightage). Last year, a panel of experts from the corporate sector and academia were carefully selected for consultation on establishing the parameters and sub-parameters for ranking and their importance. Based on this, weightages were assigned. These parameters and weightages have been followed this year. Physical audits were done for 20 per cent of the colleges. For the remaining three fields—Architecture, Fashion Technology, and Mass Communication—a fully perceptual survey was undertaken.
The perceptual survey was carried out in Delhi, Mumbai, Calcutta, Lucknow, Chennai, Bangalore, Hyderabad, Pune, Kota, Bhubaneswar, Patna and Ahmedabad. Field researchers visited several institutes to conduct questionnaire-based interviews among 296 senior faculty members and 309 final-year students from different streams. Another 249 recruiters/professionals were also interviewed. They were asked to select and rank top professional colleges (streams relevant to their field) nationally as well as zonally. Total marks were calculated by aggregating the ranks given by the three categories (students, faculty, recruiters/professionals) after assigning separate weightage to each category. Disclosure: MDRA is associated with CMS Academy of Communication & Convergence Studies.

Academic Excellence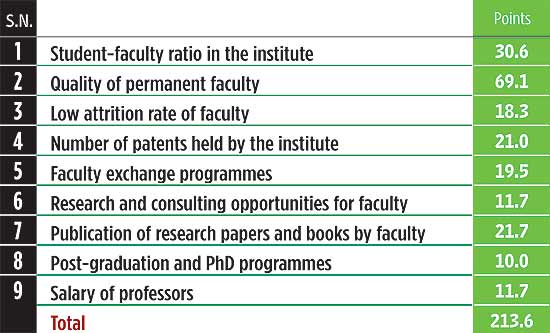 Personality Devt And Ind Exposure

Infrastructure