Mahan is a metaphor for the raging debates that India is engaged in today. As the budget session kicks off, the Narendra Modi government is resisting a huge and concerted political opposition to the land acquisition ordinance. Insisting that there is an international conspiracy to slow down India's growth, the government recently prevented a Greenpeace activist working in Mahan from flying to London. Outlook travelled to Singrauli, the energy capital of India, to find out why some villagers are trying to save a forest with over 5,00,000 sal trees—and why the poor refuse to part with their land, rivers and forests.
It's a Monday morning but just a dozen two-wheelers are parked outside the gate. The orange company bus has just driven in—but there are only two people in it. The Essar Power plant does not betray much sign of activity. The plant that generated electricity for close to two years, we are told, was shut down two months ago. The company claims it had invested Rs 4,500 crore in setting it up in anticipation of getting the Mahan coal block barely four kilometres away, but ran out of patience when the government failed to put up the block for auction. It was not cost-effective to generate power at the plant with coal transported from a longer distance, officials explain.

Living dead Bijay Kumar's wife died three years before the gram sabha consenting to Mahan coal. Yet her name appears on the list of those who attended the sabha and gave consent
But even when the plant was generating electricity, no power was being supplied to the Nandnagar Resettlement Colony—which is the present refuge of a thousand people, mostly tribals, displaced by the plant. "The company did not give us any job either. We were only engaged for two or three months during the construction," says Bhanu Dutt Gond, 42, who lost three acres of land to the plant. "They took away our land permanently but they wouldn't give us permanent jobs. Our entire family used to work on the farm and sell the produce profitably. But now only one person in the house gets an unemployment allowance of Rs 7,000 a month."
This unemployment allowance is the only source of income for those whose land was acquired over six years ago for a compensation of four lakh rupees per acre. "Even this allowance comes sometimes after three months, forcing us to draw on our savings. They had said they would give us training and then jobs. But they haven't done anything after dumping us here," complains Raj Kumar, 24. The company preferred to employ outsiders—people from Bihar, Chhattisgarh and Jharkhand—instead.
Set up nearly five years ago, Nandnagar was supposed to be the poster colony of the Essar venture, to showcase the kind of rehabilitation and development that private mines and power plants in the area could lead to. The displaced, however, produce a seven-page agreement as testimony to the innumerable promises that the company has failed to honour. No free books, uniform, food or transport facility to the school. Significantly perhaps, the company has outsourced the school to the RSS to run as a Saraswati Shishu Mandir.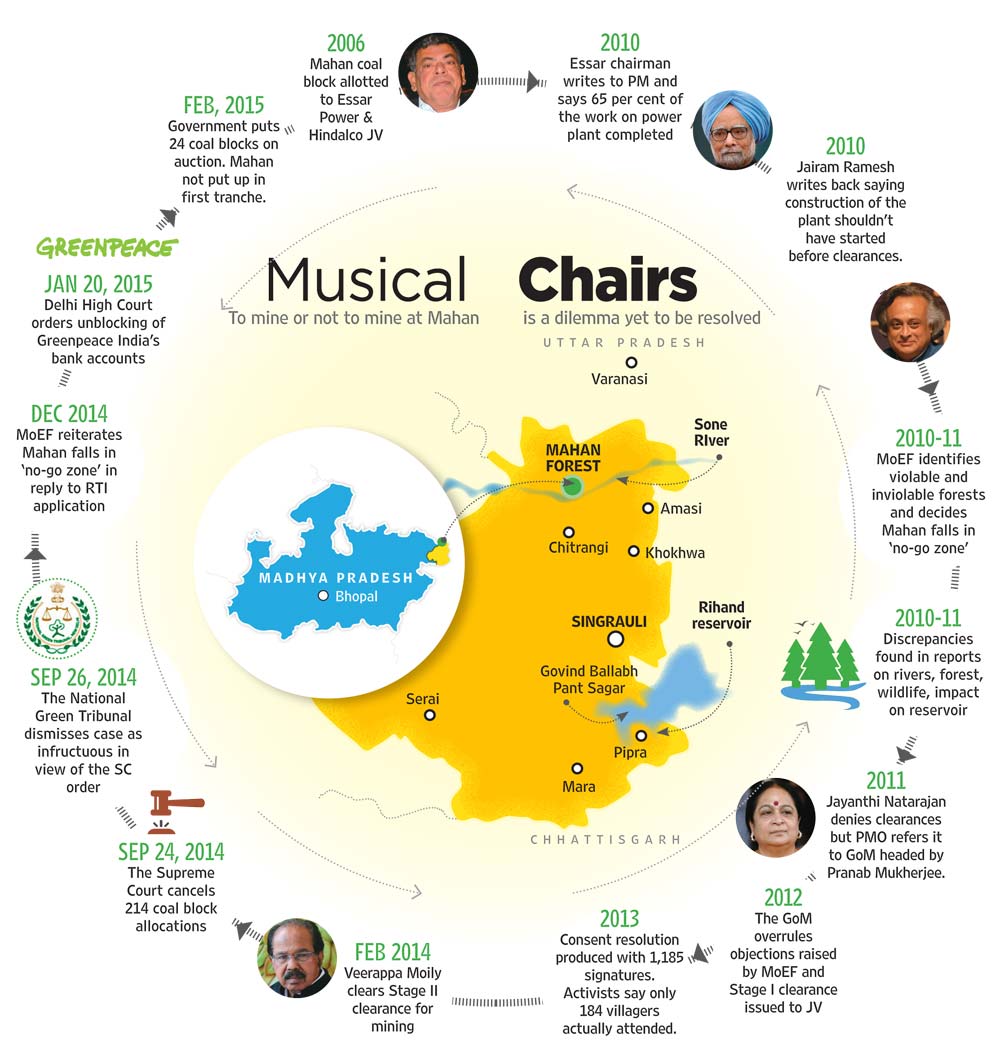 "Teachers turn up after 11 am although it is supposed to start four hours earlier," complains Manoj Kumar Sharma, whose two children study in the school. "They then send our children to fetch firewood for them." A playground, drinking water facility and loans to help those displaced set up a small business were among the other promises.
With no land to farm on, villagers depend on the forest for livelihood. The forest, with over five lakh sal trees, is also the only surviving one of its kind in Singrauli. A third of the district's forests has been swallowed by four decades of mining activity by both public and private enterprises, including NTPC, NCL, Reliance, Hindalco and Jaypee. "We will have to starve if they take away the forest too. It has been feeding us for generations. Why do they want to destroy our jungle for such a temporary purpose?" Mahendra Biyar wonders aloud, saying that the Mahan coal block is estimated to last for only 14 years.
Even as villagers continue protesting, a man on a red-and-black Hero Honda, with 'Har Har Mahadev' emblazoned across, approaches and says menacingly, "Go away from here. You have no business talking to these people." Several people rush up immediately to keep him at bay. "He is the company's dalal. There are several like him who are paid to ensure that no one from outside talks to villagers in the colony and those around the forest," says Raj Kumar.

Shortchanged Phulpati and her family outside the Essar Power plant in Bandhaura, Singrauli. The family has received neither compensation nor jobs despite losing nine acres to the plant.
The man now begins screaming, "The company is giving us compensation and plots. What can you give us? Get out of here." A brawl between him and the rest of the villagers ensues till one of them, Mandhari Singh Gond, 60, silences him saying, "The company is paying only you. We don't get anything. Let us tell them about our problems."
When we leave, two white cars, both Boleros, follow. Stopping everywhere we do and trailing behind us for a few hours, they finally move out of sight only after we drive away from the power plant. Over the next three days, we are followed by several other dalals, whose semi-formal shirts, jeans, boots and bikes mark them out.
***
Mahan lies 35 km from the district headquarters at Singrauli in Madhya Pradesh, bordering Sonbhadra in UP. The area is now known as the energy capital of India—thanks to the high-quality coal that was discovered there. While coal mining has been going on in the area since the mid-'70s, with the first power plant coming in 1977, the recent controversy over the Mahan coal block and protests by tribals against land acquisition, coal mining and its adverse impact on rivers, dams and forests expose the faultlines in India's development story.
While the government vigorously defends its doing away with the consent clause and the mandatory social impact assessment in the Land Acquisition Act, 2013, Mahan shows how even consent can be manufactured. Questions sent to Essar Power and Hindalco—who bid jointly and were allotted the Mahan coal block in 2006—remained unanswered.

Singrauli collector Raghuraj M.R.
Essar was even accused by the then Union minister of environment and forests Jairam Ramesh of constructing its power plant without waiting for clearances (see Musical Chairs). And while the ministry took the view that Singrauli needed to preserve its last standing forest of sal trees and that more mining activity would adversely affect the two perennial rivers and the Rihand Dam, both the then PMO and Group of Ministers headed by then Union finance minister Pranab Mukherjee batted for Essar. The company's failure to honour commitments also shows why the poor and the displaced have reasons to distrust both industry and the government.
Mining coal at Mahan will involve the felling of half-a-million mature trees. Just the timber, by conservative estimates, would be valued anywhere between Rs 250 crore and Rs 500 crore. Even the mandatory afforestation by Coal India Ltd does not seem to have replaced the millions of trees already lost to mining in the region.
***
"Are you the district magistrate? Why should I talk to you or answer your questions?" he yells. Santosh Singh Thakur is the former sarpanch of Amelia. The consent of its villagers was required under law for giving clearance to mining at Mahan.
But while a gram sabha was held on March 6, 2013, international NGO Greenpeace India alleged that large-scale forgery had taken place with the connivance of Santosh Singh. "No more than 184 of the 2,000 people in Amelia attended the gram sabha. But there are 1,185 signatures in the sheet, as a quorum of 50 per cent is essential to obtain consent," says Priya Pillai of Greenpeace. "Thumb prints of at least seven persons who were dead at the time of the gram sabha were also included."
Intimation for a gram sabha is always given a week before. In this case, however, villagers tell Outlook, the customary dhol (drum beat) was sounded only once after 10 pm on March 5, the night before the meeting. "None of us knew there was a gram sabha in the morning. We were all away at work when it was conducted between 10 am and 2 pm," says Ram Subhag Panika, 45, who worked as a helper on contract with Essar Power until they refused to renew his contract last month owing to the protest against the mine in the village.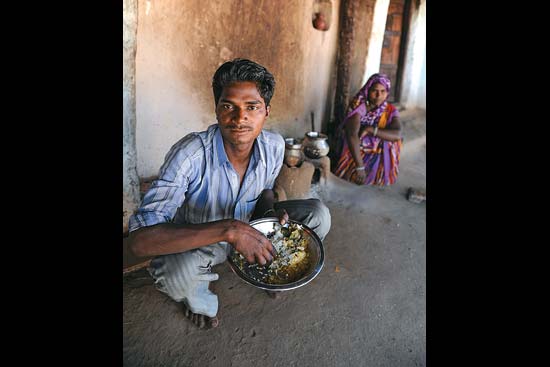 Uprooted lives Rajkumar and wife Priyanka, among the many displaced by the Essar Power plant in Bandhaura, Singrauli
His father Ramjeet Panika was 61 when he passed away on October 7, 2012. Yet his signature is on the list of those who allegedly gave their consent. Despite such evidence, the police refused to file an FIR and when Greenpeace app­roached the Jabalpur High Court, the superintendent of police Kalyan Chakravarthy, in a written reply, stated that an inquiry had been conducted and no evidence of forgery was found.
Amelia, like other villages around the forest, is home to the Gond, Panika, Baiga, Khairwar and Kol tribes. Many of them confess that their confidence has been shaken after witnessing the plight of those displaced by Essar's power plant. The writing on the walls of the mud houses is ubiquitous and unequivocal: "Ladenge, jeetenge. Humra jungal, hamara adhikar."
But incomplete constructions, many with just the foundation laid, have sprouted across Amelia. "Many have purposely laid only foundations so that when the company finally comes to acquire the land, they will get additional compensation," explains Lal Chand, 50. Nearly 350 acres has been already acquired by Essar and Hindalco's Mahan Coal Limited (MCL).
The divide on the ground is clear. The Mahan Vikas Manch is in favour of the mine and acts as counter to the Sangharsh Samiti set up by Greenpeace. "Those from Greenpeace come from Bombay and Delhi in big AC cars. They don't want us to develop, but survive on mahua and tendu, while they themselves send their children to big schools," says Lal Chand.
While many villagers work 40 km away in the mines run by public sector NTPC and others, those in favour of the mine hope the company would equip them with skills and provide them jobs. "We want permanent jobs for everyone, even the landless. We want development, good hospitals and schools for our children. The government, without whose permission the company cannot come up, should ensure we get everything we are promised," argues Raj Narayan Singh of the manch, who is currently employed by the Essar Power plant.
Officials in the local administration admit that the mines and power plants are not employment-generating enterprises any longer. "The man-megawatt ratio in a power plant will not be able to absorb the available labour. Hence companies provide an unemployment allowance equal to the minimum wage," claims Singrauli district collector Raghuraj M.R. He, however, adds that companies like Reliance have failed to pay even the meagre unemployment allowance to those it has displaced. After the administration piled up pressure, he claimed, Reliance is now paying villagers half the allowance promised.
On both sides of the 35-km-long rutted road from district headquarters Waidhan to Singrauli's small, pale yellow railway station are dumped large heaps of coal. An overwhelming number of mines greet you. Heavy earth movers, draglines and trucks raise grey layers of dust that make it almost impossible to breathe normally. But curiously the energy capital has little to show by way of development besides the two decades-old government hospitals and a school officials' children go to. There is no electricity in the villages, no access to full-fledged hospitals, quality sch­o­ols, or any other sign of development despite nearly four decades of coal mining.
---
By Pavithra S. Rangan in Singrauli, Madhya Pradesh Photographs by Jitender Gupta