Not All Win-Win
World Cup buzz limited also because of strict ICC rules against ambush marketing
World Cup format changed to keep India in the tournament for at least a month to sustain viewer interest
Advertisers preferring IPL which gives more options of promotion and is cheaper in some cases
With World Cup in India, marketers expect 15-20 per cent higher TRPs than in '07, higher if India reaches final
***
Four years ago, saying this would have been heretical: the cricket World Cup has lost its sheen. Sure, the nation is still crazy about cricket, crazy enough for companies to pump in an estimated Rs 600-700 crore. Then, the tournament is being hosted at home, always a plus. India is even one of the favourites to win this year. But for all the drum-beating, there's a marked caution in the air. Corporate India is saying, of course it's cricket, we're there to play along, but...
There are many caveats, too many to ignore. And the nervousness is showing with all the companies that have a stake in the World Cup—be it LG, Pepsi, Sony or so many others. Part of the caution is because of India's dismal show in the previous World Cup in 2007, when the men in blue exited in the first round, draining all viewer interest and giving a body blow to advertisers' plans. But a bigger reason this year is the Indian Premier League, the fourth edition of which is slated to take place in India soon after the World Cup ends. IPL has changed the rules of the game.
Despite nationalistic sentiments, which typically come to the fore during the World Cup, IPL is turning out to be a bigger draw. There is much more activity around it, sponsors are talking about it and there is already a scramble among companies to be visible during IPL. In three years, the shorter version of the game has already become a household affair, with families catching up with the most part of a game within their dinnertime. Along with film stars, cheerleaders and team merchandise, there is an entire ecosystem that has developed around the format. Like it or not, cricket fans have started identifying with this brave new world.
Even the main sponsors of the World Cup know this well. "More than 80 per cent of the matches in the World Cup may not get good TRPs (television rating points). But in IPL, all the matches guarantee you a basic minimum. So being on IPL is important," says L.K. Gupta, chief marketing officer, LG, one of the title sponsors of the World Cup. Gupta then goes on to voice the major concern: "If, God forbid, India goes out of the tournament early, there is a risk of viewer interest going out. So advertisers will be paying a huge amount for something which will have few viewers." LG is spending Rs 70 crore on its World Cup campaign over and above its sponsorship fees to ICC.
The business of the World Cup hinges on India viewers. After India's early exit in 2007, some advertisers reportedly even asked for compensation from the then broadcaster Multi Screen Media (MSM). Knowing this, ICC has played it safe and has changed the format so that India stays in the tournament for at least a month. Also, thanks to the new format, four out of seven teams in each group will qualify for the quarter-finals. With India's group having Bangladesh, Netherlands and Ireland apart from England, South Africa and the West Indies, it is almost certain that India will graduate to the next level. Also, with India's matches starting at 2.30 pm, eyeballs are guaranteed. So, ICC is hopeful of making a killing and marketers expect 15-20 per cent higher TRPs—even higher if India reaches the finals. "The World Cup has less clutter, so your brand can stand out," says Vivek Sharma, chief marketing officer of Philips, which is one of the associate broadcast sponsors of the World Cup.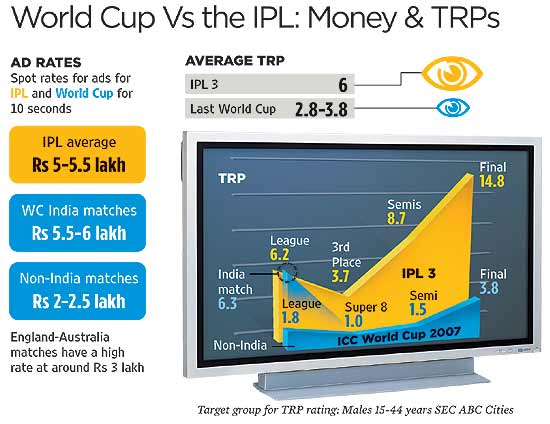 But even those higher TRPs would be well below IPL's. World Cup 2007 saw average TRPs of 2.8-3.8 while IPL average TRPs were around 6. Says Indranil Das Blah, COO of sports marketing firm Kwan: "IPL gives higher returns in terms of TV and on-ground promotion and there is a lot of buzz in cities with teams. India matches in the World Cup will get a TRP of 4-5 while non-India matches are likely to be under one." Another concern is stricter ICC rules that prevent ambush marketing by companies and cricketers. The new rules forbid players from using their name or image for any third-party endorsement or advertisement with any relation to the World Cup.
IPL also gives advertisers a range of options. For instance, say sources, companies can get on to the IPL bandwagon through licensing for just Rs 75 lakh while title sponsorships come for around Rs 20-25 crore. Then, there are ground activities and promotions and merchandise. Associate sponsorships in the World Cup, on the other hand, are for Rs 28-30 crore while presenting sponsorships are around Rs 35 crore. Says Meenakshi Madhvani, managing partner, Spatial Access: "In IPL, you can sponsor a team for as little as Rs 2 crore. There are many sponsors and stakeholders making an effort to recover their investment and making it a larger, more visible tournament." The fact that there is no major film release planned during the entire IPL period will also ensure that there are no major entertainment diversions during the matches.
So companies are putting their weight behind IPL. Says Elkana Ezekiel, CMO, Samsung: "We will leverage both the tournaments but the larger portion will go to IPL as it will lead to incremental sales of TVs for us. It has worked for us in the last two years and we are looking at a 100 per cent jump in flat panel TV sales because of IPL." Beyond economics, there are other reasons for the waning interest in the World Cup. Says Santosh Desai, CEO, Future Brands: "The sanctity and specialness of the World Cup has got eroded because of a surfeit of cricket tournaments. Of these, the World Cup is the most unstable and risky venture in financial terms specially if India doesn't go through to the semis."
Latika Khaneja, director, Collage Sports Management, however, has a different take. She feels that everything boils down to two players—Sachin Tendulkar and India captain M.S. Dhoni and all commercial activities are centred on them irrespective of the tournaments. Says she: "There is excitement only around these two individuals and their IPL teams, Mumbai and Chennai. With so much cricket coming up, it is a good time for companies to monetise through these icons. So companies are getting into long-term deals and not looking at either the World Cup or the IPL."
But it may still be early days and the World Cup may spring some surprises. Marketers are desperately banking on that and keeping their fingers crossed. Says Shubha George, MD, Mediaedge: "It may be premature to write off the World Cup. If India reaches the final, the interest in the World Cup will be at a crescendo and increase dramatically." According to sources, if India crosses the semi-final, TRPs could shoot through the roof and spot rates could reach anything between Rs 24 and Rs 30 lakh for 10-second slots. It is learnt that espn Star Sports, the official broadcaster, is playing it safe and setting aside some slots for the final for later sale. "If India wins, the returns would be something the IPL cannot match," says Blah. So, finally, it's now left to Dhoni and his men to ensure that their bet pays off.