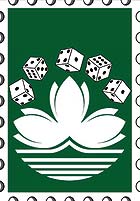 Bond island
It might be said that the person who first put Macau on the map of general attention was Ian Fleming, the creator of James Bond. In the 1960s, he travelled around the world, collecting material for Thrilling Cities, a travel book which ultimately included Macau, along with Las Vegas, Tokyo, New York and Hamburg.
Fleming was seduced by the aura of intrigue, danger and decadence he found in Macau. He wrote, for example, about the Central Hotel, a nine-storey den of vice, where, as you went up storey by storey, the girls got prettier, the gambling stakes higher, the booze more expensive, the music better. It was also in Macau that Fleming stumbled upon the idea for his famous villain, Goldfinger, after meeting a shadowy Chinese millionaire who arbitraged the price of gold in Macau—the most favourable in the world—and could reputedly supply buyers with anything from a gold bar to a ton of gold, if they so desired (and could pay cash).
Much has changed about Macau since the handover of 1999, when it was nothing more than a slightly sleazy port, but wandering around its backalleys today, you still get a whiff of the old atmospherics. I even spotted Central Hotel, now a rundown affair. Things have now come around full circle, because the latest Bond movie, Skyfall, was set partly in Macau, where Daniel Craig (as James Bond) played the high-risk Macanese gambling game of daisiu. Just as Fleming himself would have done, no doubt.
---
Rolling in chance
Gambling has been legal in Macau since the 1850s, and was a key source of revenue for the Portuguese colonial government. On the other hand, though gambling has traditionally been an important part of Chinese life, it has been banned in mainland China since 1949. The two factors combined in 1999, when Macau reverted to China, causing almost a nuclear explosion of the gambling industry. Millions of Chinese descended upon Macau to indulge their pent-up urge to gamble. Within 10 years, Macau had overtaken Las Vegas as the world's No. 1 gambling centre. Eventually, almost every Las Vegas company has built a casino in Macau—swankier than the original—and their earnings from Macau are often double that in Las Vegas. The gambling industry was worth a mind-boggling $45 billion last year. But because of Xi Jinping's crackdown on corruption in China, the gambling industry is now in trouble. Much of the big money staked in the casinos used to be dirty money from the mainland and is drying up. The government is working overtime, figuring out how to diversify the economy. But the question is: what happens to all those gigantic casinos, especially with eight new ones scheduled to open shortly? Someone's really going to take a haircut.
---
Painted picture
The old colonial town of Coloane is what Panjim would have probably looked like if the Portuguese had hung around a bit longer. It has been designated a UNESCO World Heritage site, with its splendid creamy-yellow Iberian architecture, fondly restored by the Portuguese before they left and subsequently embellished by the new Chinese administration. In fact, the place has been so well restored, with its old-style cobbled lanes and squares, that some people complain it has been Disneyfied. We looked for cultural similarities with Goa, but found surprisingly few, except in the restaurant menus that offered us piri-piri, recheado, cafreal, bebinca and bacalhau (presumably balchao). And in surnames like Da Silva, Fereira, Lobo, Misquitta and Fernandes. But the faces are Chinese.
---
Teasing the odds
If you're planning to play at Macau's casinos, here are tips from a former casino manager, which helped us a bit. a) Keep an eye on your watch. Casinos don't have clocks because they want you to lose track of time. The longer you play, the greater the odds in their favour. b) Stay away from games that try to entice you with flashy lights and bright colours. That's where the lousiest odds are. c) Never get distracted by free booze, sexy pole-dancers etc. They're part of the strategy. Instead, keep your eye on the payouts offered at the tables. d) At the slot machines, focus on the high-priced slots and then play the maximum bet. On low-priced slots, the odds are stacked against you. e) Never, never, never play Keno. f) At roulette, know when to walk away from the table. You have an OK chance of winning in the beginning. But in the long run, the casino is absolutely guaranteed to win. g) At blackjack, look for the clumsiest dealer (there's always one). He is bound to make mistakes you can cash in on. Maybe.
---
Foodie fact...
There are 11 Michelin star restaurants in Macau. And the great thing is, they're among the most affordable in the world. Enjoy!
---
Hyderabad-based Anvar Alikhan is an advertising professional and social historian; E-mail your diarist: anvaro [AT] hotmail [DOT] com