In the ninety long years that he has lived so far, Mulkh Raj has had just one permanent wish: peace. He and his family have been living in the village of Trewah that sits literally on the edge: perched on the international border with Pakistan in the RS Pura sector, about 30 km from Jammu. The aroma of the Basmati grown in these parts has long been overtaken by the smell of gunpowder, children at the makeshift camp at the Salehar Higher Secondary School play with exploded shell parts and unexploded bullets as if it is the most natural thing for them to do.
Welcome to one of the oldest conflict zones in the world. The border dispute between India and Pakistan remains unresolved even after 64 years, and nobody bears the brunt of that uncertainty more than the villages along the 198-km-long IB and 749-km-long Line of Control with Jammu and Kashmir. The two countries did enter into a formal ceasefire agreement on the midnight of November 25, 2003, but frequent violation has been more the norm than the exception (see graphic below). The last two months have seen some of the heaviest exchanges, displacing some 35,000 people in Jammu & Kashmir. The actual numbers could be much more, with many preferring to stay with their relati­ves in safer places. Others have been living in the hundreds of relief camps set up by the army and civil administration in Kathua, Samba and Jammu district. Eight people, including a 13-year-old girl, have been killed, while over a hundred have been injured in the shelling and firing from across the border. On the other side, Indian firing across the volatile border has killed 12 civilians and injured 52 in Pakistan so far in October.
Mulkh Raj's village—home to 750 families—has come in the direct line of firing twice, compelling them to take shelter in the government school for boys that has become a relief camp. "We feel abandoned by the government," he says, puffing on his beedi.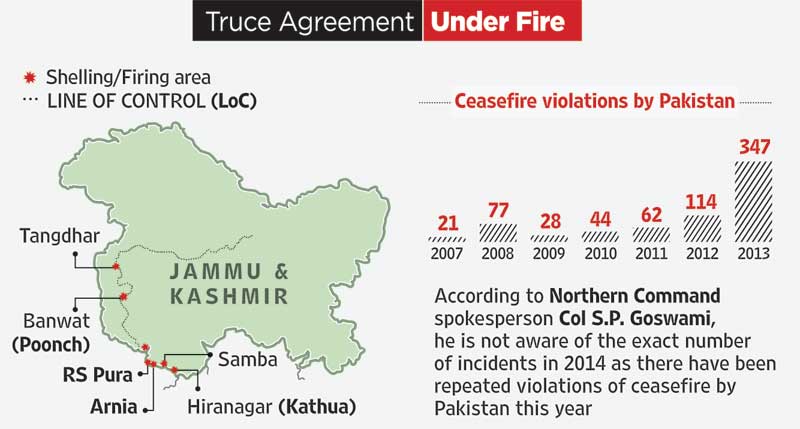 "Achhe din aa gaye na," Khajan Chand, his mate at the camp, asks sarcastically. The forward villages in Arnia—dotted with memorials of soldiers, damaged houses, perished livestock and deserted lanes—are no stranger to border clashes. This time, however, Pakistani shells have targeted not just the villages across the border but also towns like Arnia, which has a population of 15,000. "Where is he," continues Khajan Chand wryly, "he of the chhappan-inch chhaati, when mortar shells are exploding and bullets whizzing past everywhere?"
Though the state government has been planning to relocate villagers on the IB and the LoC to a five-km radius behind the border, what they want is a concrete rehabilitation policy. "The government has been promising us concrete bunkers since 1965 but it has failed to do so," they say in a chorus. "All we have got from successive governments is promises."
"The land belongs to those who fled to other side in 1947. Our forefathers were landless and the land continues to be state land: that is why we are not compensated for its military use. We remain Kashtkar (tillers) in records."


Rattan Chand, Trewah, RS Pura
The state government pays Rs 1 lakh to the families of those who get killed and Rs 10,000 to those injured in the firing from the other side. Victims of militancy are paid a lot higher, with compensation going up to Rs 5 lakh and government jobs for dependants. "We should also be trea­ted on a par with them," people here demand. "Even a buffalo costs us Rs 1 lakh and that is what the government pays as compensation when we lose a family member," says Bachchno Devi, whose husband was killed by a stray bullet fired from across the border in 2001. "And we don't get anything at all when we lose our livestock or homes or when crops get damaged in border conflicts."
Even worse is the plight of people injured by bullets fired by the Indian side. Maroof Hussain, a resident of village Dara Dullian in Poonch that touches the LoC with Pakistan on three sides, lives with the stray bullet that got lodged in his lungs in July 1993. A report filed by the deputy commissioner of Poonch to the state human rights commission in November 2012 confirmed that the soldiers had been firing negligently and that the bullet caused Maroof serious injury. However, the report went on to say that since Maroof was not injured in a militancy-related incident, he was not covered under 'relief rules' and hence was not entitled to any compensation.
There is also no compensation for land that falls prey to land mines or falls between the concertina coil border fence (technically called the Anti-Infiltration Obstacle System or aios) and the zero line. There are 50 such villages in Poonch alone. The increasing militarisation of civilian areas and enhanced military infrastructure has restricted the movement of villagers, directly affecting their livelihood.

Cross-border victim BSF constable Sanjay Dhar lost his life. (Photograph by AFP, From Outlook 27 Octoberr 2014)
Hassan Bi from Keerni, the last border village in Poonch across the fence, did get compensation in November 2011 for being injured in indiscriminate firing by Pakistani soldiers: a princely sum of Rs 5,000 and 17 years after the incident. Not only was she injured, she even lost her unborn baby.
"My paddy crop is on the other side of the fence but I can't go there to harvest it," laments a displaced villager from Kaku ka Kotiha, in the RS Pura sector. At least one member of each displaced family has had to stay back, sleeping in damp, dark cellars at night, and tending to cattle during the day, when there is some let-up in the firing. "My husband lost his leg in a shell explosion in 2002. He is at home to look after the livestock," says an overtly worried Pushpa Devi.
Last year, the government proposed to build a concrete wall along the border and has started working on it. Largely, however, the Border Area Development Funds have failed to develop the border villages.

Enemy fired Mortar shells in Chanana, Arnia
"It's not the army but the residents of my constituency who become the first target of bullets and shells from across the border," says People's Democratic Party leader and Mendhar MLA Rafiq Khan. "But still their lives have no value for the state and central government." He estimates that about 5,000 kanals of land remains under the occupation of the army and the fence but the villagers do not get any compensation in lieu thereof.
Former MP Madan Lal Sharma claims that he had taken up the issue of rent for land under army use and increase in compensation for victims of border conflict with the prime minister and the defence minister. "In the past five years, 6,000 families affected by the border conflict have been rehabilitated," he says. "Each family was given a piece of land measuring five marlas and Rs 70,000. The delay in some cases is because of the government's inaction."
The government is indeed yet to address the issues of people displaced in the '65 and '71 wars and settled in Jammu. Those who came from Pakistan-occupied Kashmir have received no compensation at all unlike refugees from West Punjab. Their claims for properties left behind in PoK were not even registered and no compensation granted on the ground that PoK was an integral part of India and they would be rehabilitated once it is finally integrated into the country.

Lives uprooted Fleeing Chilyari village of the Samba sector in J&K
Rajiv Chuni, chairman of SOS International, an organisation fighting for the rights of PoK refugees in Jammu, says they have long been demanding an extension of the Displaced Persons Compensation and Rehabilitation Act, 1954, to J&K. "We also want the allotment of eight out of the 24 seats that belong to PoK in the J&K assembly to this displaced community, besides the issuance of state subject certificates to PoK-displaced people resi­ding outside the state, and refugee status to displaced people for aid under United Nations-set norms of the UN refugee charter." In addition, he wants consideration of compensation for the moveable and immoveable properties displaced people have left behind in PoK, a special employment package for the unemplo­yed youth, settlement of claims of deposits with J&K Bank, Mirpur.
Denied citizenship rights, west Pakis­tan refugees in border villages in RS Pura are not entitled to participate in pan­chayat or state assembly elections. Labha Ram Gandhi, chairman of the West Pakistan Refugee Action Comm­ittee, estimates that over 1.5 lakh West Pakistan refugees do not have any fundamental and citizenship rights in J&K. "As successive governments have failed to resolve our issues, the central government sho­uld evacuate the refugees from Jammu and Kashmir and resettle them in other parts of the country," he says.
A durable solution is what residents at the border want. "Every time there is a clash at the border, we are asked to take shelter in government schools and community halls," says Ram Paul, standing near the debris of his damaged house in Arnia town, holding the metal propeller of an exploded mortar shell fired from Pakistan. "Or we should be rehabili­tated somewhere else. At least our gra­nd­chil­dren can live in peace."
***
The Price Extracted

Ashiq Hussain of Khardi Karmara village in Poonch district, lost an eye and his hands in a landmine blast in 2012, while playing in a stream that runs his grandfather's watermill. He was 12 then.

Safia Begum now 36, lost her hand to a landmine when she was six, her son lost his when eight. They now live a life of misery in the border village of Pukharni in Nowshera sector of Rajouri.

Shaheen Fatima lost her right eye and one hand in a landmine blast in 2009 when she was 11. Her father says they have received no help from the govt despite CM Omar Abdullah's assurance.