"The L-G has no right to exercise veto on an officer's appointment. It should be done in consultation with the CM, even for a Union territory," says Pavan Varma on the raging battle between Delhi chief minister Arvind Kejriwal and Delhi's lieutenant-governor Najeeb Jung. Varma, a former diplomat-turned-Rajya Sabha MP, happens to be Jung's college mate.
It's difficult to decide who among the two is being more obstinate—political and legal opinion is divided on the unique roles and powers of Delhi's CM and L-G. While President Pranab Mukh­erjee is believed to have given both of them an earful when they met him (separately, to complain about the other disregarding norms), the turf war is far from over.
The long simmering distrust between the two spilled over this month over the seemingly innocuous question of who would be officiating chief secretary for 10 days. While the CM questioned Jung's authority to appoint an officer without heeding the CM's opinion or adv­ice, Jung wrote back saying, "The power to appoint and transfer bureaucrats, from steno to IAS officer, rests with the L-G." Kejriwal had challenged the appointment of Shakuntala Gamlin as acting CS alleging "she had tried to favour power distribution firms in Delhi and acted against public interest".
Jung is seen by many as the "instrument of the Centre to encroach on the rights of the state government", in the words of CPI(M) general secretary Sitaram Yechury. The Congress too took strong exception. "All I can say is that over the last year or so on many issues, the L-G's conduct has at many times left much to be desired," says party spokesperson Abhishek Manu Singhvi.
The first Muslim L-G of Delhi, Jung, though a UPA appointee, is one of the few governors to escape the Modi regime's axe. Now there's some history to this conflict between Jung and Kejriwal. The AAP has made some serious charges in the past about Jung, from accusing him of being a "Congress agent" to saying that he's "working for Reliance". (One of the last executive decisions taken by Kejriwal's 49-day first government last year was to register an anti-corruption branch FIR against India's richest man—Mukesh Ambani—along with the then petroleum minister M. Veerappa Moily among others in the alleged multi-billion dollar natural gas pricing scam.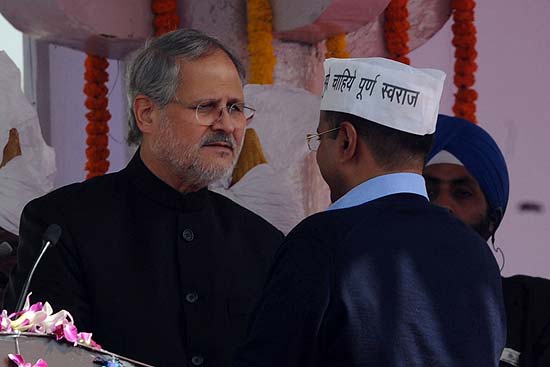 Photograph by Jitender Gupta
The AAP has made serious allegations against Jung, including carping on his old Reliance connections.
A few days after Kejriwal resigned and Jung took charge of Delhi under Presi­d­ent's rule, on February 20, '14, there were two significant visitors who came calling on the latter. One was Anil Ambani, chairman of the Reliance Anil Dhirubhai Ambani group. Kejriwal had ordered a CAG audit of its two power distribution companies—BSES Rajdhani Power Ltd and BSES Yamuna Power Ltd—accusing the firms of "blackmail" by threatening power cuts of up to 10 hours a day. He had even threatened to revoke its licence. The second important visitor was RIL executive director P.M.S. Prasad, accompanied by other senior company officials. The L-G secretariat described these hour-long meetings as "courtesy calls".
Jung, a Delhi boy, joined the IAS in 1973, a year after he graduated from St Stephen's College. An IAS batchmate describes him thus: "He is a tahzeebdaar, a perfect gentleman. A suave man with an English etiquette but who also has strong ties with his community."
Madhavrao Scindia mentored Jung into politics. In 1985, Scindia, the then railways minister, appointed Jung as his private secretary. In 1993, soon after economic liberalisation was ushered in, Jung was made joint secretary (exploration) in the petroleum ministry under minister Satish Sharma, a close confidante of the Gandhi family. The oil and gas fields were opened to the private sector and the government awarded the Panna-Mukta and Tapti oil and gas fields to a consortium of Reliance Ind­ustries and Enron, although ONGC, a public sector undertaking, had alr­eady discovered and partially expl­ored the field by then (a 1996 CAG report points out that ONGC was not sufficiently compensated). Jung is reported to have played a "crucial role" in the privatisation of the Panna-Mukta and Tapti oil and gas fields.
Jung later went on an assignment with the ADB to Manila for five years. In 1999, he quit the IAS to join the Oxford Institute of Energy Studies in England. A second stint with the ADB happened from 2002-05. During this period, he was associated with projects for Reliance Europe and the Observer Research Foundation (ORF)—a think-tank funded by RIL. Jung was a close contender for the post of ONGC chief in 2007. On returning to Delhi in 2008, Jung joined ORF as director of energy research. Within a year, in '09, he was appointed vice-chancellor of Jamia Millia Islamia.
A strict disciplinarian, Jung's tenure at Jamia was eventful and, to some extent, tumultuous. A section of teachers under the banner of Jamia Employees Forum accused him of running an "authoritarian regime" (akin to Kejriwal's "authoritarian CM" tag?), making illegal appointme­nts, arbitrary suspensi­ons and creating an "anti-academic" atmosphere.
A friend from his college days, an Indian Foreign Service officer, says, "He wasn't even qualified for the post of an associate professor. And he succeeded a doyen like Mushirul Hasan. Old college buddy—Stephanian Kapil Sibal—the HRD minister, helped him get the post. There was strong pressure in his support from within the Congress party."
Now the L-G isn't just all disciplinarian, he also has a literary side. In August 2013, his book, The Sting of a Bee, containing 50 essays on varied epics, came out. Later the same year, Jung, a Shakesoc (Shak­e­speare Society) enthusiast at St Stephen's College in his student days, played the role of a rather heartless Emperor Akbar to Salim-Anarkali's doo­med love affair in a dance drama at the college.
All that apart, Jung may be playing his last cards. Sources in the home ministry confirm that he is on a slippery wicket and may be on his way out. Kejriwal is CM with an absolute maj­ority. Once considered close to the Congress, Jung has made some adjustments of late. Within months of Narenda Modi taking over as PM, he wrote to Pranab Mukh­erjee on September 4, 2014, at the height of last year's Delhi assembly stalemate: "I shall be grateful if the honourable President grants approval to invite the BJP, that is even today the single largest party, to seek their interest in forming the government. Should the BJP agree, I would ask them to demonstrate their strength to form a stable government on the floor of the House within a stipulated time-frame, possibly one week." It seems Jung's longevity as L-G till now has its reasons.