Beneath a florid sunset, by the swaying palms on the outskirts of Kanchipuram in northeast Tamil Nadu, an epic is slowly unfolding in raucous colour. A little boy turns into a romping tiger with a springy tail, stripes and whiskers. A young girl is transformed into a princess with a spiky crown, and two young boys become jesters with whitened faces. Three little demons take shape in flouncy silk skirts and towering crowns, brandishing cardboard swords. Tending to their requests to tuck in pleats, bejewelled pins, and flowers with a practised hand and an indulgent smile is the person they call 'paty' (grandma), Hanne de Bruin.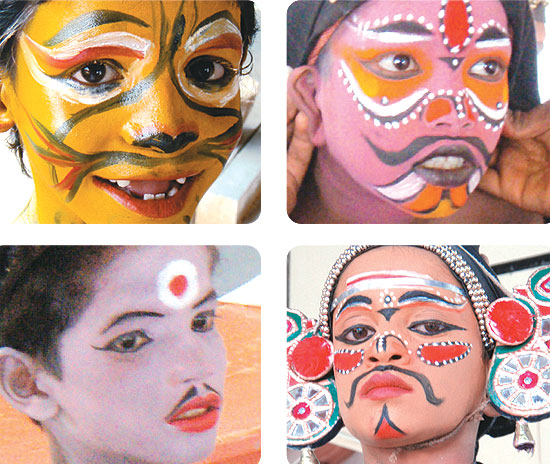 The actors they train
She's as close as it gets to a living relative for many of these 44 kids who attend the Kuttu Kalai Kudam, which Hanne (a Dutch national) founded eight years ago with her husband, veteran Kattaikuttu performer and playwright P. Rajagopal. The school takes on talented kids, many of whom are dropouts, orphans or from broken homes, and gives them food, clothing and medical care, a regular state board education as well as rigorous training in the folk art form of Kattaikuttu—a high-octane ritual theatre popular in north Tamil Nadu, usually based on myths. The 'kattai'—wood—refers to the wooden crowns that performers wear, which look straight out of a lavish Tanjore painting, while 'kuttu' means theatre performance.
Urban denizens who've actually heard of this art form often mistake it for its disreputable half-cousin 'Therukuttu' (street performance), unpractised, spontaneous roadside performances that take place during temple festivals—and indeed, the word Therukuttu has also come to mean "making a disgraceful spectacle of oneself in public". But Kattaikuttu is much more formal and demanding, with its complex, scripted, all-night performances incorporating dance, Carnatic music and instruments.
For girls, the first to be part of this male-oriented tradition, the school provides an actual adolescence.

Many a misguided feature writer has given a "folksy" spin to Kattaikuttu, alluding to what they see as its quaint and unchanging qualities. But the plays actually deal with resonantly contemporary themes, such as Veriyattam (Possession), the one being staged presently, whose chief villain is a greedy demon-despot who makes his kingdom uninhabitable by hacking down and selling its natural resources. Parkadal (The Milky Ocean), also by Rajagopal, is a tongue-in-cheek retelling of the Puranic creation myth, in which the milk-churning this time around yields nothing as prodigious or delightful as apsaras or cows of plenty but boats, guns, plastic bottles and helicopters.
What's particularly revolutionary about the troupe, though, is its band of 17 girls, the first to be part of this male-dominated tradition. For the boys, the school may provide a better future than their brothers—mechanics, silk-weavers, and road or agricultural labourers—may dream of. But for the girls, whose sisters are typically married off as soon as they hit puberty, the school provides something altogether rarer in a rural setting: an actual adolescence. "It's not always nice for us," Hanne observes wryly, "but it's good they have their teenage years, they'll make their own identity and hopefully their own choices." This particular choice has already paid off. Last August, the girls were chosen to showcase their talents at the Liverpool International Youth theatre event, where they retold the tale of Draupadi's disrobing with their own English dialogues. The troupe has also taken Rajagopal's kuttu retelling of a Tagore tale to the Rabindra Utsav in Calcutta, and the Puranic parody to Prithvi Theatre, Mumbai.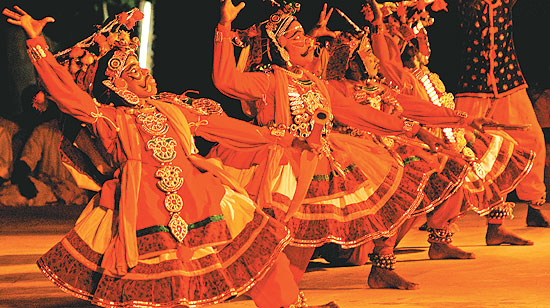 Kattaikuttu artistes star as menacing ministers in their production Veriyattam
The international exposure has made the school a popular destination for visiting dancers, acrobats and students of theatre studies. Thanks to a 'clowning workshop' conducted by an Italian performer, Dimitri of Teatro Dimitri, 16-year-old Moorthy can play a clown in two different ways—the rambunctious kuttu way as well as in acrobatics and mime. Currently on the premises are young students who each regale the audience with art forms they've learned: 'Aurora Miss' from France, who teaches ballet, streetdance, kickboxing, and the universal favourite, "African dance", and the Dutch-American 'Andrea Miss', who teaches "Irish dance" and theatre history, and does the girls up with her Amy Winehouse-like winged eyeliner, much to their delight.
These international linkages and cross-pollinations, along with Rajagopal's talents and the kids' rigorously honed gifts, have already made them a hit in the surrounding hamlets, where most village committees choose these young actors over other seasoned troupes.
All of this is vital because it goes into a sort of 'branding exercise' which Hanne believes will make or break the children's fortunes when they leave the school to form their own theatre troupes. But it's also equally vital for writers to treat the troupe—and the art form—as a distinctive, demanding one to be judged by its own merit, and not to be dismissed as a charming bit of "folk" done by "cute" little kids.
And this prejudice, like so many, is set in stone by the writers of dictionaries, like the Cambridge Guide to Asian Theatre, who name the director, actors, and script writers of urban plays, but dismiss art forms like Kattaikuttu, condescendingly taking note of them with the odd unexplained photograph of an unnamed folk theatre artist enacting the role of Rama. "These plays happen in the same India as urban theatre, at the same time," says Hanne. "And they are not anonymous. When village committees hire us for festivals, they specify a particular actor they'd like to see in a particular role." For tiger, gypsy, clown or Draupadi, one child in his time may play many parts, and the Kuttu Kalai Kudam would like to ensure they're equally unforgettable in every one of them.