The months of July and August are maddeningly busy in the South of France—it is peak summer, glorious sunshine (with just the occasional thunderstorm), and most beaches get very crowded. Offshore, Europe's wealthy set—commodity billionaires, real estate pashas, former dictators and ageing rockstars—holidays on luxurious priv­ate yachts, discreetly. It's another world out there where the only passport you need is access and cash, lots of it.
Two years ago, in July, an Indian politician joined this exclusive club for a brief vacation. Nitin Gadkari—the 57-year-old leader from the now ruling Bharatiya Janata Party (BJP), MP from Nagpur, and current Union minister of road transport, highways and shipping—was in the South of France. Outlook has learnt that for two nights, July 7-8, 2013, Gadkari and his family (all told, nine people) vacationed on a massive luxury yacht, Sunrays, owned by the Essar group. The Gadkari entourage were guests of Ravi Ruia, who along with his brother Shashi Ruia controls the $39-billion Essar Group.
---
CRUISE CONTROL : THE E-MAIL TRAIL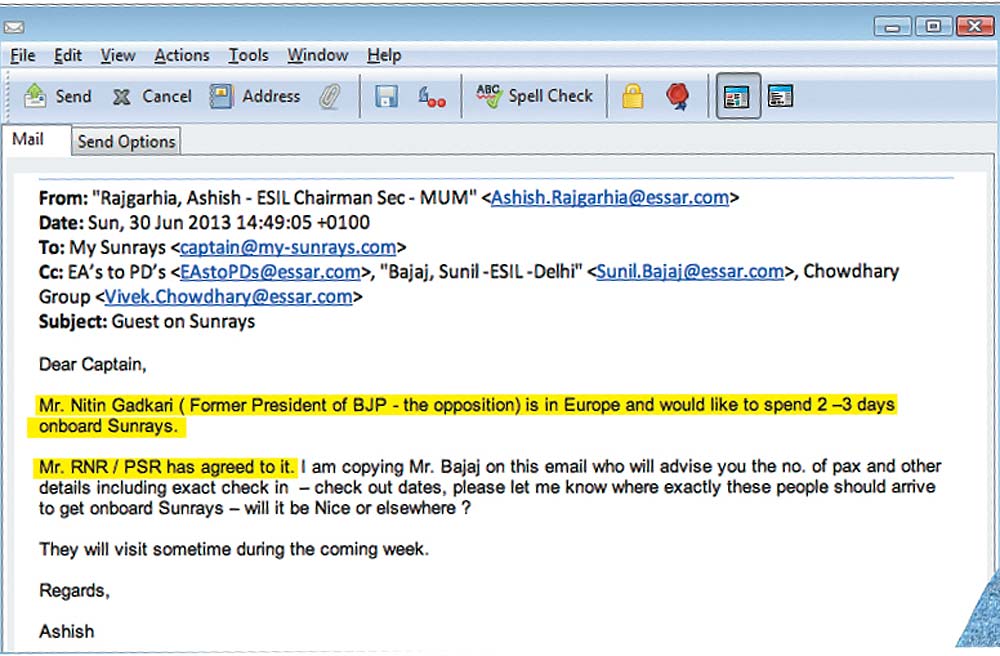 ---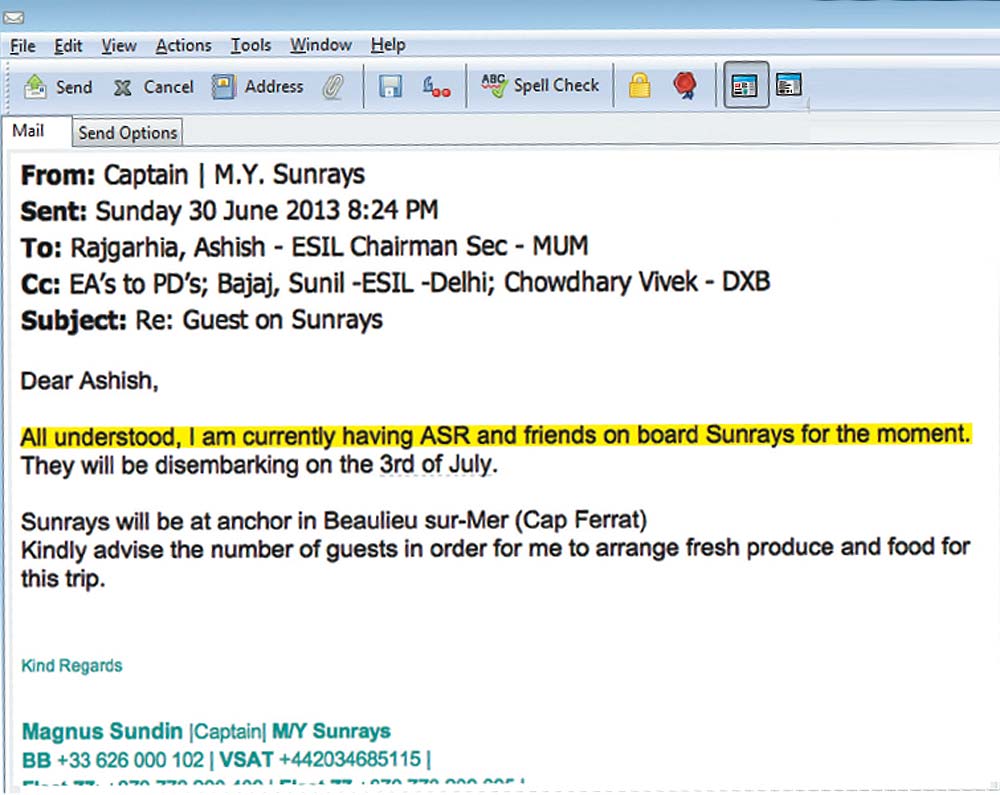 ---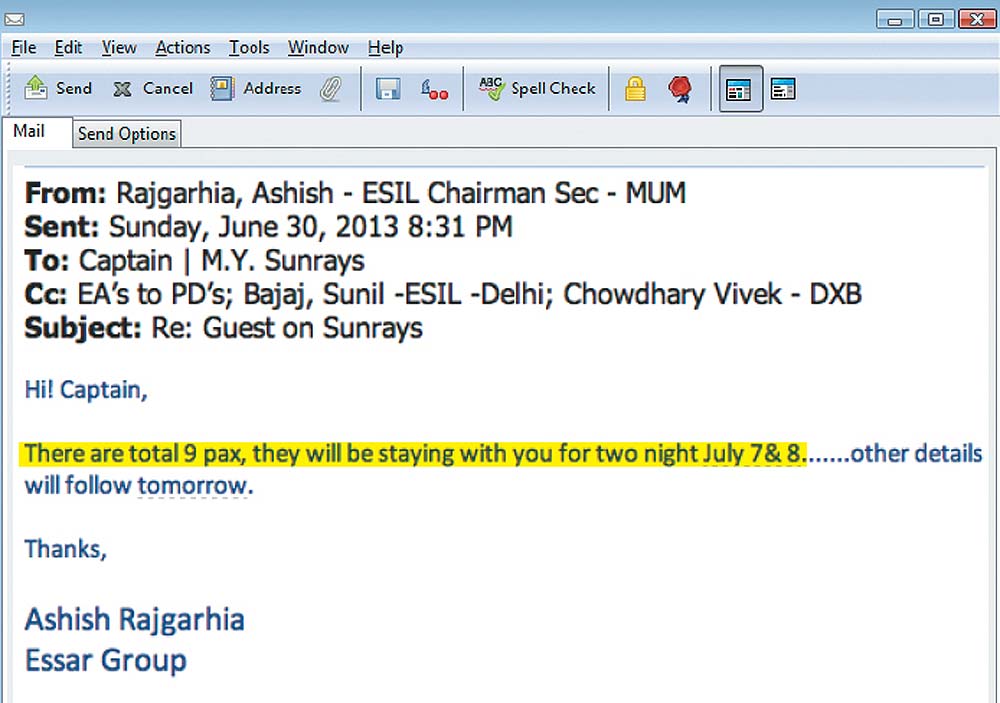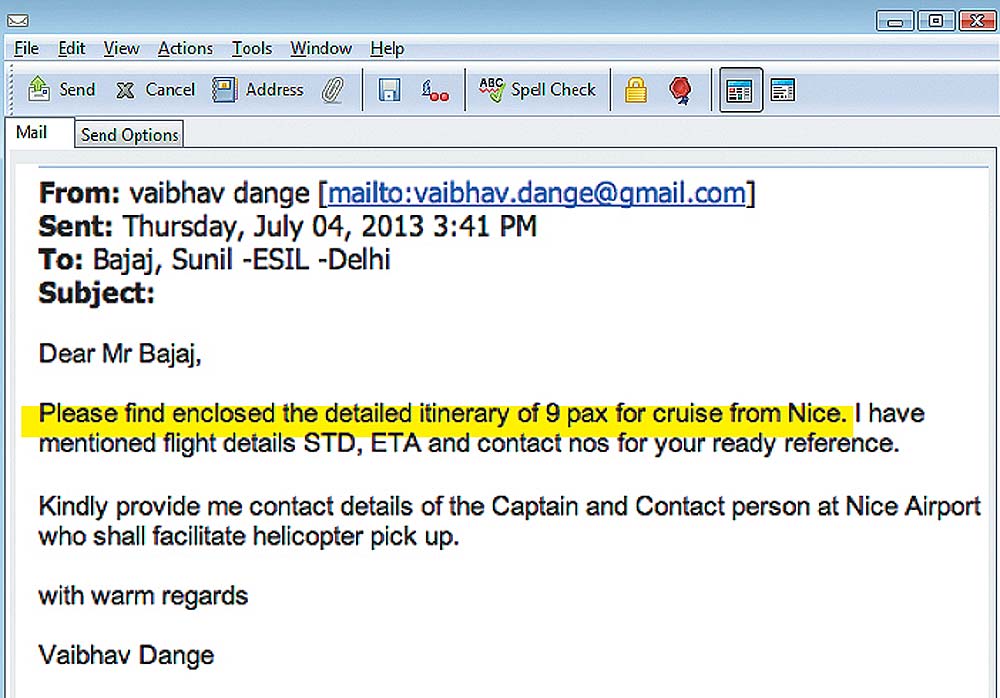 ---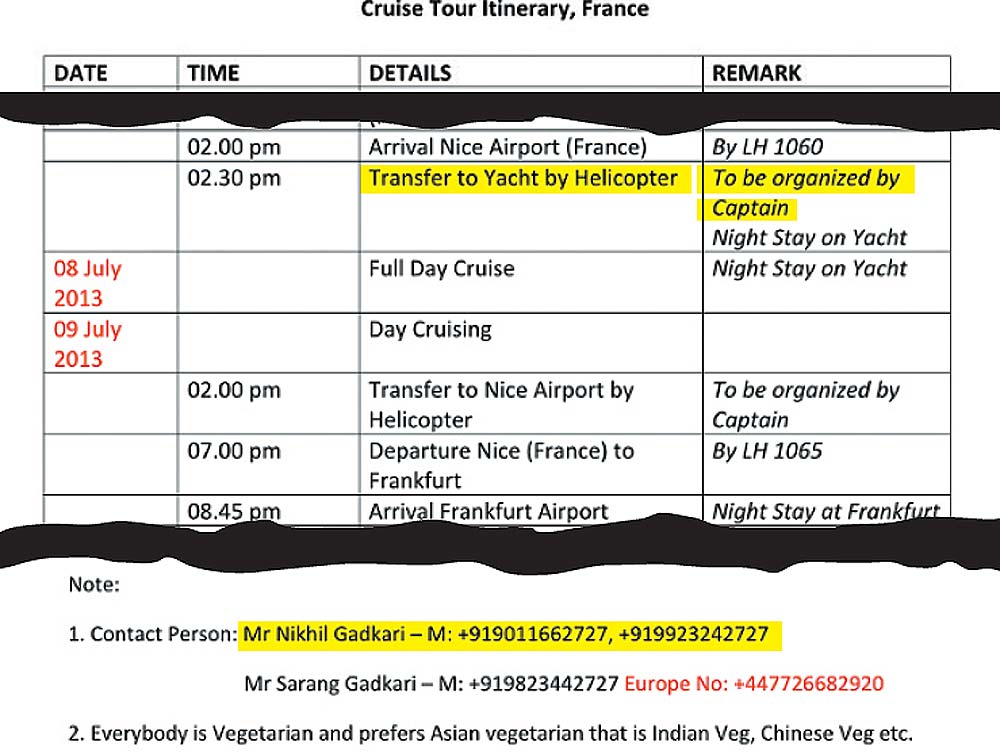 ---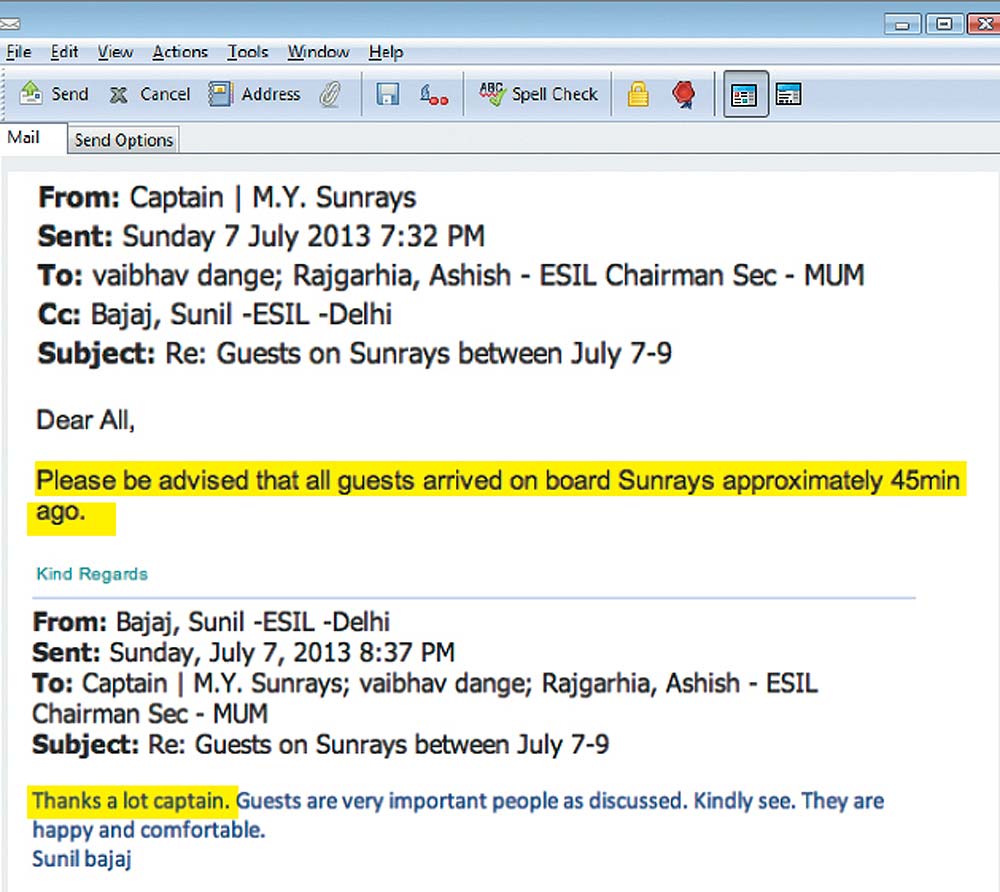 ---
Internal e-mails by top Essar employees show how this hospitality was extended to Gadkari a few months after not being re-elected as BJP president, an I-T department probe into his business interests scotching the prospect. These are part of a larger set of e-mails accessed by Outlook (see box: Cruise Control). All this matters, of course, because a man is known by the company he keeps. The adage particularly applies to people in public office (even when they have relinquished a formal post). How apt was it for a top BJP politician, a recent party chief, to receive the hospitality of a corporate group, leave alone one that was embroiled in the 2G scam? It was a corporate he would eventually have to deal with.
Remember, this was a year before the BJP came to power at the Centre, but there was no doubt in the summer of 2013 that the party was on the ascendancy. This was also the time when Nitin Gadkari — let it be known that he was considering an entry into "active politics"— which led to him marking a first-time entry into the Lok Sabha in 2014. Despite attempts by Outlook, Gadkari could not be contacted for this story.
Based on the e-mails Outlook has seen, we do not know if Gadkari paid for the stay, or if the Ruias had charged a fee for the use of their yacht. We also don't know if Gadkari or other politicians have used this yacht on other occasions. While Sunrays is not generally available for private charters, the normal rate for hiring such a yacht is upwards of $1,00,000 (Rs 60 lakh) for a week. All invoices to Sun­rays are dir­ec­ted to a post office box in the British Virgin Islands.
The Gadkari vacation in the South of France begins with an e-mail on June 30, 2013, sent by Ashish Rajgarhia, executive assistant to the chairman, Essar Steel India Ltd (ESIL), to Magnus Sundin, captain of the yacht Sunrays, with these words: "Mr Nitin Gadkari (former president of the BJP—the opposition) is in Europe and would like to spend 2-3 days onboard Sunrays. Mr. RNR/PSR has agreed to it." That's Ravikant Ruia and his nephew Prashant Ruia, group chief executive of Essar.
The captain of Sunrays replied the same day: "All understood, I am currently having ASR (Anshuman Ruia, president of Essar Power) and friends onboard Sunrays for the moment. They will be disembarking on 3rd of July. The boat would then be anchored in Banlieu Sur-Mer." The guests due to board the boat on July 7 were: Nitin Gadkari, his wife Kanchan Gadkari, family members Nikhil Gadkari, Rutuja Gadkari, Sarang Gadkari, Madhura Gadkari, Ketaki Gadkari, Nandini Gadkari and Gadkari's private secretary Vaibhav Dange.
Sunrays is not just any yacht—it delivers quite a power statement even in this gilded world. Manned by a 20-plus crew, the 280-ft yacht can comfortably host upwards of 16 guests. It has the works—suites, a lobby, dining room, multiples bars, jacuzzis, a helipad, and so on. Even the venerable Forbes billio­n­aire listing found it worthy of mention: the Ruia "fam­ily goes on fishing holidays together on their yacht, Sunrays".
In another mail of Friday, July 5, 2013, a detailed plan from Vaibhav Dange is forwarded to the captain by Sunil Bajaj, from Essar Services. This mail lists Nikhil and Sarang Gadkari as contact persons, and lists their mobile numbers. The planner adds, "Everybody is Vegetarian and prefers Asian vegetarian that is Indian Veg, Chinese Veg etc."
On July 7, '13, the Gadkaris are transported to the yacht by helicopter from Nice airport (this was also organised by the captain of the yacht). As Sunil Bajaj emphasises to the captain, Magnus Sundin, soon after the Gadkaris arrived on board on July 7, 2013: "Guests are very important people as discussed. Kindly see they are happy and comfortable". After the cruise, the group goes back to Nice airport in a helicopter on July 9, 2013, from where they fly to Frankfurt and then Mumbai, reaching on July 11, '13.
---
The Choppy Seas
Essar e-mails: What else is revealed in the exchanges
Planting' questions in Parliament via politicians, with whom there is a relationship-building exercise
Jobs to candidates suggested by politicians, senior government people
CSR funds being used to cultivate senior officials, get government security for its own projects
Organising transport and other services to the media, and 'planting stories' in the media
Dealing with govt infrastructure officials around its projects to facilitate business
Access to secret PMO documents etc
---
Gadkari has made no secret of his bus­iness links. Complicating matters further is a business relationship that his Purti group later inked with the Essar group. At the end of August 2013, seven weeks after the holiday in the South of France, the Gadkari-led Purti Group announced that it will start 50 outlets where ethanol-blended petrol would be sold at two per cent less than market price. Purti announced a tie-up with Essar Oil Ltd.
Moreover, it was known then that the Essar group was named in the 2G chargesheet along with Loop Telecom. The CBI had chargesheeted five people—Essar group's Ravikant Ruia and Anshuman Ruia, and Loop promoters Kiran Khaitan, her husband I.P. Khai­tan and Essar group director Vikash Saraf—on December 12, 2011, alleging that they had cheated the DoT by using Loop Telecom as a "front" to secure 2G licences in 2008. Both Loop and Essar have denied the CBI charges and linkages between them.

Shashi and Ravi Ruia
The Essar group continues to be in the news—and for the wrong reasons. To start with, there's the Indian governm­ent's decision to stop Greenpeace's Priya Pillai from leaving the country as she's harming India's "national interests" by protesting against the Mahan coal block, a joint venture between Essar Power and Hindalco. More rec­en­tly, Essar has been one of the firms "involved" in the petro documents leak.
After the BJP came to power, Nitin Gadkari was briefly the rural development minister. He suggested a number of amendments to the Land Acquisition Act, which would water down pro-farmer provisions like the social audit, mandatory consent of at least 70 per cent locals for acquiring land for PPP projects and 80 per cent for acquiring land for private projects. These pro- corporate moves have led to protests and opposition mobilisation, and have got the BJP on the backfoot.
Even before being shunted to the surface transport ministry, Gadkari has been barely away from the news, and for the wrong reasons. First, new­spaper reports surfaced of his home being "bugged"; then there were rep­orts of his throwing his hat into the Maha­ra­sh­tra chief ministerial ring; then pictu­res of his riding a scooter helmetless. Finally, he's now been acc­used of watering down car safety norms from global standards.
Sunrays—which has a maximum speed of 20 knots—would have surely followed global best practices in safety. Unfortu­n­a­tely, India's Union ministers don't seem to follow best practices in propriety.
---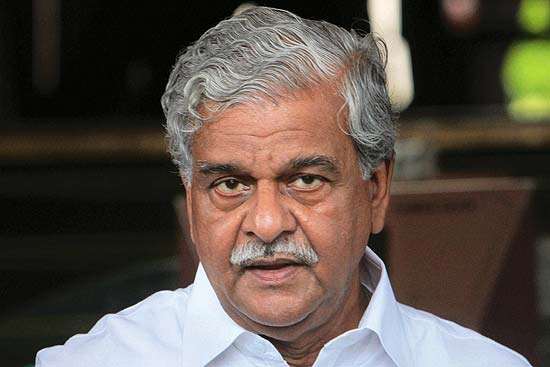 EXCLUSIVE: Gadkari-Ruias Secret Cruise Trip
Jobs For Our Boys
Essar considered pool to place neta-recommended recruits
Sriprakash Jaiswal