In Davos, the world's 'thinkers' are talking about India being the 'beacon of hope' in an uncertain global economic situation. The headlines every morning from China are ind­eed depressing. Emerging market peers like Brazil and Russia are shadows of their former selves; experts joke that only the 'I' in BRICS is standing. Within India, however, companies and commentators are focused on the viability of the country's quest for 7 per cent growth, given that most economic indicators are looking grim. All eyes are on Union finance minister Arun Jaitley who will unveil a make-or-break budget about a month from now. There are hopes that he will unshackle animal spirits in the economy and set the stage for private investments to flow with confidence.
Many in Davos waved aside fears about India by pointing to its booming start-up culture, the demographic dividend and, above all, the country's domestic consumer market. Never mind that the domestic consumer has been sending a distress signal for some time now. The only thing is she's not in your cities. Unlike the floods in Chennai, the drought story in nearly half of the country's 676 districts is yet to hit the headlines. Many in New Delhi have not yet grasped the enormity of the rural crisis and how this could affect the India story.
Rural India is where over half the country's population resides. This massive faceless population needs to have jobs, wages or a healthy farm economy in order to buy food and basics—and then motorcycles, fridges, TVs, mobile phones, etc. By all accounts, large parts of rural India are bleeding. "There's a lot of rural distress since the two failed monsoons, a lot of discontent. You can see the rise in farmer suicides. Rural people simply don't have money to buy equipment," says Mallika Srinivasan, chairman and CEO, TAFE (Tractors and Farm Equipment Ltd). Tractor sales are down 20 per cent in the first six months of 2015-16.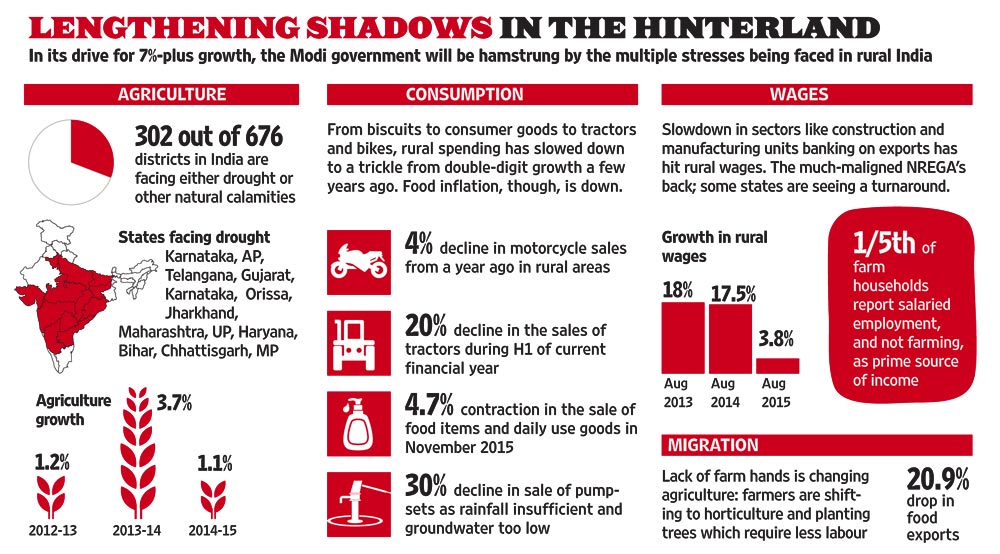 To get a measure of exactly how bad things are, Outlook reporters visited seven states. We chose districts that are not traditionally drought-prone. Without exception, there was a massive spike in rural poverty. Companies are reporting lower sales from rural India. There is agricultural distress mainly owing to bad weather—which betokens lower yield or no yield. Also, a slowdown in sectors like construction and manufacturing units banking on exports has led to a drop in rural wages. Falling prices of commodities both in India and globally has compounded matters. While low food prices are the only silver lining for millions of consumers, this is bad news for traders, exporters of agri-products.
Worryingly, the impact of two consecutive years of insufficient rainfall is being felt beyond the rural and semi-rural areas. Rural migration is on the rise, thanks to the slack in construction work. Small factories in rural and semi-rural areas are also shedding workers due to slower dem­and. "In India we are witnessing the largest migration from rural to urban areas because of rural stress. It is a steady but silent migration as we are not hearing anything about it," says Ajay Vir Jakhar, chairman, Bharat Krishak Samaj. This is backed by anecdotal evidence about an increasing number of rural poor being seen in our larger cities.
In the last 70 yrs, the share of agriculture & alied sectors in GDP dropped from 61% to 19%.
After being in denial, the government seems to have finally woken up to the rural nightmare. The Supreme Court too seems to share this concern about widespread rural stress and, in some drought-prone areas, cases of deep distress. Acting on a PIL, the apex court has directed the central government to present it with the true state of affairs in the drought-hit regi­ons. After hectic, two-day consultations with state representatives, Prime Minister Nar­endra Modi was briefed on the situat­ion in late-night presentations. The gover­n­ment's new focus on rural India is evident from the urgent launch of what's being dubbed as its flagship crop insurance scheme.
Concerned about falling sales, the corpor­ate sector too has nudged the government into action focusing on rural employment. From calling NREGA the "living monum­ent" of the Congress-led UPA government's failures, Prime Minister Narendra Modi has turned a full circle. Since August, the government focus on NREGA has revi­ved. Efforts are on to provide states with adequate funds and ensure better asset creation while helping farmers through greater focus on agriculture and allied projects.
The spotlight on the drought situation in large parts of the country is not a signal FM Arun Jaitley can afford to overlook or undermine in the upcoming budget. Underplaying its impact would not only affect the distressed but also defeat the government's new plans, expected to be outlined in the financial statement, to create more growth centres through a village cluster approach. There are many challenges the rural economy faces.
***
"When there is lower economic activity, people in rural areas tend to spend less, the lower inflation is one positive." Dr Shashank Bhide, Director, MIDS
"Three crops have been destroyed or not delivered desired yield. The cumulative effect is that farmers don't have paying capacity." Prof Sudhir Panwar, Member, UP Planning Commission

---

"NREGA acted as determinant of the base rate for labour. Not as widespread now, perhaps income benchmarks are coming down too." Rama Bijapurkar, Market strategist
"Private companies have not invested in developing rural markets or generating demand. So how can they expect to reap the benefit?" Pradeep Kashyap, Founder, MART

---

"Certainly the slowdown is reflected in the weak demand. NREGA pick-up shows that the government recognises that there is a problem." Ram Kaundinya, Agriculture expert
"The only talk is about growth in services, which is where the poor get absorbed apparently. But migration converts rural poverty to urban poverty." Prof S. Janakarajan, SOAS

---

"There is huge agrarian distress in the country. It is something that needs urgent attention. NREGA is anti-recession." Mihir Shah, Former Planning Commission member
"If the govt did a cost-benefit analysis, it would find it better to keep farmers happy in villages than look after unhappy migrants in cities." Ajay Vir Jakhar, Bharat Krishak Samaj

---

"There may be some pick-up in NREGA. In drought-hit areas, people need employment at a huge scale—that's not happening." Jean Dreze, Economist
"Agriculture and rural wage growth has gone down from four to six per cent to around one to two per cent in real terms." Prof S. Mahendra Dev, IGIDR

---
| | | |
| --- | --- | --- |
| | "Food procurement is more than last year. We have sufficient buffer stock to meet our obligations under the food security programme." Ram Vilas Paswan, Union food minister | |
****
Cushioning The Impact
Speaking to Outlook after the marathon session with officials, Union agriculture and farmer welfare minister Radha Mohan Singh pointed out that the over 14 per cent shortfall in monsoon in 2015 following a year of poor monsoon was bound to affect agriculture, which continues to sustain large parts of the rural population. "The situation now is not as bad as it could have been, as contingency plans were deployed in most drought-hit states. Eight states were provided Rs 12,000 crore from the National Disaster Relief fund, two more are still to be provided relief," Singh said. While the final data is still awaited, the minister said data till January 22 shows the acreage under cereal cultivation has come down by three per cent this year. What has helped is the contingency deployment of 93 varieties of high-yielding drought-resistant seeds to the states to help farmers, claims the minister.
Besides employment, the NDA has stepped up focus on PDS, a major force for alleviation in distressed villages. Union food minister Ram Vilas Paswan stresses there is no cause for alarm as there is sufficient stock in government godowns. "Food procurement is more than last year. As on December 1, 2015, we had 50.5 million tonnes of foodgrains, as compared to 49.5 million tonnes on December 1, 2014. We have sufficient buffer stocks to meet our obligations under the food security programme," he says.
By March/April, the government hopes to roll out the rights-based programme for poor across all the states, apart from Tamil Nadu which has its own welfare programme for all, with 97 per cent work of digitisation of ration cards for better monitoring complete. Even as the government promises greater efficiency in PDS operations, onground reports say that in most areas, including drought-hit regions, its performance continues to lag.
Fixing Rural Demand
Economists and market experts are happy that the Modi government is slowly waking up to the fact that rural India constitutes the biggest untapped market. "Till 2000, rural markets acco­unted for only 30 per cent of corporate sales, but now their share of the total market has gone up to 50 per cent," says Pradeep Kashyap, founder of MART. In the last seven decades, the share of agriculture and allied sectors to GDP has dec­lined from 61 to 19 per cent, but it continues to provide direct and indirect employment to millions of working poor.
As per 2011 census, pucca houses have grown from 33% to 66% in 10 yrs.
"Though poor monsoons can at best imp­act just 30 per cent of incomes in rural areas, it has a much bigger impact on consumer sentiments. If spending is down, it is because of sentiments," says Kashyap. The poor in rural India are as aspirational today as their counterpart in urban areas. This is reflected in the rise of pucca houses, which, as per the 2011 census, have grown from 33 per cent to 66 per cent in just a decade. The pucca house is seen as a symbol of income.
So, for the corporate sector banking on high growth for profitability, rural distress is not good news. Says Pinakiranjan Mishra, national leader (retail), Ernst & Young: "I think there is an overall slowdown. It started off with rural and has continued even with urban markets slowing down. That's the feedback I'm getting, especially from all FMCG companies. I think what has probably added a little bit to the whole challenge is the weather in the last 3-6 months.... As of now, consumers are definitely holding back in rural areas. I've been hearing this from all companies."
For instance, rural pumpset sales are down by 30 per cent—and it's a vicious cycle. Pumpsets are supposed to help farmers access water, but the lack of water itself has stumped pump-makers. Farmers need to dig deeper and deeper for water, which costs more but which rain-fed farmers can't afford. "Even if governments provide subsidies to buy pumps, with wells running dry, why would farmers instal pumps," asks Bharat B. Patel, MD, Waterman Industries, a manufacturer of pumpsets. "This is not the usual seasonal slowdown—people are scaling down production because there's simply not enough demand from farmers," says Patel.
Slowdown in consumer spend has started hitting several small units like Nanaji Namkeen, active since 1977, but now nearing closure. Sonal Foods, which serves the Maharashtra-Mumbai suburban market, also faces a dilemma. "When people don't have money for essentials such as onion and garlic, selling at over Rs 100 a kg, who will buy snacks?" says H.P. Vaghela, the proprietor. He says that the "demand is just not like it was before", while prices have risen. "Wages haven't kept pace, and prices of essentials haven't decreased. We're hemmed in—there just isn't enough demand," he says.
Of course, experts like Rama Bijapurkar feel companies should wake up and smell the coffee. "We have seen the NREGA effect in terms of growth in rural income between 2004 and 2013...where the poorer income households in India, mostly rural, grew at a very fast clip, outpacing the growth rate of the richer households which are in both urban and rural India," says Rama Bijapurkar, market strategist. "Companies must get used to business cycles and be clear about long-term potential in the market versus short-term disappointments."
Rebooting NREGA
Reports from different states give a mixed picture of NREGA outcomes. Back from the cold, the rights scheme is being banked upon to reduce rural distress and also provide alternative income to stem migration and boost the rural economy. "There may be some pick-up in NREGA employment, particularly in UP. But in drought areas people need employment on a huge scale—that's not happening," economist Jean Dreze tells Outlook. "The government needs to relax NREGA norms in these areas, along with expanding PDS entitlements."
Horticulture production surpassed 282 mn tonnes last year,, more than foodgrains.
There are mixed opinions here. Some feel improvements in NREGA are helping to reduce rural stress—such that the proportion of distress migration is on the decline, albeit slowly, where the programme is yielding results. Many states, including Madhya Pradesh, had been found to be tardy in implementation, including clearing payment dues. Says Manoj Rai of PRIA, "This government, unlike the past government, has built up pressure on states. There is better utilisation of funds. The projects have been expanded to provide more flexibility at the local level. The results will start showing next year."
With many states, including West Bengal and Uttar Pradesh, going to elections over the next one year, NDA leaders are leaving no stone unturned in their quest to improve NREGA performance. Former Planning Commission member Mihir Shah for one is happy that many of the reform measures he had suggested during the UPA tenure that never got implemented are finally being implemented to improve NREGA outcome and help build rural infrastructure.
Real Rural Reforms
P. Chengal Reddy of the Federation of Farmers' Associations does not give the government any credit for farmers venturing to adopt new high-yielding hybrid varieties of crops and achieving higher productivity in both paddy, wheat and other crops. This has ensured that overall production has not drastically slumped though there has been some drop from the peaks of 2013-14.
The share of rural markets in corporate sales has gone up to 50% from 30% in 2000.
The continuing problem of labour, high input costs and nil noticeable improvement in irrigation facilities has led to many farmers switching over to horticulture and animal husbandry. Last year, horticulture production surpassed 282 million tonnes, which is more than the foodgrain production in the country. "Agriculture has not been profitable for the last many years," says Reddy. "I would like to know from Prime Minister Modi and his imported team of financial and economic experts as to why they are not able to make a breakthrough." Clearly, the rural economy needs some focus.
Truth be told, there have been no reforms in the farm sector. Economist Dr Rajiv Kumar is critical of the fact that farmers are not able to get the right prices even in cases where the government has fixed the minimum support price. "There is something to be said about the trading community's vic­ious hold on the rural economy such that administrative measures are meaningless and the farmer suffers inordinately, which is the case now," he says.
The economist then goes on to question the government's growth predictions. "On what basis are the IMF and the World Bank anticipating around 7.5 per cent growth this year, I don't know. I don't agree with the growth numbers—they are not in sync with ground realities."
It's something Jaitley will have to contend with, come February 29.
---
By Lola Nayar with Pragya Singh