The Scent of Terror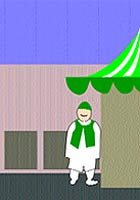 The willows still weep into the canal that runs through Lahore. The impressive red brick structures of the Lahore High Court, museum and Aitchison College still remind you of its historic past. The Badshahi Mosque continues to stun you with its imposing beauty and simplicity. But something has changed. Today, in a city that once had a leisurely, almost nawabi pace, you can feel the tension in the air. You notice the thin crowds in the marketplace.
Mohammed Sarwar stands just below the steps leading up to the Badshahi Mosque selling what he calls kadai gosht. There's neither a kadai nor any gosht. He fills plastic cups with a mixture of boiled channa, chopped onion and tomato and if you're willing to try the concoction, he embellishes it with some deadly-looking chutney and masalas. How come there are so few people visiting the Lahore fort and the mosque on a Sunday, I ask? Haven't you heard about our problems, he counters. People from outside Lahore, who would otherwise have made a beeline for these places, are now keeping away, or coming in smaller numbers. Sarwar's sales of kadai gosht are down. Terrorism in any country hits those living on the margins.
---
Governor's Gosht
Lahori hospitality and food is legendary. I was part of a group of over 200 women journalists from South Asia. We went for our first official dinner at the grand mansion of the Punjab chief minister Shahbaz Sharif expecting to tuck into a good biriyani. But not only was our host absent, so was the biriyani. The mounds of rice on the buffet turned out to be Chinese egg-fried rice accompanied by chicken in a kind of white sauce. The vegetarians were left with only salad. Fortunately, someone noticed their plight and rustled up some dal and rotis. Needless to say, everyone attacked this welcome addition to the meal. The reason for this sad repast, we were told, had something to do with austerity measures.
Fortunately, no such austerity measures were evident in the food served at the imposing colonial mansion of the governor of Punjab, Salman Taseer. His 'good-looking' son, the publisher of the newspaper Daily Times, was more than a little puzzled when several veteran women journalists made a beeline for him and informed him how much they had enjoyed his book. They had mistaken him for his half-brother Aatish Taseer (Tavleen Singh's son), whose recent book, Stranger to History: A Son's Journey Through Islamic Lands, has made waves. Incidentally, a marked difference between the governor's mansions in India and Pakistan seems to be politics. In India too, the appointees are political. But they don't flaunt their political connections. In Pakistan they do. As you enter Governor House, you are greeted with a huge poster depicting the governor and the late Benazir Bhutto as well as president Asif Ali Zardari.
---
Broadcast Lessons
Pakistani news channels are as varied as ours—ranging from somewhat sober to hysterical. Both days—October 10 and 11—were big news days with bombs in Peshawar on October 9 and then the attack on the GHQ in Rawalpindi the next day. Used to the hysterical tones of Indian news channels, it was a pleasant surprise to watch Dawn TV. If you closed your eyes, you could almost imagine you were watching BBC, including the clipped British accent. The news was presented soberly, panelists were allowed to complete what they were saying, anchors asked intelligent questions, and there were investigative stories that provided additional information. For instance, the day after the GHQ attack, the channel had a news feature on how easy it is to buy uniforms, including those of generals, from markets in Pakistan. The men who attacked the GHQ were able to get past the first checkpost because they were dressed in army uniform. I wish some of our news channels would attempt providing viewers such informative fare at times of high drama.
---
Lahori Paani
In a country where alcohol is prohibited, it always surprises visitors to see how much alcohol is available and served in Pakistan. In the homes of the well-heeled, only the best will be served. But at official functions? Some of us noticed that at one official dinner, a bottle of water was doing the rounds. Men were sipping water in their wine glasses with such relish that we wondered if this was a special brand of Lahori water. Indeed, it was—laced with generous quantities of vodka!
---
Emulate Thy Neighbour
Walk five minutes across the Wagah border and you're in Pakistan. So easy. Yet so difficult. The signal on your phone begins to fade. Walk a few more steps and it disappears altogether. But it must be said, the customs and immigration facilities across are decidedly smarter than the Indian side. In the spirit of competition, here is one improvement India can make.