Rajkumar Hirani leaves my eminently filmi environs divided into two distinct halves. On the one hand is the extended family that loves and adores Hirani's "saaf suthri filmein" that entertain while managing to talk a whole lot of sense while also doling out some goody-goody life lessons. On the other hand are the film-crazy friends who find him too conventional and old school to be exciting or edgy.
It's difficult then to put Hirani in any bracket. Maybe he's not outright the best director in Bollywood, there are several others aspiring for the same title—from a Vishal Bhardwaj to Anu­rag Kashyap to Imtiaz Ali to Dibakar Banerjee and some pretenders. Quiet and reticent, he isn't the most well-known filmmaker either. That spot is reserved for the always-on-TV Rohit Shetty and Karan Johar. His long-time friend and associate, lyricist Swanand Kirkire, puts him in perspective: "You could call him the best popular filmmaker"; the creator of some much-loved films and beloved characters like Munna­bhai, Circuit or Rancho.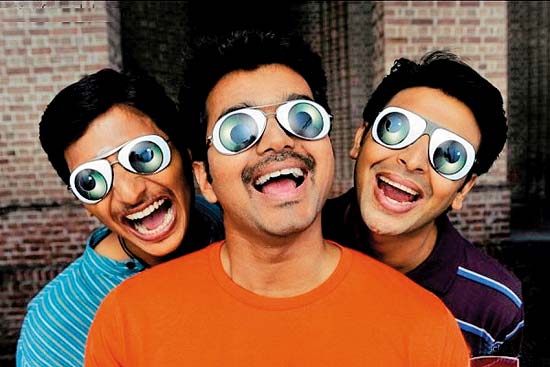 3 Idiots saw many remakes. the tamil version, Namban, was directed by Shankar and had the slick Vijay in the lead.

Sriram Raghavan, filmmaker and Hirani's batchmate from the Film and Television Institute of India, Pune, remembers his peer's first fiction film, a 45-minute episode for Star Bestsellers on TV. "If I remember correctly, it was called Sena Medal, an emotional story told with heart and humour. His films are like that: hugely entertaining and yet they make you think." Sriram calls them pure Hindi cinema. It's no wonder then that each of his three films has won the national award for best popular film providing wholesome entertainment.
So what makes Hirani click? Is it that he understands the psyche of the Indian middle class well? That the issues he touches upon reach out to the man on the street: be it the need to humanise the medical profession in Munnabhai MBBS or the catchy Gandhigiri mantra in Lage Raho Munnabhai. No wonder then that all his films have been remade in the south and have been successful there too. The excellence-over-success mantra he propounded in 3 Idiots went beyond India in its appeal, connected in a weird and wonderful way with even audiences in China and Japan. "His subjects and treatment can simultaneously appeal to a variety of audiences and age groups. From six to sixty, as the blurbs used to say. And that's every filmmaker's dream," says Sriram.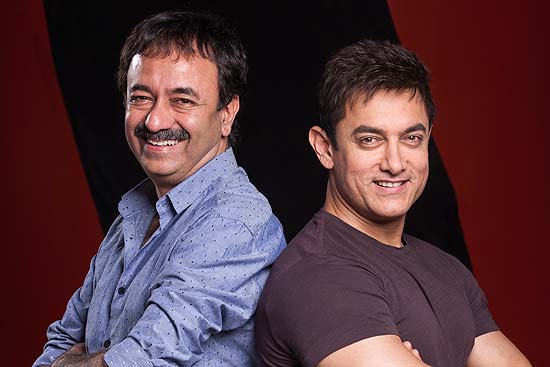 Photograph by Narendra Bisht
Up next is PK where Hirani reportedly looks into idolatory, religion and superstition. And then he plans to start a biopic on Sanjay Dutt's life, not to glorify him but to show his life for what it has been.
Growing up in Nagpur, where his father ran a typing school, Hirani had no dreams of making it big in films. He wanted to become an engineer but didn't do well enough and opted to study commerce instead. Soon, the theatre bug bit him, and eventually he found himself at FTII (at his father's behest). He didn't make it in the first attempt and even in the second round couldn't get into direction and had to take up editing. It's a craft he still swears by, quite like his film idol Hrishikesh Mukherjee who started off as Bimal Roy's editor (see interview). Colleagues who know him well say Raju's best quality as an editor is that he would never crib about the material being not so good. In fact, he would attack it with even more enthusiasm. He has extraordinary patience at the edit table and he's also very fast.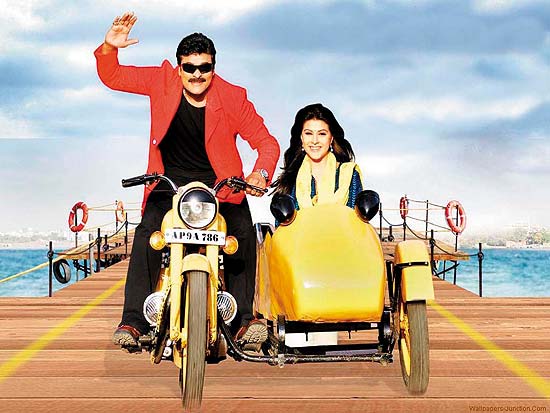 Chiranjeevi in Shankardada Zindabad, the telugu remake of Lage raho Munnabhai. it only did average business.

The days at FTII created bonds that only grew stronger with time. Hirani edited Sriram's diploma film, The Eight Column Affair, which won a Nat­i­onal Award for Best Short Fic­tion. It was at Sriram's house that Hirani set up base when he moved to Mumbai. Cameraman C.K. Mur­ali­d­­haran and sound designer Bishwa­deep Chatterjee are other close friends and bat­­ch­mates who have been part of his days of struggle and now form his crew. After passing out, they all of course wanted to make films but it wasn't easy. It took Raju and Sriram roughly 15 years to make their first features.
After graduating from FTII, Hirani worked in advertising, acted in a few ads and even set up his own agency. An editing assignment for Mission Kashmir brought him in contact with director Vidhu Vinod Chopra. Even though the quiet Hirani is poles apart from the volatile Chopra, the two have stuck together since, as have other members of the Hirani team. A filmmaking team is like a comfort and habit. "It's damn tough to give it up, it's like giving up smoking," says filmmaker Karan Johar. According to him, sticking to a team also means that a filmmaker is not egotistical. No wonder Hirani's team swears by him. "He is hard to please as a creative person, makes you walk that extra mile," says Swanand. Casting director Mukesh Chhabra is in awe of his detailing and homework. "The actor for each and every character was made to give an audition. He makes you work thrice as hard and will put in 10 times more effort himself," he says. Muralidharan likes the democratic atmosphere on the sets. "He knows what he wants but he likes sharing ideas, listens to everybody, and is open to contributions from all. Everyone has a say," he says.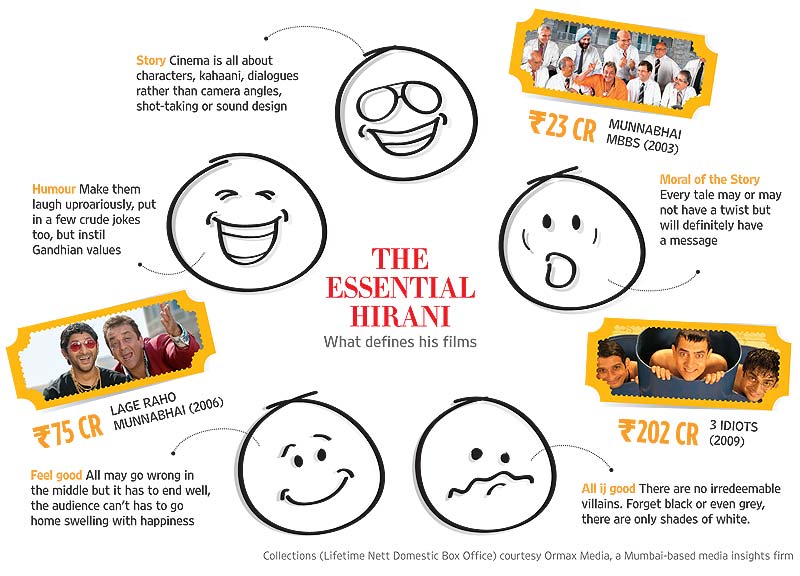 Unlike other FTII graduates who might speak of Fellini and Antonioni as their inspiration, Hirani lists Hrishi­k­esh Mukherjee and Guru Dutt and Pyaasa as his favourites. Sriram rem­embers that they got along because of their shared love for mainstream Hindi films. "At the time, in FTII it was almost a sin to love Hindi films. But we bonded on the films of Vijay Anand, Manmohan Desai, Hrishikesh Mukh­erjee, Ramesh Sippy, Raj Kapoor and more," he says. Those who know Hirani well feel his cinema reflects the kind of man he is himself: nice. "Someone who takes life as it comes, with a smile," says filmmaker and long-time friend Rajesh Mapuskar. "He has this basic faith in human spirit. I can't see things like that," says filmmaker Sudhir Mishra. Nonetheless he enjoys Hirani's "joyous vitality, the life-affirming stories".

Sticky hands Hirani was an ad industry man for long, seen here himself in an '80s Fevicol ad
Hirani's film sequences seem to be rooted in his own life experiences. For instance, the 3 Idiots scene in which the character Chatur uses porn magazines to distract fellow students is based on an episode Hirani witnessed at a medical college in Nagpur. There was a student at FTII who had a bath in the main garden with a hose pipe when there was no water in the hostel, as Aamir Khan was shown doing in the film. Hirani also often takes his cinema back to his upbringing in small-town Nagpur. "There are more stories in small towns to draw upon. We draw from our experiences, dig out our scenes from those memories," he says.
The PK poster, on left, seems an inspired take -off from an album cover of Portuguese musician Quinn Barreiros.

No dark and convoluted themes for him, Hirani is all simplicity and sunshine. "He is a soft man who works with humility on his said medium," says Mishra. Simple, straightforward and uncomplicated they might be, but Hirani's films have a strong leaning towards philosophising. All of them are character-driven. His heroes are always quirky, right down to their names—Munna, Circuit, Ranchoddas Sham­aldas Chanchad aka Phunsukh Wangdu and now PK. Most of them are like Shakespearean fools, on the margins but with an innate understanding of life. As Hirani says, his moral pills are sugar-coated for easy consumption. And there is so much goodness running through the films that there are no conventional villains either. His films are chicken soup for the soul, with a jaadu ki jhappi or "all ij well" to set all wrong right. "He can make you both laugh and cry," says Swanand. "His films are well-crafted reassertions of basic humanity and goodness," says Santosh Desai, MD & CEO of Fut­ure­brands India Ltd.
They may look easy but there's a huge amount of work that's gone on them, with he and his co-writers slogging on every scene, line and nuance. "The apparent simplicity is very difficult to achieve," says Mishra. The ideas may look absurd on paper, seem impossible to pull off but his skill lies in audaciously managing to do just that. Muralidharan, who shoots happily for both the "simple" Hirani and the more "crafted, treatment-oriented" Sriram, explains the much-discussed "lack of cinema" in Hirani's films. "The camera is ultimately a part of the creative fun­ctioning. Each film has a personality and the camera has to stay in tune with it. When I heard his story on Munn­ab­hai, I realised there was no need for me to do any gymnastics with the camera. His is the classical technique, centred on story and dialogues. Any intervention would mean a change in pace and would affect the simplicity. It would become something else," he says.

Rain on me, man Aamir Khan and Anoushka Sharma in a still from PK
But the simplicity may at times keel towards the simplistic. Shohini Ghosh, professor of media at the AJK Mass Communication Research Center, liked his first film, how it intelligently commented on the medical profession without taking itself too seriously. "But Lage Raho was like Swa­chh Bharat Abhiyan. It simplified Gandhi into Gandhigiri. The Gandhi was without complexities, conflicts. I enjoyed it less," she says. And she couldn't understand the success of 3I at all. "It wasn't just against an oppressive education system but against education itself," she says. For her, Munnabhai worked because he was vulnerable, Rancho became a "superman student", an unbeatable hero. Their resolutions are cinematically perfect with no rough edges.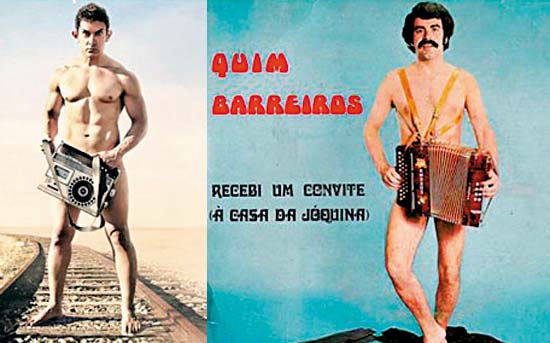 The rough edges are not visible on Hirani either. Success doesn't seem to have changed him in any way. There is still no sign of arrogance or complacency in him. You may love or hate his films, but you cannot dislike him. "He never got into the glamour quotient business of the entertainment industry," says Swanand. In fact, he is known to have hosted the 3I success party at an intimate club rather than the usual seven-star hotel. No wonder, clad in an ordinary cotton shirt and crumpled trousers, Hirani looks more like the quintessential common man of R.K. Laxman's cartoons. Albeit much younger, and with a little more hair on the head. And far more successful.