At a south Delhi neighbourhood Diwali fair recently, there was one festive stall amidst all the customary others that caught everyone's attention. Manned by five five-year-old girls, it featured a bake sale. It took just under one hour for their 250 baked goodies to be sold out. "The girls baked for two days straight," says a proud Prerna Sood, mother to Aanya, one of the five little master bakers, "making cookies and cupcakes, and decorating posters for their stall. And they're already planning their next sale."
Giggly, pigtailed, this bunch of girls may not have known how to manage their bake sale finances ("In confusion, they kept handing the tenners they were paid for each goodie back to the customers," chuckles Aanya's mum), but they knew their business back in the kitchen, working comfortably with cookie cutters, frosting the cakes with flair and dishing out their wares confidently.

Five-year-olds at a Diwali bake sale in Delhi
"Indian parents see how multicultural kids on TV are; they have international cuisines on the tip of their tongue."


—Ameeta Wattal
Bright young things whipping up three-course meals and eye-popping desserts on television aren't merely the stuff of foreign production studios. They are far closer home, in our cities, in our kitchens. In the Nair kitchen in Thiruvananthapuram, 10-year-old Aman marks his territory, conjuring up delights like chicken in oyster sauce quite beyond his years. Last year, for his mother's birthday, he baked her butter cookies in hand-made letters that spelt 'Happy Birthday, Amma'. Says beaming mom Manju Nair, "He'd follow me around the kitchen since he was seven. When I signed up for a baking class, he insisted on coming along." Among Aman's favourite books are a cookie cookbook. Quiz him about future plans, and he doesn't miss a beat: "I want to be a chef." Torn perhaps between his other passion, he adds, "Cricket is my backup option."
Turns out nursing a culinary dream isn't rare in the pre-teen universe these days, as Purvi Shenoy, 11, will tell you. This little chef from Bangalore wants to "own a multi-cuisine restaurant one day, with my best friend Nikita". In Chennai, budding chef Dhruvi Khandelwal, also 11, makes the most of the baking genes she has inherited from her mother Sofia, and enjoys blogging about escapades in the kitchen. "My husband and I are fitness freaks," says Sofia. "Dhruvi, I think, picked up on that, and loves to experiment with honey, oats, low-calorie tea cakes and Thai cuisine."

Delhi Friends Aftab and Aanya shopping for ingredients. (Photograph by Sanjay Rawat)
Even more wow-worthy is how early kids are taking to the ladle. Amaara is only three but is already proving to be mum Mandira Ahuja's most reliable kitchen aid. "She helps fold in the flour or decorate the cakes," says Mandira. "She'll put on her own little apron and feel like a part of the whole process. It ends up becoming a great mother-daughter bonding exercise." The youngest student in Mumbai-based cookery instructor Ketaki Bhosale's class, Raunak, is all of three too. "The youngest lot makes very simple sandwiches or cookies," she explains. Thane-based cookbook author Rajashree Naware reckons teaching them 'fast food' works best, because "they like to make things quickly so that they can eat what they've made quickly. They're most interested in putting finishing touches."
"Curiosity about kids cooking may have risen but why bother children with it? They may not even retain what they learn."


—Indu Mehta
Older kids, though, are all about mastering techniques. Mehika Sikand, who just turned 10 and enjoys visits to her father's bakery in Delhi, can whip up a quick salad, quiche and a batch of shortbread biscuits in no time. And she prefers mixing her dough with a spoon rather than an electric mixer. It "gets more air into the mixture, which is good for the dough," she points out. Aman Nayar, 12, under supervision of course, can lay out a plate of delicate prawns, a ham and spring onion quiche and, believe it or not, a dreamy four-layered strawberry cake! "Sure, layered recipes are time-consuming, but not tough to make," chips in the Delhi boy, even though his mom Divya often has to clean up after him.
Amidst this happy flurry of activity in many urban kitchens, in more conservative quarters, there are signs of disapproval. "Curiosity about kids cooking may have increased in the past few months, but why bother children with cooking?" wonders south Mumbai cooking instructor Indu Mehta. "They may not even retain what they learn." Other parents wonder if their boys should really be around pots and pans rather than throwing a ball around in the playground. No doubt then, even as the trend catches on across the globe, its sudden popularity in India is indeed surprising. Indian parents have always been protective about even letting their kids stray too far alone, let alone getting anywhere close to fire, sharp knives or complicated kitchen equipment.

Chennai Renu Jain takes an informal cupcake class in Chennai, where she's teaching them flower frosting. (Photograph by R.A. Chandroo)
How then did the Indian kitchen turned into a kids' playground? "Earlier, parents weren't in favour of their kids cooking. But now when they see Australian kids make flambé#, they feel differently," says Ketaki, who has been conducting courses for kids since 2006. Agrees Ameeta Wattal, principal, Springdales School, Pusa Road, Delhi: "Despite the fact that we have a city culture of domestic help-at-hand, Indian parents see how kids on TV are so multi-cultural that they have other international cuisines at the tip of their tongue. This is fuelling the trend. Cooking is an important part of our culture and sensibility, and a marvellous way of connecting with others across countries."
"For the younger lot, 'fast food' works best because they like to make things quickly and eat them as quickly."


—Rajashree Naware
Apart from that, there is also a change in gender roles, points out food and nutrition teacher Anu Arora. "We may be protective about our kids, but with more and more working mothers, young boys and girls need to be able to fend for themselves. In fact, I have a 60:40 ratio of boys to girls in my classes." It's a logic that Mumbai-based Sharmila Bhosale stands for, who enrolled both her sons, 14 and 17, in a cooking class because she believes "it's absolutely essential for boys to know cooking".
No wonder then kids of all ages stood in queue for hours at a Delhi venue recently to get their copies of a cookbook signed by celebrity chefs George Calombaris and Gary Mehigan of Masterchef Australia fame. Hemakshi Khadaria, 14, and Zobia Salam, 13, who were selected for a cook-off challenge hosted by the duo, gush giddily: "We were so inspired, because we got to learn about different culinary traditions, and picked up techniques and tips from them." Obviously, television shows like Junior Masterchef and I Can Cook are a big influence, but Marina Charles, who holds cooking classes for kids and adults in Bangalore and Thiruvananthapuram, says many parents want their kids to go beyond what these shows portray. "Perhaps the interest was always there, but the opportunities were limited. But now there's a lot more exposure with the growing trend of eating out, more cuisines being accessible and travelling abroad," notes Anjali Vohra, who runs the Little Cheflings cooking club in Delhi. Now there are more like her. Mansi Zaveri started the Kids Stop Press parenting blog and organises culinary field trips for kids around Mumbai; the last took a group of kids and moms to a patisserie kitchen. "Cooking is great for eye-hand coordination, to build concentration, while measuring ingredients is like doing math," says Mansi.

Thiruvananthapuram Aman Nair, with his chicken pizza
"With more and more working mums, kids need to be able to fend for themselves. I have a 60:40 ratio of boys and girls."


—Anu Arora
And come January, Delhi will have its very own culinary school just for children, hosting cooking programmes for ages upward of three up to 17. "The market is ripe for such a school," feel Siddharth and Aparna Todi, who are bringing the US-based Young Chefs Academy to India. "We are going to have after-school programmes and vacation camps, with a mix of cuisines, with different themes every month," says Aparna. They also plan to host birthday parties Masterchef style, currently the it-theme for kids with foodie proclivities. Birthday party planner Parul Arora of Yuppies Celebrations affirms that Masterchef and tea parties are big hits in the 7-plus age group, where the kids get to decorate pre-baked cupcakes and cookies. Taking that theme a step further is Delhi-based Kaveri Bhatia, who runs cooking club Fusion Foodies for kids. She recently hosted a couple of birthday parties that involved a cook-off between two groups of kids. "I was so surprised at how innovative the kids can get; one of them came up with the idea of olive- and jalapeno-stuffed pizzas, on the spot." Her son, Kavin, 8, has taken after her, while his twin, Ayush, is great at polishing off his brother's creations.

Mumbai Ketaki Bhosale teaching her class pies and tarts. (Photograph by Amit Haralkar)
All the fuss aside, could this be just another passing fad? Are these kids likely to fancy an entirely different activity next season? "Many children have been coming to me regularly for the last couple of years, and those who started with cookies and cupcakes have gone on to the next level, cooking main course food," says Bhatia. "Many of them have already shortlisted the culinary schools they want to go to. So we're looking at hundreds of young masterchefs in the next few years." Bhatia helps children learn desserts, quiches, crepes, churros and salads but is careful not to let them near fire, using an induction cooker instead. Chef Manav Sharma, partner, cmyk cafe in Delhi, is equally pleased to see Gen Next kids seeking out new avenues. "The socio-economic structure is changing, and kids are thinking about pursuing careers they're passionate about, not stick to stereotypes," he says. More urgently, the little chef brigade tells us, they're hoping for a desi cook-off TV show. Then they too can offer the world their very own piece de resistance.
---
Li'l Chef Brigade
Cooking lessons for children from three to 17 years in basic and advanced baking, all kinds of desserts (cakes, tarts), frosting, Italian, Mexican, Thai cuisines, salads. For the younger kids, the lessons are blended with storytelling and craftwork
Cooking/baking clubs for kids for a bit of informal learning
An exclusive culinary academy for kids (Young Chefs Academy) in Delhi early next year
Food-themed birthday parties, especially Masterchef-style events featuring cook-offs between two groups of children, a red team and a blue team, where kids are judged on innovation, plating and cleanliness
Kitchenware for kids, the junior chefs kids' range a big hit, containing mini spatulas, small baking trays, rolling pins, mini cake moulds etc
Cooking camps during summer vacations, field trips to patisserie kitchens
Mom-and-kid baking sessions to help parents bond with kids over cooking
Active cookery clubs in schools where they are coached on planning meals, table setting, plating, balancing flavours (these classes are more popular with boys), plus bake sales and cooking competitions
Cookbooks for kids—international and national books aimed at the young, with easy,
interactive recipes
Ingredient shopping at glossy stores is an increasingly popular exercise with the little chefs—they know exactly which herb, cheese and cooking chocolate they are
looking for
Many of these kids don't see cooking as merely a hobby: they are also blogging about it, and shortlisting the best culinary schools to attend, want to become chefs.
---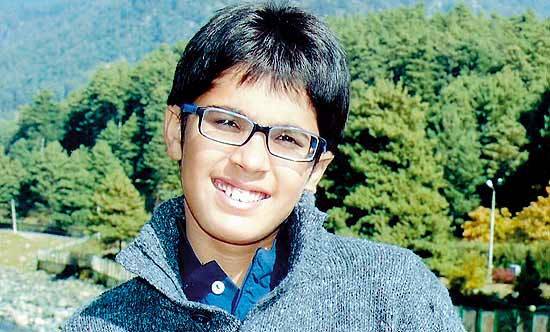 My Favourite Recipe
Strawberry-layered cake
Ingredients
1 cup cut strawberries, 1 cup fresh pureed strawberries, 225 g self-raising flour, 1 tsp baking powder, 4 eggs, 225 g softened butter, 225 g castor sugar, three 8-inch shallow cake tins
For the filling
2 eggs, 75 g castor sugar, 1 cup chopped strawberries, 1 cup pureed strawberries, 50 g unsalted butter
For the icing
1 cup of strawberries, pureed, 125 g icing sugar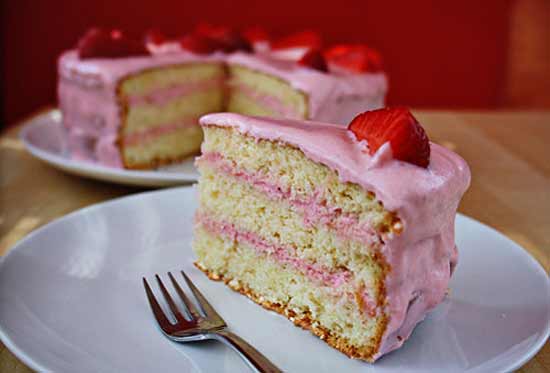 Method
Heat the oven to 180°C. Grease and line the three tins. Sift the flour and baking powder into a bowl. Break eggs into a cup, and add them, along with butter and sugar, to the mixing bowl. Beat it all together well. Stir in the strawberry pieces and the puree. Divide the mixture between the three tins. Bake the cakes for 20 minutes till they come out firm. Turn them on to a wire rack to cool.
To make the filling, break eggs into a heatproof bowl and beat with fork. Add sugar, strawberries and puree. Cut butter into chunks and add. Put two inches of water into a pan and heat till it is just bubbling. Put the bowl into the pan. Stir, as it thickens. After 20 minutes, take off the pan.
Spread half the filling on one of the cakes. Put another cake on top, spread the rest of the curd over that. Put the final cake on top. For the icing, sift icing sugar into a bowl, and mix with pureed strawberry. Spread evenly over cake. Decorate with chopped strawberries.
—Aman Nayar
---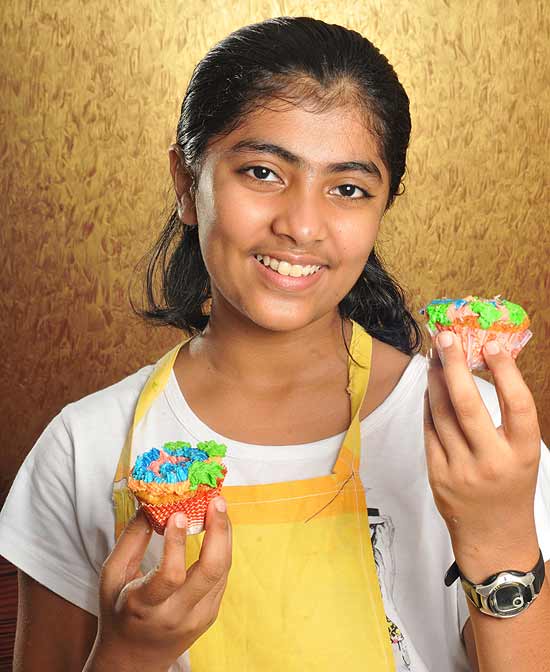 Why I Love Cooking
Three years ago, I was just a little sapling in the world of food. Back then, when I was eight, things had started getting complicated in school. I no longer had time to goof around. I had to study, study, study...how frustrating is studying at home when you could hear your sibling goof around?
I started getting bored after studies, it was too late or too hot to play. Then I was introduced to books, but a week later, I asked my mother if she could show me more new things...and she called me to the kitchen and told me a lot of things about food.
A nasty foodie grew inside me. The next day mom cooked this lovely 'Banana Blondie' which was to die for, and I licked the plate clean. I started baking the very same day and made my first ever banana cake. My mother was always baking, I have no idea how the kitchen was clean when she baked, unlike when I did! After this baking incident, I almost never felt bored. Studies have always blocked my route to baking and cooking, but my Fairy Godmother (my mother) always tells me to balance out both. Baking is very tricky, though, it's just like a 'Rocky Road', you never know how it may turn out, who might like or hate it, sometimes it turns out like an angel and sometimes not. But if you ask me who my inspiration is, it's never Donna Hay or Justin Bieber, it's my mother.
—A budding chef, Dhruvi Khandelwal
---
By Neha Bhatt with Prachi Pinglay-Plumber