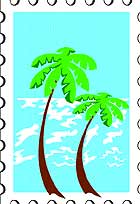 That Curved Text
Closing in on Kochi, the pilot apologetically informs us that although we were intended to arrive ahead of schedule, our Indigo flight will now circle hawk-like in the skies for 25 minutes. A Jet flight due for take-off had burst a tire smack-bang in the middle of the runway. A few minutes later, the pilot's apologies get more profuse. The trouble is bigger than previously believed and will take two hours to repair. Our flight is now to be diverted and an anxious passenger who can smell the possibility of a free meal asks the attendant dolefully, "We will at least get lunch, no?" But lunch is not on the menu and Bangalore airport is, upon which a passenger wittily remarks, "Isn't the Goa airport closer?" The stewardess, a maestro at deflection, greets this comment too with a perfectly-formed, airline-academy smile signifying and revealing nothing.
I will not extol the virtues of Kochi because her charms are many. Enough praise has also been sung of her numerous little street-side eating houses to which I will add that these refuges, replete with wooden benches, serving tea, coffee, appams and fish fry any time of the day, are the city's real gems. But, as a visiting Mumbaikar, I have discovered a new jewel. My Bollywood-fatigued eyes detect that the hoardings are free from the tyranny of Hindi movie stars endorsing all but truth, fidelity and small change. Wait, I speak too soon. There is Abhishek Bachchan on an Idea hoarding. With gelled, combed-back hair and hint of facial fuzz, one can be deceived into believing he is every bit a nice-looking Keralite boy. Perhaps it is the transformative power of the fonts alongside, each letter of the Malayalam text curved like an ample hip or coiled like perfumed hair into a bun.
---
What's For Dinner?
Avial is not just a dish anymore, but also a hugely popular Malayalam folk-rock band. We are at the Durbar Hall grounds, at the inauguration of India's first international art biennale that will run for three months in Kochi beginning January next year. The Kochi-Muziris Biennale, to be held at various public places, has been painstakingly helmed by eminent artist-curator Krishnamachari Bose, artist Riyas Komu, along with creative adman V. Sunil, cartoonist Bonny Thomas and some funding from the state government. Our delayed flight has caused us to miss the speeches, but we are in time to watch the evening catch a spark as the throngs respond to the band's fevered query, "Kochiii, wwwwhy are you so quiet tonight?"
---
The Price Tag
A month after writing his epitaph at the India Art Summit in New Delhi, artist Sudarshan Shetty (along with Sunil Padwal, Justin Ponmany and others) is also at the Kochi-Muziris biennale opening and doing very well, thank you. Ask him about the oddness of inscribing the year of his own demise (in this case, 2010) and Shetty's lucidity is as compelling as his art. The work allowed him to separate himself from the idea, almost as if the contemplation of death was one thing and his existence in the present, another.
Shetty's wife Seema is a TV actress (she played Seebo in the soap Maahi Ve) and though drama is key to what they both do, their professional worlds are far apart. How then did she view the installation announcing his mortality? "It didn't trouble her," says Shetty.
His four sisters, as is the wont of siblings, ask him blunt questions about his work: "What does this mean?" or more often, "Who are these people willing to pay so much for your work?"
---
Intransigent India
At the same after-party celebrating the first edition of the biennale, I meet German-Swiss architect Karl Damschen, who has made Kochi home for the past 15 years. Not long afterwards, he asks with genuine astonishment, "How do you live in Mumbai?" I mumble half-apologetically, "I suppose it's easy because I was born there." Karl, who picked Kochi over Switzerland, has his own definition of luxury: you should have time for friends, live very close to nature and have a good meal on the table.
Minutes later, Jose Dominic, whose CGH Earth chain has flourished on most of Karl's luxury parameters, tells me that in a world where everything will soon be everywhere, the definition of holiday will have to change. Comparing the experience to the equivalent of a Sabarimala pilgrimage, he says this new "break or pause or pilgrimage" will have to offer the intangible. Intangible India, Incredible India, everything is welcome. But first—because I can't help thinking of Air Asia's advisory to travellers arriving in India—water you can trust and cleaner toilets, please!
---
Those Spicy Bad Boys
I do not make it to the Mattancherry spice market, being warned that it is not safe for ventures after 7 pm as characters of questionable repute hang about the place. "Not for girls," I am told. And for boys? "Ok, not for girls and good boys," comes the answer.