Other Major Sexcapades
Orissa Assembly Speaker Maheswar Mohanty was forced to resign in 2008 after Gayatri Panda, a young woman marshal of the assembly, accused him of being vindictive after she protested against his sexual misconduct.
A string of politicians, bureaucrats and police officers is facing charges of sexually exploiting minor girls in J&K in '06.
After not having taken action against him and even promoting him, the Karnataka
government finally ordered an inquiry this week against IAS officer D.K. Rangaswamy for demanding sexual favours from a widow in her late 20s.
In a landmark case that went all the way to the apex court, the then chairman of the Apparel Export Promotion Council, A.K. Chopra, was dismissed in 1999 for repeated attempts to molest his private secretary 10 years back.
***
An IAS officer once received a phone call from a junior minister asking for assistance in choosing a gift for his aunt. "Since he wanted me to accompany him to a government-run textile outlet," recalls the woman officer, "it sounded almost official. I went, helped him select a sari, and I thought that was that." A week later, he called again—now, with a request to help him pick some music for a nephew. Cornered, she went again but, now, her antennae were up. And predictably, this time, the shopping trip concluded with the minister suggesting a drive, as it was a Saturday. Prepared, the officer told him she was due to meet her boss. "But he's on tour," replied the minister. Thinking on her feet, she quickly named an official standing in for her boss while he was away.
Remote tribal areas, militancy affected regions or feudal states... sexploitation is rife in these parts.

Shortly afterwards, the incident found its way to the ears of the state's chief minister, a supremely powerful politician who, in exemplary fashion, sacked the offending minister. Instant justice? Almost, but for one disturbing little detail. While dismissing him, the CM told his very junior ministerial colleague, "What possessed you to raise your eyes and look at an IAS officer? Stick to the ANMs (auxiliary nursing midwives)."
The episode stuck in the young officer's head. And so, when later posted as a district magistrate, she acted at once when she heard that a local ANM was being preyed upon by the zilla panchayat chairman. Full of zeal, she summoned the ANM and offered to transfer her out to escape the "harassment". "No, thanks," said the ANM matter-of-factly. "Here, I only have to sleep with Saheb, who protects me from the others because he is so powerful. In a new district, god knows how many men I would have to please to keep my job—and I am the mainstay of my family."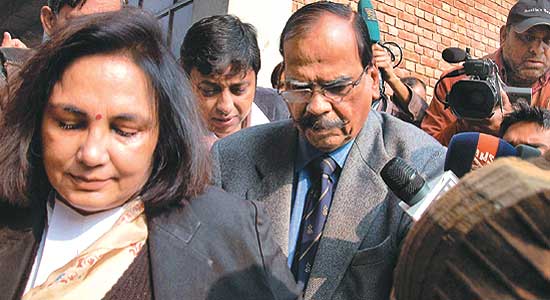 Haryana's ex-DGP S.P.S. Rathore gets six-months in jail 20 years after molesting 14-yr-old Ruchika Girhotra!
Evidently, in the seemingly charmed circle that politicians and government servants cohabit, the only protection against the demand for sexual favours is often class—as this anecdote and its disturbing sequel illustrate. And where the pursuit of sex is closely linked with the exercise of power, it flourishes most where the potential victim is most vulnerable, or where the impact of civil society is felt the least. Remote tribal districts, states where the prevalent social culture is either overwhelmingly macho or feudal or, indeed, in militancy-affected areas.
Is the sex voluntary or coercive? Does it even matter, in a context where women can't afford to risk their livelihoods—in some cases, even their lives—by standing up to a powerful man? When the powerful go out seeking sex, sexual exploitation can stretch all the way from coercion to capitulation.
"Patronage is so important for a woman in politics that unless she comes from a political family or has some other strong backing, getting a position or ticket to fight elections, is extremely tou gh," admits a Congress functionary.

Very few such incidents are actually reported, either out of fear of the perpetrator or the unwillingness of the authorities to register such cases. But, from time to time, the rot rises to the surface, thanks to a sensation-seeking TV channel or justice-seeking victim. In 2005, a torrid video recording of Ranchi Inspector General of Police P.S. Natarajan with a tribal girl highlighted, with graphic images, a form of exploitation that is rampant in tribal areas. In 2008, the then Orissa Speaker, Maheswar Mohanty, was accused of molestation by an assembly employee. And just last week, the Karnataka government filed a case against IAS officer D.K. Rangaswamy for seeking sexual favours from a young widow who had come to him for help.
The sex-power nexus is at its most pernicious and abusive where the power of the state is absolute—as in militancy-dominated Jammu and Kashmir. The state is yet to recover from the after-effects of a sex scandal involving minor girls that came to light in 2006. The roll-call of the accused is shameful and telling: two ministers of the then pdp-Congress government, G.A. Mir and Raman Mattoo; an aide of the then chief minister Mufti Mohammad Sayeed, Iqbal Khandey; and a host of senior bureaucrats and police officers. A senior civil servant says, "Even in states where a history of sexual exploitation exists, such as Punjab, where politicians, administrators and the police have lived through a period when they wielded absolute power, such habits continue. It is hard to think of another state where a case like Rathore's could last so long."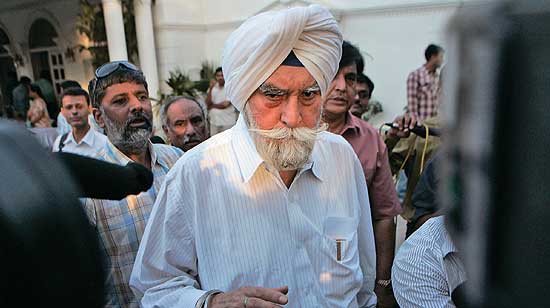 Rupan Deol-Bajaj, of course, is a closed chapter in the K.P.S. Gill saga
In the political arena, the sex-power nexus also plays out as patronage. Entering electoral politics is always a risky business, but more risky, in some ways, for women than for men, since there are few brownie points awarded to them for merit. "Patronage is so important for a woman in politics that unless she comes from a political family or has some other strong backing, getting a position or a ticket to contest elections is extremely tough," admits a Congress functionary. In a revealing incident a couple of years ago, a Congress Seva Dal worker marched into the room of one of the party's seniormost leaders at his office at 24, Akbar Road, to complain that one of his colleagues had used her sexually and then reneged on his promise to secure her a ticket. Before his shocked gaze, she stripped and threatened to walk out of the room naked, only agreeing to put on her clothes after the embarrassed Congress leader mustered all the tact at his command and calmed her down. But, say party insiders, it was a close call.
Of course, politics has always had its share of flamboyant consensual relationships too, such as, in recent years, that of former Uttar Pradesh chief minister Kalyan Singh and Kusum Rai (the two are no longer together, but interestingly while his career has plummeted, hers is on the up and up) and current Karnataka chief minister B.S. Yediyurappa and Shobha Karandlaje. In the latter case, Yediyurappa was forced to drop Shobha from his council of ministers when the scandal broke. Like the hero of Mughal-e-Azam, he was asked, points out another BJP leader wittily, to choose between his "takht" (throne) and Anarkali.
Most political observers agree that Congressmen conduct their affairs with more finesse than those from their main rival political party.

Interestingly, most political observers agree—and this includes those from the BJP—that Congressmen tend to conduct such relationships with greater finesse than those from their main rival political party. A civil servant from UP, who worked both with Kalyan Singh and the currently headline-hitting N.D. Tiwari, had this to say: "Congressmen are better at compartmentalising their lives, allotting time for work and play. Kalyan Singh's biggest mistake was that he allowed his relationship to consume him and his political career. N.D. Tiwari, on the other hand, juggled many female interests and administration deftly." Of course, Tiwari has finally been outed, but only after living a rather full 86 years, and surviving tales of his successor in UP, Veer Bhadra Singh, washing the Lucknow secretariat with "gangajal" before taking office, to remove the "Tiwari taint". Indeed, a senior BJP leader speaks almost enviously of two senior, married cabinet ministers in the current UPA government for their deftness in pursuing sexual relationships without attracting the ugly odour of scandal: "What champs they are—X and Y."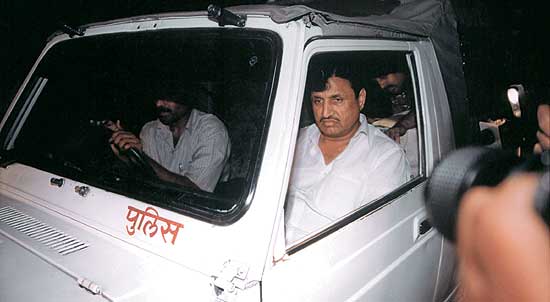 UP politician Amarmani Tripathi is in jail for poetess Madhumita Shukla's murder in '03.
On the whole, most politicians do live out their secret sex lives with impunity: last year, when the incorrigible Amar Singh reportedly taped a gaggle of cabinet ministers and industrialists at play with a Mumbai girl, the story never went beyond the gossip columns. There has usually been a conspiracy of silence about high jinks in high places: sexual romps, even in Rashtrapati Bhavan, have gone unrecorded; more recently, the story goes, a governor with an invalid wife insisted on taking the poor woman on all his official tours as he was having an affair with her nurse, while his successor flew to Delhi for R&R. Civil servants, the knowledgeable admit, don't just look for remote government guest houses to conduct their affairs—the bolder use their offices after working hours, even rearranging furniture to make a Shastri Bhavan room look a little cosier.

It's only when someone wants to fix a politician or a civil servant, as in the case of Tiwari or Natarajan, or when a serious crime is committed and a case lodged, that the public hears of such cases, such as in the notorious case of politician Amarmani Tripathi, who allegedly killed his lover, Madhumita Shukla, an attractive young poet.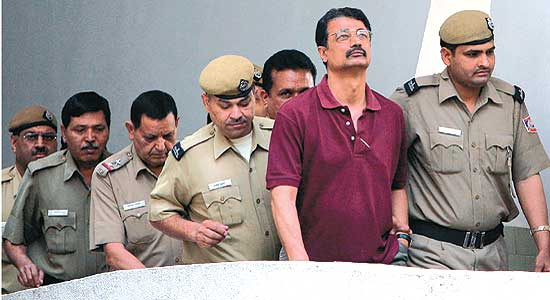 IPS officer R.K. Sharma got life for plotting journalist Shivani Bhatnagar's killing in '99.
So, what is it about power and sex? Some evolutionary biologists have argued that politicians, the modern-day equivalent of the "alpha male" gorilla, are more tempted than others by the lure of sexual conquests, almost as a right of office. Not just that, they are natural risk-takers, given that politics is an uncertain business—and so their sexual lives are a natural extension of their political lives. But what about our supposedly cautious bureaucrats? What makes them take such risks? Must be the protective cloak of power.
---
By Smita Gupta with Chandersuta Dogra in Chandigarh and Sugata Srinivasraju in Bangalore