If fashion found a place in India's Independence Day celebrations, Sabyasachi Mukherjee would certainly take a bow. His heart beats for khadi. Seven years after he arrived on the fashion scene as the brilliant, bearded, Bengali designer with a penchant for Indian textiles and intricate Parsi embroidery, it is the revival of khadi that has emerged as the strongest undercurrent of his work. He has used it in each of his collections in some form or the other.
Other designers use khadi too, but Sabyasachi has been the most successful in selling it, thanks partly to his insatiable Marwari clientele, which makes sure his clothes are sold out two hours after they are put out on retail shelves. He tries to wear this fondness for khadi lightly, insisting it is not a patriot's agenda, but he doesn't really succeed. Usually cynical, bored with the 'intellectual' tag the media has thrust on him and always restive, he becomes unapologetically eloquent if you so much as mention Indian weaves, the sari or Fabindia. He does a hardsell of Gandhian simplicity. Only, like Gandhi's goat milk, which had to be acquired with effort and money, the Sabyasachi brand of simplicity is expensive. A khadi sari created by him can set you back by a lakh of rupees. He is now charmed with the idea of refashioning Bollywood besides curating affordable cotton saris from the remotest parts of the country to influence the way India dresses. Here, he tells
Shefalee Vasudev why he wants to make khadi walk the fashion talk. Excerpts from the interview:
Ever since your debut collection in 2002, you have been working with Indian embroideries and textiles, especially khadi. Do you have an agenda?
I strongly feel fashion needs a textile personality. But my engagement with khadi does not have a patriotic agenda. I am not an activist. I am smart enough to know that it is a profitable business strategy. If we discard the socioeconomic realities of our own country, we will go nowhere. I find it strange that many Indian designers have nothing to do with local, hand-woven fabrics. To me, it is the only way to distinguish ourselves and handle the invasion of global brands. Besides, I genuinely love khadi. Its refinement lies in its humility, which is why I have used it in all my collections.
By dressing up Aishwarya for Mani Ratnam's Ravana and Sanjay Leela Bhansali's Guzaarish, and Vidya Balan for R. Balki's Paa, all in khadi, what are you trying to change—khadi's aspirational value or Bollywood's obsession with bling?
I know my clients are rich women who own everything. What they need is a point of view. Khadi gives them that.

Both! Bollywood actors are such pin-ups for the glossy and the crass. It's like juvenile American pop culture, they're besotted with big brands and money-spinning style. Instead of appreciating individuality, Bollywood encourages cloning, and claps for everyone who looks like the other. On the other hand, khadi is refined, sophisticated, individualistic, eco-friendly, sustainable and sensitive. Yet, it has no aspirational value. Being cotton, it is regarded as a poor man's fabric. There are two rules in fashion. Trickle-down and trickle-up. The trickle-up for khadi is difficult. The best way to revive Indian textiles is to get filmmakers to use them. I want Bollywood to get out of this polyester bling brigade. This is also the only way Bollywood may also go beyond nri communities and become truly global.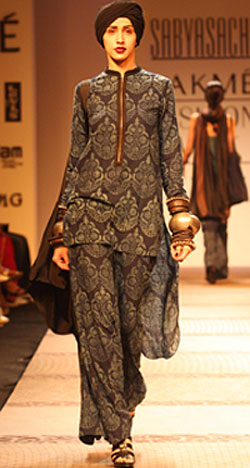 Bollywood on the one hand and bridal wear on the other. Two smart strategies! What was the response to your all-khadi bridal collection?
Each and every piece of the 90-odd lehengas in my khadi bridal collection sold out. It has been my best-selling series till date. The waiting list for new pieces is longer than I can handle. It also left me with many observations. Those who have old money aspire to be like royalty. Royalty means culture. Those who have new money, drip diamonds and buy all the big brands also aspire for culture. Only khadi can lend culture to both these classes. It is a quiet, classic style I wanted to give my clients through my bridal collection. I know my customers are rich women who own everything. What they need is a point of view. Khadi gives them that.
I have seen you walking up to women at fashion weeks and convincing them to wear saris. What is so special about the sari?
The sari is a passive garment, without a mind of its own. It is easy to lend it a point of view by the way you drape it because it moulds itself to the wearer's personality. It can go from being sexy to flashy to classic or modern. I find this passivity powerful. Women who wear cotton, khadi, muslin or other non-flashy woven saris accessorised with flowers in their hair stand out in a crowd. Even in big fat Indian weddings, because they appear secure and confident of themselves. They do not need brands or bejewelled clothes to distinguish or protect them or give them fleeting power.
Your arguments are lucid and your clothes beautiful. But they are insanely expensive! When will you make this khadinama affordable for the common Indian?
(Laughs) Very soon! My first store, coming up in Calcutta, will have cotton saris curated from the remotest parts of India. You cannot imagine how beautiful they are. Also, very, very affordable. I also intend to make reasonably priced bridal saris in khadi!