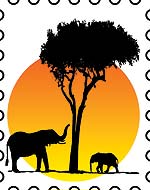 A chapter of physics
One of the highlights of our 10-day visit to Kenya was crossing the Equator. Mount Kenya sits almost atop the line, and we are at a town called Nanyuki, a little away from the mountain, at an elevation of 6,389 feet. It's here that we had the great moment of straddling the Equator, one foot in the northern hemisphere, one in the southern. Many of us have read about the Coriolis effect back in school. We saw this experiment live at Nanyuki town when the driver stopped near a bright painted board indicating the Equator. On seeing us, a middle-aged Kenyan came to us with a plastic jug with a hole at the bottom, a litre of water and few small pieces of sticks (like matchsticks) and an empty bowl. It was his livelihood to show this experiment to visitors. Walking ten feet north of the Equator, he poured the water into the jug blocking the hole at the bottom with his fingers. The sticks floated on the water. When the fingers were removed and water fell into the empty bowl below the sticks started rotating in a clockwise direction. South of the Equator, they rotated anti-clockwise. And at the Equator, the sticks did not move at all. The Kenyan said this was due to the Coriolis effect. He said the Equator experiences the quickest sunrise and sunset, and that here, there's little distinction between the seasons. While many dispute these theories, I came back with a photo to adorn my desk.
The zero gravity point, 80 km from Nairobi, was another unique experience. Kituluni, 12 km east of Machakos town, is where this point exists. A tarmac road leads towards this strange spot. The local boys claimed it was the only place where zero gravity worked. Our driver switched off the car and parked it at the side of the hilly road with nobody inside; it immediately began to move uphill at five kmph. Although the Kituluni spot lies on a very steep part of the hill, there are claims that experiments showed water flowing uphill rather than downhill. There are many who do not believe in these theories. We came back unconvinced. After all, we did not find ourselves floating at the zero gravity point!
---
Tented pleasure
Next stop was the Sweet Waters Serena Camp inside Mt Kenya National Park. This is one of Kenya's private game reserves, where you can experience privileged and private game-viewing both night and day. It's also a bird-watcher's paradise: you can get to see over 500 species of birds, all well-documented. The safaris we took in the next two days were well worth it: we saw a number of zebras, elephants, impalas as well as rhinoceroses walking just a few feet away. The air-conditioned tents here give us an absolutely breathtaking view of Mt Kenya, which is an extinct volcano three-and-a-half million years old. It was also great to spend two days in our luxurious tent, which had hot and cold water showers, cosy beds with hot water bottles and designer toilets. All tents have a view of the waterhole and you can observe the animals some 100 feet away. Watching the light of sunrise and sunset play on the ice-clad peaks of Mt Kenya was also great.
---
Idli in Africa
We went to an Indian restaurant in the heart of Nairobi for lunch on a sunny day. Smita Prabhu, a Mangalorean woman, runs it with her husband. It's a simple, elegant place, a frequent haunt for Indians, Chinese and Kenyans. Smita says that against all the odds in a foreign land, her business venture has succeeded and that she could become a millionaire soon. She personally served us nice south Indian dishes like idli, dosa and vada and other delicacies along with jalebi and gulab jamun. What struck me was the variety of dishes being taken to other customers. There was ugali (a cornmeal-based dish which is staple food for Kenyans) accompanied by saucy stew. There were other delicacies like irio (mashed peas and potatoes) and bitheri (boiled beans and corn kernels mixed with vegetables), mouthwatering pilau (spiced rice) as well as biriyani. Smita said that Sukuma wiki (made of collard greens (a nutritious green vegetable, cooked with diced tomatoes and flavoured with msg), samosas, chapati and Kenyan bajias were also popular.
How does she survive in a country where there is growing anti-Asian and anti-Indian sentiment? Smita admits she had to face problems: she was mugged once and had to hand over even her mangalsutra to save herself but that did not make her run away. There are many other enterprising Indians and Asians thriving in Kenya. However, it is only a question of time...they will have to pack their bags and leave as Kenyans have begun to feel that foreigners are robbing them of their jobs.
---
Last Week...
During our four safaris in the grasslands of Masai Mara, it was heart- warming to see man and beast live in close harmony.
---
Former political editor of Hindustan Times, Kalyani Shankar is author of Pandora's Daughters (Bloomsbury); E-mail your diarist: kalyani60 [AT] gmail [DOT] com