The collective international backlash over finance minister Pranab Mukherjee's green signal to changes in the Income Tax Act—announced in the budget document this year— shows no sign of abating. In the last seven days, the FM has been the target of several missives from governments, ministers, CEOs and international trade bodies.
In fact, British chancellor of the exchequer George Osborne's high-profile visit earlier this week focused primarily on the proposed changes in the tax structure, especially on retrospective tax liabilities. Both he and the British PM have communicated their unhappiness over the proposals, warning that it may dampen investment flow to India.
Of course, Pranab must have factored in a fair bit of opposition, especially from in-the-line-of-fire companies like Vodafone. But perhaps even he had not anticipated the collective backlash. Reports say that with the revenue department determined to revive the tax demand despite losing the court case, Vodafone is now considering taking India to the UN in a bid to block the revenue department's attempts to reopen the Rs 11,000 crore tax liability issue.
While the UK's immediate concern is Vodafone, many other companies and trade bodies are concerned that the proposed changes—with retrospective effect—could open a Pandora's box of cases and tax liabilities. Many of the 100-plus amendments proposed in the I-T Act in Budget 2012-13 are to be implemented with retrospective effect from 1962.
"Will people start to rethink on India investments? They could, uncertainty of policy is the last thing the market wants."


Richard Heald, UK-India Business Council
So far, seven global trade associations have written to Prime Minister Manmohan Singh expressing concern over the proposed amendments. The trade bodies' representation came with a subtle warning: if India did not put its house in order and retract these steps, they would be forced to advise member companies to review their engagement with India.
The associations—including Canadian Manufacturers and Exporters, Capital Markets Tax Committee of Asia, Confederation of British Industry, Japan Foreign Trade Council, National Foreign Trade Council and United States Council for International Business—collectively account for over 2.5 lakh firms globally. There have also been threats of FIIs pulling out of Indian stockmarkets and pressure tactics by global CEOs to push India into a corner. In a letter to the PM on April 2, Vodafone Group CEO Vittorio Colao has also warned that the arbitrary and punitive retrospective treatment will only tarnish India's image as an investment destination.
"Governments are perfectly entitled to pass legislation to correct anomalies in laws. But that should happen prospectively so that people can take proper decisions on investment. But if legislation goes back to an unforeseen amount of time, it becomes a problem. At the end of the day, it is not the quantum of tax but the uncertainty such measures create," Richard Heald, CEO of the UK-India Business Council, told Outlook. "Does this mean people will be more cautious and rethink on their investment in India? Possibly yes, because uncertainty of policy is the last thing the market wants."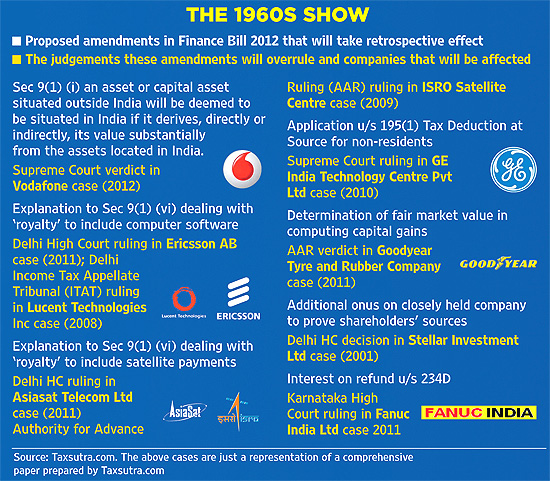 Interestingly, this uncertainty is not being created just because of the changes in rules regarding taxing of overseas deals and takeovers, but several other areas which could bring many companies and cases within the ambit of taxes. Explains Dinesh Kanabar, deputy CEO and chairman, tax, KPMG, "We have substantive issues here. Apart from Vodafone, the proposed amendments go into several important issues like the definition of royalty in software and in telecom. The stakes involved here are much higher than Vodafone."
The proposals also make changes in tax rules for computer software, satellite payments, TDS for non-residents, transparency in share capital, MAT computation, determination of fair market value in computing capital gains and several other areas. Since these amendments are meant to provide clarification on various existing legislations, experts say it would also have implications on bilateral tax treaties India has with several countries. The government has taken a position that it can clarify any provision or term, not defined in a treaty, which will be applicable from the day of the treaty. This is something many nations are objecting to.
States Arun Giri of Taxsutra.com, "The amendment to the definition of software royalty will have a big impact and could have tax implications of over Rs 5,000-10,000 crore for the industry. Other important amendments like the changes in transfer pricing rules and TDS under Section 195 will open up several cases, bringing them under the tax purview."
The entire debate may be around Vodafone, but there will be around 30 cases involving several big global and Indian firms that will face tax implications once the Finance Bill 2012 is cleared. Industry estimates peg it at well over Rs 50,000 crore which, if realised, could cut India's revenue deficit by a third.
So far the government has stuck to its guns, proceeding with the tax reforms to boost revenues. This is not the first time the government is introducing amendments with retrospective effect. In the last couple of years, roughly 300 retrospective amendments to tax laws have been made by the government—and all of them have been upheld by the courts.
Says Pranay Bhatia, tax expert and partner at legal firm, Economic Laws Practice, "From an Indian legislator's perspective, every year some case law is overruled by legislation. The tax department has lost various cases, but after that there has been legislation to undo what the courts have said. This shows lack of consistency in rules and that is hurting investors." Some experts are even calling some of the proposed changes "illogical". Like bringing software under the purview of royalty with retrospective effect from 1976 when India's software capability had not even developed.
The Vodafone case seems set to become a test case for many global investors. Kanabar feels the case may come back to the SC to decide whether the amendments to the Income Tax Act are constitutional or not. If upheld, India would have made a strong statement about not allowing anyone to evade the tax net under the garb of ambiguous rules. It remains to be seen whether India will have the spunk to stand by its reforms measures. Or will it get pushed to the backburner like the decision on multi-brand retail?