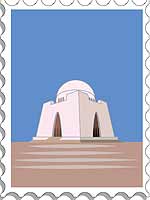 Something to relax with
If modern­ity must bring change, in Karachi it does so at a slow trot. The airport is free of the soul-constricting mega spaces that we expect in big cities. The 'meet-and-greet' lady walked me through immigration by merely nodding at the officials. (Why do we not have these angels of calm aggression in our airports?) Having struggled through the visa labyrinth with the Pakistan high commission before departure, this was comforting. The Beach luxury hotel, with its old-wordly charm, is one of those rare places where guests are not bombarded with "Have a nice day", "Have an incredible day..." etc. The bed, unstrewn by flu­ffy pillows, had ample space for my tired self, after 24 hours of travel (Kodagu-Bangalore-Delhi-Dubai-Karachi with several hours martyred in waiting rooms). When not conducting writing workshops—part of the project which took poet Sridala Swami and me to Karachi and Lahore—listening or holding forth at the literary festival, I had time to call my own. I watched reality shows, serials and news on television, and from my balcony looked enviously at women in bright ensembles as they walked in and out of the festival venue. We look a bit scruffy before them, we do. Good-looking menfolk too, many more smokers than back home. And cigarettes only, no beedis; they are cheap. "No alcohol, you see," said writer Bilal Tanweer with a wry smile when I asked later, "we need something to relax with." I bought biriyani, salan and a Karachi biscuit from a roadside eatery. The few loitering customers held their sides when I asked for "vegetarian". Price for price, it was the same as roadside food back home. Taste-wise, incomparable. Writer Shandana Minhas and Imran (her husband and a playwright) hosted a lunch at their home for a few Indian writers and friends from the local media. Of the liquids that came before lunch and after, I will say nothing except that complaints I have none.
---
Ash fans
Of the three teaching institutions we visited, the Habib University of Liberal Arts and Humanities is modern with a vision; the Sindh Mad­rassetul Islam University (Jinnah's alma mater) is traditional in many ways, one being that the vice-chancellor's wife is a faculty member, adv­isor to the VC. "She's the First Lady," he told us with pride. The writing school teaches creativ­ity to youth from ordinary backgrounds. The group we met were Pashtun and Urdu speaking, hijab- clad girls. The boys had a separate session with Christopher Merrill, poet and director of the Iowa writing programme. The girls were bubbly, the boys earnest, the questions endless. When I said that I had once treated Aishwarya Rai, they shrieked. When? Where? Then they wanted my autograph.
---
Mugs and muggings
For a south Ind­ian reared on filter coffee, to survive without it for 10 days can be dismal. I stuck to tea or man­aged with small quantities of instant coffee powder provided obligingly by the room attendant, Pappan, who was from Gujarat. "I like it here," he said emphatically when I asked. It is impossible, however, not to notice the negatives in Karachi. The ordinary man lives in a world apart from the well-heeled ranks and a thriving, upwardly mobile middle class is not as visible as in India. One gets used to the needle-eyed security men in jeeps, aiming their AK-47s at the sedately moving traffic. Private armies of the ultra-powerful and the rich, we are told. Public transport is pat­hetic, the multi-hued buses are small, with dozens rid­ing on the roof, and the two-wheeled scooters commonly have four or even five perched on them. But the traffic is certainly more disciplined than back home. Muggings—for money—are said to be common in Karachi. One of the writers witnessed a mugging attempt one night, I heard.
---
Cure-alls
The Aga Khan Hospital and Medi­cal College is one of the finest medical centres in the country. Thanks to the custom of zakat (charity), the poor can be treated. At the Sindh University of Urology and Transplantation (the SIUT), a thousand patients undergo kidney dialysis every day, for free. The facilities are world-class. In the critical care ward for children with terminal renal failure, a young woman comes regularly to sing for the patients and staff. Right there, in the midst of drip-stands, nurses, trolleys and children with no hope of a cure. The singer is blind. The man behind the success of SIUT is the medical director, Dr Abid Rizvi. Thanks to him, Karachi also has the Centre for Biomedical Ethics and Culture (CBEC), the only one of its kind in Asia. It offers a diploma in ethical studies to health professionals, and is headed by Dr Farhat Moazam, a woman surgeon who returned from the US. A truly remarkable centre, I found, in the two hours that I spent there.
---
Penned it
After a reading at the US consu­late, one of the American ladies there came up to me and said that although as a westerner she was used to "strong" language, she did not think my words—in the book—were suitable mater­ial for the local people. I prot­ested.
---
Kavery Nambisan is a rural surgeon and novelist based in Karnataka; E-mail your diarist: kavery.nambisan [AT] gmail [DOT] com