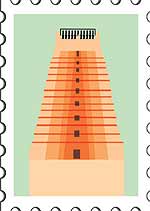 Math-raking
My first brush with Kanchi­puram was as an Outlook reporter in August 2001. I was investigating the charge that the CEO of the district, Jayendra Saraswati, had seg­re­ga­ted hostels for Brahmin and non-Brahmin stu­de­nts in the engineering college under the San­kara math. The math had by then acquired hos­pitals, erected a deemed university (with P.V. Narasimha Rao's abiding grace) and was plan­ning an IT Park. I filed the report proving how the seg­re­ga­tion was indeed true, but within days, 9/11 hap­p­ened. The story never app­ea­red. I revisited the town in 2003 when Jayendra began med­dling in the Ayodhya-Babri dispute at the behest of the then BJP government. Soon, in September 2004, A. San­ka­raraman, a former math fun­c­tion­ary, was hacked in the premises of Varadarajaperumal temple. Chief minister Jayalalitha (of the extra a) decided, for once, that the law could take its course. Jaye­n­dra became the first accused. While the sub­sequent Kar­una­nidhi regime weakened the case, Amma was exp­ected to tighten the scr­ews again. But she got busy attending to other loose screws. Today, pos­ters near the math herald Jayendra's 78th birth year. He has made a quiet comeback.
---
The Past at Stake
In 2004-05, since I ended up spending many days in Kanchi, I realised there was more to the town than sleaze, scandal and silk. The rich and hoary past finds an echo in the town's broad munici­pal divisions of Siva Kanchi, Vishnu Kanchi, Buddha Kanchi and Jaina Kanchi—the last two mere ghosts now. Interestingly, the Siva Kan­chi police station houses a nice 10th c Buddha seated in a mandapam, bestowed in 1992 by failed Veerappan hunter and dreaded police chief Walter Dewaram. The trigger-happy Dewaram's love for peace-loving Buddha can't compensate for the bloody battles waged by Shaivite and Vaishnavite saints to decimate the sway of Buddhism and Jainism during and till the Pallava period (8th c). Scholars and epigraphists are veering to the view that it is in Buddhist and Jain caves that the early Tamil Brahmi script took shape. Sculpture flourished. Buddha viharas and Jain basadis dotted the landscape. Hiuen Tsang, visiting in 640 CE, talks of a hundred viharas and over a thousand bhikkhus. The finest classics of Tamil literature were produced by Buddhists and Jains. Soon, Buddhism and Jainism jost­led for royal and popular patronage. In round one, Jainism prevailed. Meanwhile, 'Tamil Bhakti', both Shaivite and Vaishnavite, 'staked' its claim, literally. Premised on fierce monotheistic devotion, the cults were nourished by the blood of sramanic monks impa­led in public. Sambandar, the Shaivite saint, wrote songs exhorting the rape of Jain women. Periya Puranam, the 12th-century hagiography on Shaivite saints, says Sambandar was born to destroy Buddhism and Jainism and spread Shaivism. He did just that.
---
Unearthed
My recent visit owed to Chennai photographer and filmmaker S. Anvar teaming up with Kanchipuram's Buddhist enth­usiast K. Mohanraj, our guide, to facilitate a day-long tour of Buddhist and Jain sites. Over centuries, Jain and Buddhist structures have morphed into temples for Vishnu, Siva, Vinayaka etc all over Tamil Nadu. The idols of Tirthankaras like Adinatha and Chandraprabha were replaced with lingas or Vaishnavite images. Tara Devi became Kamakshi. Buddha images (mostly defaced) got strewn around, and farmers stumbled upon them in fields. As Nagappa Mudaliar did some hundred years ago, in Pallur on the Arakkonam road, unearthing three majestic 6th c granite Buddhas. He and the village folk kept vigil for decades. Ten years ago, a shelter was raised with help from Thai Buddhists. Malliga, the woman who opens the gates for us, has cropped white hair announcing her widowhood. Her voice and painted toenails suggest a zest for life. She said her husband dis­covered the Buddhas as a 10-year-old. If he died five years ago at age 105, how old was she? "I'm 63 now. He married me when he was 61 and I was 13."
---
Sexed Up
I stayed back for two days to gape at temple sculptures. Two pillars in the Kachabeshwarar temple are adorned with medi­tating Buddhas. Nearby, a woman pres­ses her breasts to a linga, arms around it. In Vara­darajaperumal temple's forecourt, I bump into a musician penetrating a very supple woman arched backwards like a horseshoe; the Vijayanagara-era, 96-pillar pavilion has a fellatio scene where the guy's schlong would delight a porn filmmaker. While explicit heterosexuality is common in temples, I thrilled in a rare find: two stout men rubbing noses, locking arms, legs and eyes.
---
Eating Idli Pie
Looking for a meaty lunch, I try Tahira, famed for their biriyani, paya (trotters) and crowds. It's shut. I try a military mess across the street. Shut too. I'm told it is Krithigai, an auspicious day for Murugan, and non-veg hotels do not expect customers. I eat humble idli.
---
A former Madras correspondent for Outlook, S. Anand is the publisher of Navayana; E-mail your diarist: anand AT navayana.org