As the Pakistan army swept into South Waziristan to tame Hakimullah Mehsud and his Tehrik-e-Taliban Pakistan (TTP), anxious Indian officials in New Delhi were busy speculating about the military operation hundreds of miles away. Foremost among the questions worrying them were: Is Pakistan serious about crushing the TTP and dismantling its network? Or will there be yet another truce between the military and the jehadis? If the TTP is crushed, what lessons will Pakistan draw from its triumph over Islamists?
But more than anything else, Indian officials were anxious about the possibility of a violent recoil from South Waziristan. Prime Minister Manmohan Singh said as much in his address to the combined commanders conference in New Delhi. Intelligence reports, he declared, have warned against imminent terrorist strikes in India. Former Indian diplomat M.K. Bhadrakumar told Outlook, "The time for rhetoric is over. The situation in Pakistan is really bad."
The fear in New Delhi is that in an attempt to widen the theatre of battle, militants might launch desperate attacks in India. Bhadrakumar suggests India should resume the stalled dialogue with Pakistan and jointly face the terrorist challenge. "The only way out is the Sharm el-Sheikh route that Manmohan Singh had initiated," he argues, suggesting there's no alternative to India and Pakistan tackling the menace of terrorism together, as stated in the joint statement issued from the Egyptian resort.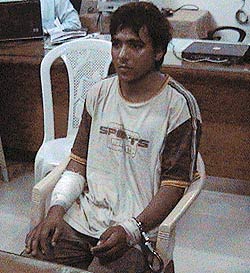 South Block, however, isn't sure if it should kickstart the dialogue with Pakistan even before Islamabad demonstrates sufficient resolve in tackling terrorism impacting India. After all, it argues, no credible action has been taken against the masterminds of 26/11 and some, like Lashkar-e-Toiba founder Hafiz Saeed, still strut about with impunity in Pakistan. "Whether terrorist activities are being carried out by 'state actors' or 'non-state actors', the Pakistan government can't shirk its responsibility," says former Indian high commissioner to Pakistan Satish Lambah.
But it isn't as if this view is universal. A section in South Block believes the military operation in South Waziristan is a "positive step in the right direction"." Hasn't the TTP threatened attacks in India, they ask. Aren't Kashmiri jehadi groups assisting the TTP in its string of terror attacks in Pakistan? Therefore, this section says, encourage and nudge Pakistan to continue on the path it has belatedly taken.
South Block sceptics, however, believe the eventual destruction of the TTP could turn the Pakistanis arrogant. For one, a TTP defeat could demonstrate to other outfits the consequences of turning their gun against the establishment. This would encourage Islamabad to nurture jehadi groups willing to push its agenda in Kashmir and Afghanistan. Second, a TTP defeat is likely to see the United States easing the pressure on Islamabad for cracking down on Islamists. Former Indian foreign secretary Kanwal Sibal agrees, "The recent incidents will definitely help Pakistan in earning brownie points with the US. These attacks and the current operation in South Wazirstan are likely to embolden Pakistan further and allow it to seek more concessions from the Americans."
This would blow against India's interests, for New Delhi had relied on Washington to wrest concessions from Islamabad on the terror plank, including the unprecedented acceptance of its citizens' culpability in the Mumbai attack. In fact, success in South Waziristan could have Pakistan persuade the US that the Indo-Pak composite dialogue should be resumed. "If such a request comes from the Americans, India should firmly say no," says Sibal.
India isn't sure if it should restart dialogue with Pakistan when 26/11 masterminds like Hafiz Saeed are still free.
His fears are shared by many in India. They feel India should make it clear to the US that Pakistan may be fighting their war on terrorism, but it has hardly shown the same resolve against those held responsible for terrorist activities in India. They also worry about Pakistan's penchant for segregating terrorists into two categories—the Pakistan Taliban and the Afghan Taliban. Such categorisation poses a serious challenge to India's role in Afghanistan, which Islamabad wants to limit and weaken.
Pakistan has been trying to persuade the US and other western powers that India uses its missions in Afghanistan to destabilise Pakistan. Currently, there aren't many takers for this line, but it's hard to tell what the future beholds. India argues that its role in Afghanistan is "constructive, helpful and benign"; that it has already spent over $1 billion on development projects there; that its mission in Kabul has been attacked twice in one year. Many in Delhi believe these attacks were the handiwork of terrorist groups close to the Pakistani establishment. They have been telling the world that despite such assaults, India's resolve to help Afghanistan stand on its feet remains as steadfast as before.
But India's Afghan investments could come a cropper should US president Barack Obama accept the line of those of his advisors who want to rope in the 'moderate Taliban' for a future regime in Afghanistan. The hope is that such a Taliban regime could stabilise Afghanistan and allow the Americans to pull out. By contrast, India is unwilling to make a distinction among the Taliban, arguing that the entire movement is embedded in the doctrine of hate and violence. The moot question is: will a 'moderate Taliban' regime be as friendly to India as the current dispensation in Kabul? Unlikely, as all variants of the Taliban are likely to help Pakistan regain lost ground in Afghanistan and marginalise India there.
Some think this debate is irrelevant. Lambah, who's currently the Indian prime minister's special envoy on Afghanistan, says, "I don't think there will be too many takers for the Taliban after what is happening in Pakistan." Yet some Indian policy planners have already started talking about having no problems with anyone who "abjures violence and wants to return to the democratic process". They say India must prepare for a future in which America and its allies won't be in Afghanistan. Therefore, New Delhi ought to have the flexibility to retain, if not enhance, its role in Afghanistan.
"One sure way of doing that is by offering to train the Afghan army," says Srinath Raghavan of the Centre for Policy Research. This will ensure India remains relevant in Afghanistan for all times, for no matter who is in power in Kabul, the army has to be an arbiter of peace and stability in a country that has been utterly destitute of both for decades.