Bad Sons-In Law From Bharat
1. The first Muslim invader of the Deccan, Alauddin, the nephew and son-in-law of Jalaluddin Khilji, undertook an expedition against Bhilsa, where he captured a rich booty, a part of which he sent on to Delhi. Jalaluddin was pleased, and rewarded him with the vice-royalty of Oudh in addition to Karra. Alauddin plundered the territories and treated the vanquished severely. On July 19, 1296, he murdered his father-in-law and usurped the throne on October 3, 1296.
Ravan: In the Valmiki Ramayana, there's a whole chapter where Ravan's father-in-law tries to reason that abducting Sita wasn't the right thing to do. But Ravan paid no heed.
Yudhishthir: He put Draupadi down as a wager, loses her to Duryodhana. Pa-in-law King Drupad is very upset.
Raja Dushyant: He and Shaku­n­tala have a Gandharva marriage. Later leaves, promising to return for her. But when Dushyant becomes king, he gets too abso­rbed in affairs of the state, 'forgets' Shakun­tala (Durva­sa's curse). Shak­untala's father Vish­wa­mitra, who has bowed his head to none, bows before Dush­yant to persuade him to accept his daughter back.
***
Gurunath Meiyappan met his wife Rupa through their common love for the game of golf. They married in 2001. Grandson of the legendary A.V. Meiyappan (of the avm film banner, one of the few large studios still running in Tamil Nadu), Meiyappan Jr had little interest in movies, go-karting and golf being more his passions. His IPL ties came after father-in-law, BCCI chief N. Srinivasan, made him boss of his team Chennai Super Kings to avoid a conflict of interest issue. Meiyappan now finds himself in a spot for betting on matches (and possibly 'fixing' too), and was arrested and cha­rged with gam­bling and cheating earlier last week.
Unfortunately, he's only the latest to join the problematic 'damaad' group that has plagued Indian politics and business of late. The jack-in-the-box, the odd ball, the outsider straining at the leash, the sons-in-law come with a lot of baggage. A case that epitomises this problem best must be Congress chief Sonia Gandhi's son-in-law Robert Vadra. From a small-time brassware dealer in Moradabad to being part of the country's mega-rich set, Vadra has all­e­gedly amassed a fortune thro­ugh real estate deals with realtors DLF. Last year, even as news of Vadra's extravagant lifestyle and unaccounted for wealth made the headlines, the Gandhi family closed ranks and forced the party to stand by the son-in-law.

Photograph by AFP, From Outlook 10 June 2013
Robert Vadra, Businessman
Sonia Gandhi, Congress party president
Small-time brassware dealer is now big businessman with major realty interests
BJP national spokesperson Prakash Jav­­adekar puts it aptly when he says, "Har damaad ki ek hi aas, Srinivasan jaisa sasur or Sonia Gandhi jaisi saas (It's every son-in-law's wish, a father-in-law like Srinivasan and a mother-in-law like Mrs Gandhi)." Adman and social commentator Santosh Desai adds some more to the mix, "In India, sons-in-law enjoy a stra­nge privilege. Once a son-in-law decides to use the affiliation and advantage that he's got by marriage and takes advantage of the power structure, the wife's family does not know how to deal with it. They cannot control him, and they have to respect him...because that's what we do in the traditional family system. A son-in-law is a piece that doesn't fit."
Desai observes that in the Vadra-Gandhi case, on the face of it the son-in-law has exposed himself as a defiant sort, in some measure by showing his eagerness to join politics or having his lifestyle covered in the glossies—something many feel is not befitting of the First Family. "In Vadra's case, it's difficult to know the details but you certainly see a push and pull," says Desai. But then, Vadra is not the only son-in-law to have embarrassed the Gandhi family.

Photograph by Prashant Panjiar/Outlook Archive
Ranjan Bhattacharya, Businessman
A.B. Vajpayee, former BJP prime minister
Ranjan allegedly was key dealmaker in the NDA govt, go-to man in the PMO
Feroze Gandhi, Indira Gandhi's husb­and, was kept at arms length by Jaw­a­ha­rlal Nehru. But it wasn't because the MP from Rae Bareli was using his position to gain political mileage or financial gains but because he was bent on exposing the corruption in his father-in-law's government. Despite being a Congress MP, he unearthed a scam where Ramakrishna Dalmia, a leading businessman of the time and a Congress supporter, was siph­oning off funds collected as insurance premium to further his own busin­e­s­ses. Indeed, Feroze could rightfully claim the title of India's first whistle-blower, his revelations forcing Nehru's government to nationalise the insurance industry (which is how the Life Insurance Corpo­ration of India came into being).
"The problem lies not with being a son-in-law, but with the stature and moral convictions of the individual. Fer­oze Gandhi was not shy of taking on Nehru's government or exposing corrupt practices," says Sucharita Sengupta of the political science department at Jamia Millia university. (An irony here is that it's Feroze Gandhi's surname which ado­rns the House of Gandhis now.)
Sengupta adds that, however, "since then, it has mostly been a case of ambitious individuals unscrupulously gaining financial as well as political benefits, not as a result of talent or hard work, but simply by association. In the latest spot-fixing scandal, the jack-in-the-box has again been the son-in law".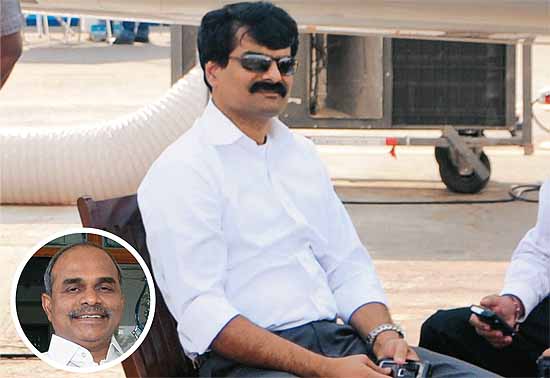 Anil Kumar, Evangelist
Y.S. Rajasekhara Reddy, deceased Congress CM
Now crorepati Anil Kumar launched 11 companies during YSR's 2004-09 rule

Now the shady son-in-law situation is not just a Congress thing, it cuts across the political spectrum. Take the case of former prime minister Atal Behari Vaj­p­ayee's foster son-in-law Ranjan Bhatt­acharya. He's alleged to have pulled strings in many key deals when the NDA was in power. Indeed, such was his alleged high jinks that he even got a lot of play in the Niira Radia tapes.
Then again, in early 2011, Union civil aviation minister Ajit Singh's (RLD) son-in-law Vikramaditya Singh was indicted by an American court after he was caught in a federal sting operation selling military grade microwave radios to Iran. It hardly raised a storm.
Says sociologist Dipankar Gupta, "Gen­e­rally in Indian society, the son-in-law who lives off his father-in-law's name is seen as a bit of a loser. Historically, there exists a bit of a kanya-daan complex in the Hindu tradition, where the bride taker is superior to the bride giver, so when this power equation is somewhat reversed, it is looked down upon."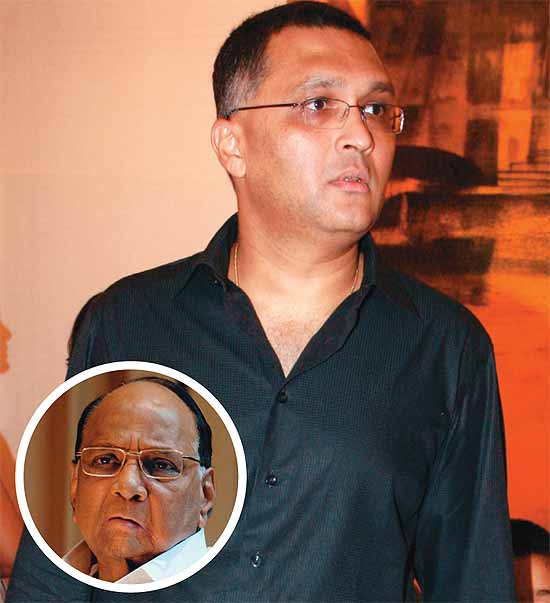 Photograph by Fotocorp, From Outlook 10 June 2013
Sadanand Sule, Businessman
Sharad Pawar, NCP boss
Sadanand linked to controversial Lavasa project
He adds, "Therefore, when the son-in-law takes advantage of his wife's or in-laws' status, it acquires a sarcastic, condemnable tone, even laughable. And therein creeps in a 'ghar-jamaai' complex. However, our kinship is such that when the son does something embarra­ssing or shameful, it doesn't become such a matter of gossip as it does when the son-in-law is in question."
And such is the malevolent influence of the sons-in-law that even our judiciary is not insulated from it. P.V. Sreen­ijan, son-in-law of former chief justice of India K.G. Balakrishnan still faces all­­egations of disproportionate assets.
For some reason, Andhra has been a fertile ground for such son-in-law encounters. The classic case, of course, is that of Chandrababu Naidu. Against much opposition, he led a coup and took over the reins of the party his father-in-law and megastar N.T. Rama Rao had created, the Telugu Desam Party (TDP), in 1995. Nothing, not even NTR himself in a filmi-style chariot, could not stop it. (It helped that NTR's star family had by then turned on him and his new wife.)
Chandrababu Naidu, Politician
N.T. Rama Rao, TDP founder
Chandrababu sidelines NTR in a coup, takes over reins of father-in-law's party
Then earlier this year, estranged son-in-law of actor and Union MoS for tourism K. Chiranjeevi, Sirish Bhara­dwaj embarrassed him by joining the BJP. Sirish, who was married to the actor's younger daughter Srija had first left his father-in-law red-faced when they eloped and got married and had a child. In 2011, however, Srija filed a dowry harassment case against Sirish.
Of course, no talk of Andhra is complete without mention of the late YSR's family. Son-in-law and self-proclaimed evangelist Anil Kumar's overnight multi-millionaire status has been the least of it. Anil is said to have flo­ated some 11 shady firms from 2004-09 when YSR was the CM.
Sociologist Shiv Visvanathan has a take on such developments. "The son-in-law in influential Indian families tends to have all the privileges but none of the responsibilities. So while he has the opportunity to be more creative than the son and link up to the patriarchy, he could also turn out to be loose-minded and idle, prone to corruption. This is the conspicuous leisure class."
Meanwhile, across the border in neighbouring Tamil Nadu, the dmk's Karunanidhi too faced some embarrassment when daughter Kanimozhi's first husband Athiban Bose was in the wrong section of the news for financial irregularities in 1989.
Visvanathan has a theory for this too. "The son-in-law is treated like a son, bec­omes a part of the executive, but when that doesn't work out, he becomes the decadent son as opposed to the pro­d­igal son. In cases where the son-in-law stands to embarrass the family he has married into, he tends to appear a bit loose, too relaxed, and ambushed by what he has done. And when the issues become public, it puts a question mark on the role of the son-in-law and threatens the structure of the business/political family," he says. An example of this would be indepe­ndent Rajya Sabha MP Rajeev Chand­ra­shekhar. He took on father-in-law and BPL group patriarch T.P.G. Nambiar and was removed from the company as he was seen as becoming too powerful. At one point, Nambiar even took Chandrashekhar to court. The latter now runs the Jupiter Group.
Coming back to the latest spot-fixing case, though ex-J&K chief minister Farooq Abdullah came out in support of BCCI's Srinivasan, he himself has a son-in-law tale worth telling. He had refused to attend the marriage between his daughter and Congress MP Sachin Pilot. Meanwhile, another BCCI hand, NCP chief Sharad Pawar's son-in-law Sada­n­and Sule's name keeps cropping up in the controversial Lavasa Hill project, where he is said to have some stake.
But even with all this, the troublesome son-in-law remains a protected family member, always seeming to get away free. As a defiant Srinivasan rema­rked when his son-in law was arrested, "When Delhi's son-in-law is safe (Robert Vadra), then why should I worry about my son-in-law." Indeed, why should he?
***

Nehru with Feroze Gandhi and sons
Signs Of The Good Sons
All sons-in-law in Indian politics and business have not been the family black sheep. Some have added great value too, while others have taken a stand for what's right. Feroze Gandhi's case being one in politics. Successful business family stories include the sons-in-law taking over, including at Dr Reddy's Labs. Owner K. Anji Reddy's son-in-law G.V. Pra­sad is chairman and CEO while son Satish is MD. Another such case is that of Rohin­ton Aga. He was A.S. Bathena's son-in-law and took over his company and renamed it Thermax. He became the MD and now his son-in-law, Pheroz Pudumjee, husband of Meher Pudumjee (Rohinton and wife Anu Aga's daughter) has joined the company as director, passing the company down possibly from one son-in-law to another.
---
By Amba Batra Bakshi with Neha Bhatt and Priyadarshini Sen