Cut Them Out?
Editorial in Saamna says Bal Thackeray believed Muslim voting rights should go
Author and Shiv Sena MP Sanjay Raut backtracks as there are legal implications
Bal Thackeray himself disenfranchised for some years for hate speeches
After flak, Sena now says not against Muslims' voting but should curb birth rate
No action against Saamna although Election Commission could send notice, police could lodge complaint
***
Disenfranchisement, as per its meaning, is the revocation of the right of suffrage of a person or a group of people. It can be achieved through the law, or by selective implementation in a discriminatory fashion. It can be done through physical intimidat­ion, where one social group isn't allo­wed to vote by a more powerful social bloc.
We now have it on the good authority of Sanjay Raut, a Shiv Sena MP in the Rajya Sabha, that party founder Bal Thackeray wanted the voting rights of Muslims to be revoked. Raut, who is also the executive editor of the Sena mouthpiece Saamna, wrote as much in an editorial last week. "Muslims will have no future as long as they are used to play votebank politics.... Balasaheb had once said that the voting rights of Muslims must be withdrawn. What he said is right," he proclaimed in print.
Raut's editorial came out even as an ele­ction notification was in place in Mum­bai (byelections were taking place in the Bandra East assembly constituency). So Outlook put the question to the next chief election commissioner of India, Dr Nasim Zaidi: wasn't this sort of hate-mongering a violation of the code of conduct? He said he would look into the matter, examine the technicalities of an editorial amounting to hate speech and that someone from the EC would be giving us a reply. As the magazine went into print, we were still awaiting the for­mal response. A former CEC meanwh­ile tells Outlook there is also a case to look into the registration of the Shiv Sena, as when a party is registered it swears by the Constitution. "A strong commission can send a notice to the Sena, get them to reply or apologise. The EC's powers can be used as a deterrent," he says.
Naturally, Raut has done some backtracking since. He says the editorial was actually a treatise against votebank politics and not any incitement against the nation's largest minority. Hard to believe considering some of the Sena's recent actions. Author Shobha De is only the lat­est to face off against irate party workers. They surrounded her home, forcing her (a Maharashtrian herself) to get police protection after she put out a casual tweet against the state diktat that Marathi films be shown at prime-time in multiplexes. She had this to say on the Raut affair: "The Sena shouldn't forget their own history before they talk of dis­enfranchising anyone. Bal Thackeray's voting right was taken away for some years for making a hate speech. He survived it. What is happening now is typical Sena, they say something unacceptable then backtrack a little...which can be seen in Raut's own changing reactions."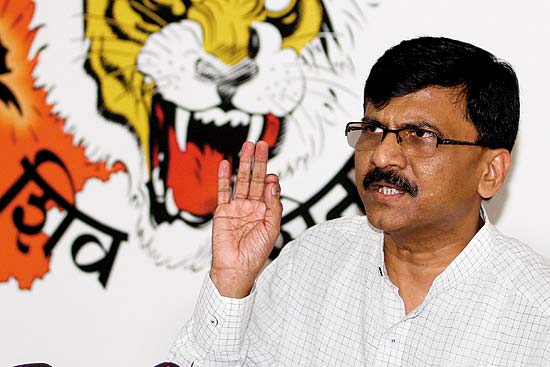 Show me your molars Sanjay Raut. Photograph by Fotocorp, From Outlook 27 April 2015
Why is the Sena not charged by the police for making a hate speech? Tech­nically, it may not be a speech but it does amount to exhorting the cadres to "discourage" a certain section of society from voting. And this when Prime Minister Narendra Modi has been travelling the globe speaking about how his government represents all of India's citizens. The Shiv Sena is part of the Modi government, both in Delhi and Maharashtra.
The sudden spurt in the Sena's controversial positions is from the identity crisis over the BJP usurping its turf.
Or do we just accept the fact that there are double standards in our secular rep­ublic? Akbaruddin Owaisi of the AIMIM was arrested in June '13 (as he should have been) for making a hate speech in which he mocked non-Muslims. But BJP MP Yogi Adityanath walks free regardless of the many hate speeches he has made just in the past year. The Congress party's Imran Mas­ood was arrested dur­ing the 2014 Lok Sabha elections (as he should have been) for threatening to "chop up" the PM candidate. But Sadhvi Niranjana, another BJP MP, faces no legal consequences for her "haraa­mzade" rem­ark made in the course of the Delhi assembly elections campaign. (Oppos­ition MPs had demanded action against her under section 153-A of the ipc that relates to hate speech and gives a maximum of three years imprisonment.)
The problem with law enforcement today is even if an FIR is filed, the police will not act unless explicitly told by the government to do so. A citizen can try to lodge an FIR about hate-mongering, but at times it may not even be taken down, and even if it is the police will not take action on the complaint. Says Asaduddin Owaisi, whose younger brother Akbaru­ddin has done jail time: "If someone says they don't like my politics, that is their problem. I am operating within the Con­stitution. But I wonder how so many people get away with blatantly com­mu­nal speeches. My brother surrendered when a case was filed. Now see the number of cases against the vhp's Prav­een Togadia on hate speeches...but he's only sent to jail under preventive arrests and no action is taken on FIRs."
Even the previous Congress regimes never came down hard on the Sena. In fact, political logic can be so perverse that the BJP seems set to inflict more dam­age on them. The political backdrop to the sudden spurt in Sena's controversial positions actually comes from the identity crisis they are suffering in the state, with the BJP encroaching on their turf. So if the Devendra Phadnavis-led regime in Maharashtra can ban beef, the Sena has to do one better, be it going after a Shobha De, suggesting Muslim disenfranchisement, backtracking and saying that the community's birth rate should at the very least be kept down. And all this they did in the span of one week.
But another apparent provocation was that Owaisi had dared to emerge out of his Hyderabad ghetto and seek to expand his party in Maharashtra. (The AIMIM had won three assembly seats last year and felt emboldened to enter the Bandra East fray). What actually happ­e­ned is the AIMIM presence helped the Sena-BJP candidate win last week, cutting into the votes of the Congress' Narayan Rane.
Still, Owaisi gave them enough food for thought. Sena spokesperson Neelam Gorhe is quoted as saying: "We don't want the Muslims' voting right to be taken away but it's not right for people like Owaisi to nurture the deprived feelings of Muslims." In a sense, the Sena's reactions are almost laughable as no party practices votebank politics quite like they do with their blatantly chauvinistic attempts to garner votes on the 'Mar­athi first' plank. They have had a variety of enemies down the years—first Madrasis, then Biharis—but Muslims occupy a special slot in the hierarchy.
The point really isn't to dismiss the Sena as hoodlums who can get out of hand. Or to say the yogis and sadhvis are just like that only. But to resist the abnormal from becoming the new normal in our lives. Imagine the hell that would have broken loose had anyone suggested that Dalits could do with a period of disenfranchisement because they have become a part of votebank politics. Now imagine yourself as an Indian Muslim.