An hour after having launched TAG Heuer's Carrera 1887 Elegance series at Taj Lands End, Mumbai, Shah Rukh Khan is relishing small bites of chicken reshmi kebab, while watching monsoon clouds roll over the Arabian Sea from his 22nd floor suite. "I really feel like taking off my shirt, getting into shorts and playing football with my son (Aryan) at a mucky field," he says with a twinkle in his eyes. While his business manager and other executives from the Swiss watch brand go through the schedule of television interviews he is set to do, the star, 46, only has his boy on his mind.
Advertisement opens in new window

Taking to the field after a KKR match. (Photograph by Getty Images, From Outlook 17 December 2012)
Fifteen-year-old Aryan (currently studying at the Dhirubhai Ambani International School in Mumbai) is set to join Sevenoaks School in London in September, and doting father Shah Rukh wants to spend as much time as he can with his "best friend". "My kids are genuinely my best friends. The relationship I share with them is so clear that we can say anything to any one," he says. In the next moment, he says wishfully, "I will miss the security of him just being around. While I do feel like a protector to them, I also feel a sense of security when they are around." Letting go of Aryan (to whom the superstar dedicated his ambitious superhero film Ra.One) hasn't been easy, but Shah Rukh has his reasons."I don't want my children to be subjected to a lot of talk that is untrue about the way I lead my life. I want them to be away from this. I want them to be in a world that is not surrounded by rubbish tabloid reports. It will do them good and that is one aspect of it," he says. Secondly, he wants his children to get educated and pursue their own dreams instead of getting comfortably settled in the film industry. "I feel they should become whatever they want to. My son wants to play for Manchester United and my daughter wants to learn ballet. I don't know what they will be, but I want them to be educated beyond films. I feel they should see the world, form their own opinions without being shadowed by the opinions of my work and my space." Once Aryan joins boarding school in London, the star says he will miss his daily ritual of knocking on his son's bedroom and seeing him lolling around. "It's a little sad for me but it's better for them. It's one of the prices you pay for being famous," he says ruefully. While Aryan is going to soak in the new experiences awaiting him in the school, Shah Rukh hopes to make frequent flying visits. "I'm very clearly decided that if I feel like seeing him, I will fly down. I'm star enough to cancel some work and pay a visit to my son," he says, smiling.
Advertisement opens in new window
---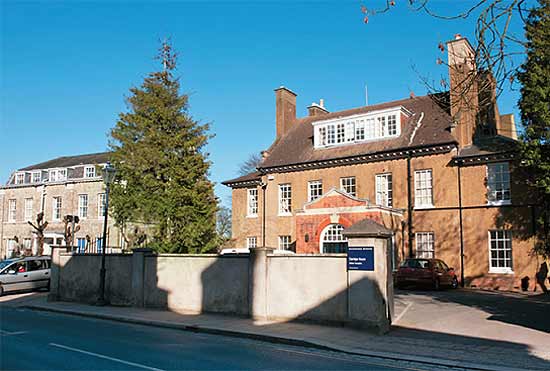 Aryan's New School
Sevenoaks, founded in 1432, is situated in a 100-acre campus outside London. A co-educational day and boarding school for pupils, between 11 and 18 years, it's wellknown for its top GCSE and IB results. Aryan could bunk with roommates, but the boarding home for boys also boasts kitchenettes, tennis courts and gardens. Actor Daniel Day-Lewis is among the institution's famous alumni.