A Life Of Its Own
Symbols of government are fast crumbling in Srinagar and across the Kashmir Valley
The protesters have begun to target police stations and camps of the Special Operations Group of the J&K police
Appeals for peace from Hurriyat leader Syed Ali Shah Geelani and PoK-based Hizbul Mujahideen chief Syed Salahuddin have had little impact
Houses of police officials and leaders of mainstream political parties have been targeted
***
The Special Operations Group (SOG) of the Kashmir Police evokes the same emotions among a majority of Kashmiris as the Khmer Rouge did among Cambodians. Which is why, during the unprecedented spate of anger raging on the streets of Kashmir, half-a-dozen SOG camps were furiously torn down by demonstrators despite the bullets and teargas shells. Indeed, to say Kashmir is burning is an understatement. The situation appears beyond anybody's control. Even pleas against damaging public property from Syed Ali Shah Geelani, whose hardline Hurriyat runs the Quit Kashmir programme, have been met with stinging rebuffs. The moderate Hurriyat chairman Mirwaiz Umer Farooq knows it will dent his image further if he says anything that doesn't go down well with youth seething with hurt and anger. He, in fact, refused to meet the three-member track-II team comprising Adml (retd) K.K. Nayyar; JNU professor Amitabh Mattoo; and Radha Kumar of Jamia Millia when it came to revive the Delhi-Hurriyat talks.
No less than PoK-based Hizbul Mujahideen chief Syed Salahuddin realised how volatile things were when he called for an end to strikes that could harm the cause. For the first time in 20 years, his effigies were burnt, leaving him no option but to say he was misquoted. People must take to the streets, he says, in this decisive phase of the movement.
Reacting to Geelani's unexpected statement on August 4, in which he appealed to the protesters to refrain from violence, Asiya Andrabi, chief of women's outfit Dukhtaran-e-Millat, told Outlook: "I totally dissociate myself from Geelani's remarks. I talked to all the Hurriyat leaders. They said they weren't taken into confidence. Though I don't doubt Geelani's integrity, he has come to India's rescue and provided them a way out. Our boys resort to violence only after they're fired upon by Indian troopers. Geelani should have never issued the statement."
---
A Consuming Fire
49 deaths in police/CRPF firing since June 11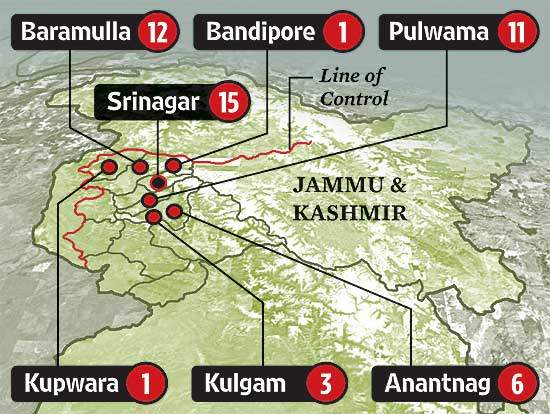 ---
Meanwhile, the "leaderless" protesters, as chief minister Omar Abdullah calls them, grow in size and fortitude and are out on the streets in defiance of shoot-at-sight orders. Nights are not calm either. Revolutionary songs play on loudspeakers in mosques, prompting authorities to cut power supply in many areas. There is a call for rebellion, for freedom from "Indian occupation"—a throwback to the early '90s—by a generation that was bred in the tumultuous years of conflict.
Symbols of government are fast crumbling in Srinagar and across the Valley. Places unknown on the insurgency radar have erupted ferociously. For instance, protesters torched an SOG camp in nondescript Khrew town in southern Pulwama district on Aug 1 after police shot dead two youth. An IED explosion triggered by fleeing policemen in the camp killed five youth. The death toll this summer reached 49 after Shabir Ali Malik, 23, was shot in CRPF firing on Aug 5 in Pulwama. In Kakapora town in the district, again a relatively peaceful area, protesters torched a police station after a 22-year-old imam, who according to eyewitnesses wasn't part of any protest, was killed on Aug 2. In the north, agitators fled with four rifles after attacking a police post in Kralpora following the death of a youth. At least two dozen police stations have been attacked so far.
The protesters have also torched government offices and vehicles, and attacked houses of activists of mainstream parties—including the ruling National Conference—whom many Kashmiris see as New Delhi's agents in the Valley. But the major worry for the government is the increasing attacks on policemen's houses. This is in sharp contrast to the 2008 Amarnath land agitation when around 80 youth died in police action, but no policeman was harmed. Shockingly for the government, cops at Anantnag's Sher Bagh police station joined the protesters on Aug 1, yelling pro-azadi slogans. The next day, however, a policeman's house was set ablaze when word spread that he had shot dead a teenaged boy before pushing him into the Jhelum.
A senior manager at an insurance company says several top police officers are insuring their houses. About 60 non-Kashmiri officials of the accountant general's office have migrated from the Valley, citing security concerns. In the railways, over 100 employees left after protesters torched railway stations in Sopore and Budgam. There are reports of migration of employees from other central government departments like income-tax and the khadi and village board.
So, where is Kashmir heading? If the separatist leadership is feeling the heat, the mainstream surely doesn't look like it stands a chance. Witness the turn of events on Aug 5: the CM, responding to criticism of his aloof style, decides to make amends. But as he descends via chopper to visit the injured at skims hospital (named, ironically, after his grandfather, 'Sher-e-Kashmir' Sheikh Abdullah), he is shooed away by the crowds.
The key lies with New Delhi, says the Mirwaiz. "As a first step, it should have removed police and CRPF from Srinagar. Unfortunately, they are bringing in more soldiers," he says. The PDP agrees—party patron and ex-CM Mufti Mohammed Sayeed says, "It's sad that Gandhi's India has only the gun and the soldier as its contact point with a self-respecting, dignified people, who find themselves fighting a war of survival and identity." The strain is telling on the pdp too: former deputy CM Muzaffar Baig gave in his resignation from the assembly to party chief Mehbooba Mufti on Aug 5.
The stones, meanwhile, are talking. "It's the stones that have made Geelani relevant," says Zahid Ahmad, a young protester. "Our movement for azadi will go on with or without Geelani." The stones, says Faheen, a teacher in Kashmir University, have rewritten the script. "A new form, in the most primitive style, of an old line: we don't want to be with you."