Sitting Trouble
How Modi's gameplan for 'Mission 272' is meeting resistance
Ahmedabad (East): The decision to deny a ticket to Harin Pathak— the RSS's best known face in Ahmedabad, a seven-time MP and L.K. Advani confidant—led to a bandh in the constituency.
Bhavnagar: Rajendrasinh Rana, the sitting MP, played a key role in building Gujarat as a saffron bastion and in Modi's elevation to the national level. But he was summarily denied nomination.
Bidar: Angry supporters of BJP leader Gurupadappa Nagarmarapalli ransacked the party office after he was denied the Lok Sabha ticket from Bidar. The party instead nominated Bhagwant Khuba.
Buxar: Denied a ticket to contest again, sitting MP Lalmuni Chaubey is threatening to contest as a rebel and scuttle the party's electoral fortunes in Bihar. Chaubey wants to cut Modi down to size for his disregard for party seniors.
Chandigarh: Star Kirron Kher's candidature, replacing former MP, Harmohan Dhawan, led to strong protests and show of resentment among Dhawan's supporters on the day of her arrival in the city.
Lucknow: Veteran BJP leader Lalji Tandon is miffed at party president Rajnath Singh being given the Lucknow seat. Tandon is putting up a brave front in public but his supporters are unhappy.
Mysore: The decision to force former MP C. H. Vijayshankar to shift to Hassan has been resisted by his supporters. The Mysore seat has gone to Pratap Simha, a Yediyurappa loyalist who was brought back to the BJP by Modi.
Patna Saheb: Only Shatrughan Sinha's popularity seems to have helped convince the BJP leadership that he should be made to contest from the Patna Saheb seat and not from any of the constituencies in Delhi.
Sonepat: Pradeep Sangwan resigned from the party and joined the Congress after being denied a ticket from the Lok Sabha seat held for three terms by his father.
***
As with every other controversy, supporters of Narendra Modi in the BJP are confident that the green shoots of rebellion—by senior leaders, old-timers and scramblers-after-tickets—will only impart momentum to Modi's prime ministerial campaign. Some of them don't even see it as rebellion; they dismiss public criticism of Modi by senior leaders as nothing more than murmurs. One insider—his loyalties no guessing game—puts it thus, "Rebellion by senior and old leaders is also an opportunity for Modi to re-esta­blish and re-emphasise his position as a strong leader who can take seemingly cruel decisions for improving the party."
Is the party bothered about public and media perception of Modi changing as a result of the strife becoming public? Apparently not. The logic is that Modi's looming presence—a result no doubt of his high-volume propaganda—has made opinion-makers irrelevant. "He knows from where his votes will come and from where they won't," says a supporter. "When there's no ambiguity about that, why should Modi bother about perception?"
As Modi goes full steam ahead with his campaign, the fire-fighting and handling questions about internal strife has been left to party president Rajnath Singh. Rajnath himself had a bit of embarrassment to handle: as he was trying to placate Jaswant Singh, who has decided to contest as an independent from Barmer after being denied a BJP ticket, Rajnath's Twitter account threw up a poster showing him (instead of Modi) as the only face of the government should BJP win. This was explained away as a mistake: the poster was meant for his Lucknow campaign but uploaded by mistake by a junior karyakarta; it shouldn't be taken as indicative of Rajnath's prime ministerial aspiration.
The party's seniormost dissenter, L.K. Advani, meanwhile, swung between possible candidature from a preferred Bhopal and his old constituency, Gand­hinagar. He finally "gave in to the party's wishes", settling for Gandhinagar. And Sushma Swaraj—who openly criticised the party for again doing business with the mining scam-tainted B.S. Yediyurappa and B. Sriramulu—was ignored. The Modi camp did what it does best: brazen it out and ignore all dissent.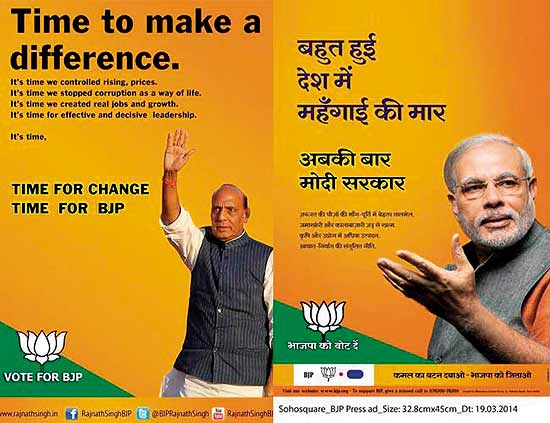 A poster projecting Rajnath as the BJP's PM candidate left him embarrassed but explained away as a junior's mistake.
Old-time BJP hands in Gujarat are familiar with old legs being chopped off, with Modi knocking down those on whose shoulders he stood as he rose post-2002. Insiders say one reason he does this is from a need for taking full control, snuffing out all potential rivals. The other is that, as he tries to fashion himself as a leader at the national level, as one who talks development and fights corruption and poverty, he no longer wants to be associated with the faces of Hindutva of the early 2000s, those who helped turn the state into a saffron bastion. He also wants to erase any association with the 2002 anti-Muslim riots. Working overtime to play up his 'man of development' image for over a decade, Modi has succeeded in stamping out the influence of and his association with leaders from the RSS, VHP and Bajrang Dal who had gained prominence during the 2002 riots. Through all this, he probably hopes to present a non-culpable image to the Indian middle-class as well as liberal democracies of the West.
It seems to be working in part. EU leaders have broken their 10-year moratorium to re-engage with Modi. Many of them seem to be preparing for the possibility that he will be the next PM. The US, the last holdout, has also begun to engage with Modi: recently, American ambassador Nancy Powell travelled to Gujarat to meet him.
Modi's falling out with Advani had as much to do with the patriarch's interference in this process as with his unrequited ambition to have a go at prime ministership while keeping Modi boxed in in Gujarat. At various public meetings, Advani would miss no opportunity to link Modi with the riots. Advani's attempt to shift from the Gandhinagar Lok Sabha seat to Bhopal was also seen as an attempt to keep the challenge to Modi's prime ministerial ambition going. If Advani wins from Gandhinagar, the credit will not go to him but to Modi; moving to Bhopal, he might have projected Mad­hya Pradesh CM Shivraj Singh Chouhan as an equally capable leader. Unfor­tunately for Advani, the mood in the BJP is such that no leader dares to be seen impugning Modi's authority.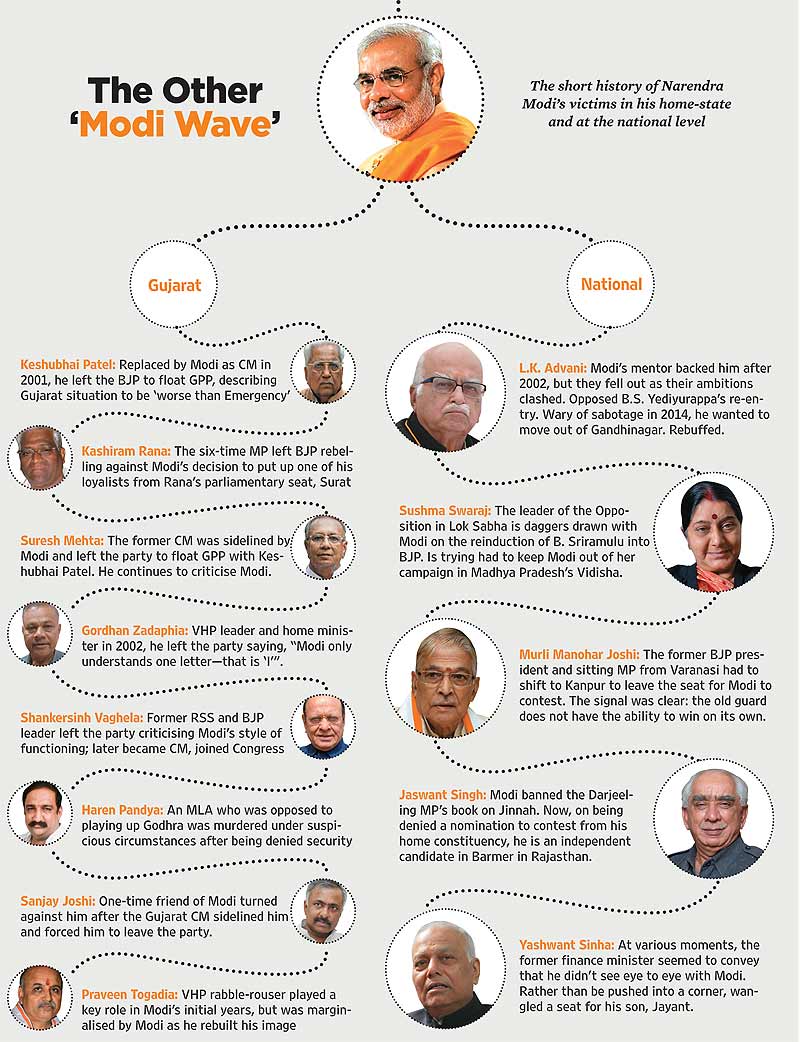 But the bickering in the party seems to have its campaign managers worried that, with elections so close, it may not be able to present a picture of unity. "When party leaders fight publicly with polls at hand, it builds a situation that will help no one. Six months back, when Modi was elevated at the party's national executive in Goa, many of us feared that more dissent may follow. The worst fears of the BJP—open infighting—seem to be coming true," says a senior leader.
Some in the party say the infighting may not affect the BJP's final tally, but making Modi the generalissimo of the campaign does throw up problems. In the face of decrees from the top, sources say, regional satraps are asserting their own decisions on ticket distribution in their areas of influence. They say that in states like Madhya Pradesh, Chhat­tisgarh, Uttar Pradesh and Rajasthan, "a large number of Lok Sabha tickets have been given to candidates purely based on loyalty to the regional satraps rather than winnability". Leaders denied tickets are working overtime to ensure that the chosen candidate has a tough time. Some are actively trying to split BJP votes.
For many in the BJP, the growing disquiet is not just a generational battle for control but a clear pro-Modi versus anti-Modi divide, now out in the open. Says a senior leader, "There's no doubt the party still has two camps, though most leaders have been forced to fall in line. That said, most leaders are getting increasingly uncomfortable at the way things are being done in the party, because they did not anticipate that they would be eclipsed by Modi even before the results are out or votes polled."

In the cold Jaswant Singh in Barmer
Perhaps that's why every disagreement in the central leadership of the party that could have been kept under wraps is being pushed into the public domain. Clearly, leaders do not want to avoid the public embarrassment of spats with the aim of causing a specific dent in Modi's image. There are many in the party who believe that open dissent against Modi's decisions on election management is an "attempt to damage Modi from within as much as possible". The theory goes that a BJP under Modi with a smaller tally in the polls will not just keep the rest of the party leadership relevant in the party but also ensure that Modi is cut to size.
Meanwhile, even as the BJP rides out its ticket distribution woes, hours after Jaswant Singh was denied a ticket by his party, RSS sarsanghchalak Bhagwat, attending the relaunch of Sangh's mouthpiece, the Organiser, said in Delhi that confrontation was inevitable where self-interest was involved, and dialogue was the only way forward. Evidently, the Sangh is not keen on abandoning its own pracharak midway through his election campaign.
So as the BJP struggles to shift the balance of power from the old guard to those aspiring to bring it to power after 10 years out of office, for the Sangh, the priorities are clear. Pushing Modi's election campaign through its embedded cadre, just last week, the RSS instructed its workers to focus on local issues, emphasising that 2014 was no longer a national election but a micro­-local election, where every seat counts. Given that scenario, a few upsets in the bigger picture can easily be ignored. It is with this larger gameplan in mind that the BJP hopes to go full-throttle into Elections 2014.