In one of the most memorable scenes in Satyajit Ray's 1972 film, Pratidwandi, the protagonist was asked during a job interview about his "aim in life". His reply was, "To find a job". And yet, he was rejected. Five decades later, the real and the reel appear to have blended as the country faces a similar sit­u­ation when an inordinately large number of citizens are searching for a job, but can't find any. Several agencies have shared data about the staggering unemployment problem. Most people who were forced to migrate to their villages during the Covid lockdowns are yet to return and remain jobless, adding to surplus labour and declining wages.
A survey by the National Sample Survey Office noted that the country's yearly unemployment rate was the highest in the last four decades at 6.1 per cent during 2017-18, compared to 2.2 per cent in 2011-12. It confirms that unem­ployment had gripped the economy well before the pandemic struck in March 2020. The situation worsened after the pandemic, as the monthly unem­ployment rate touched 23.5 per cent in April 2020 and 21.7 per cent in May 2020, data by the Centre for Monitoring Indian Economy (CMIE) shows. It was 7.9 per cent in December 2021—9.3 per cent in urban areas and 7.28 per cent in rural areas. In December 2021, India had 53 million unemployed people, of whom 35 million were searching for jobs, while the remaining unemployed had lost all hopes in the system and didn't even want to try their luck in the job market.
Launched in 2014, the Narendra Modi government's Make In India programme, supposed to increase employment in the manufacturing sector to 100 million by 2022, appears to have faltered. The latest Economic Survey shows that of the total workers added in 2019-20, more than 71 per cent were in the agriculture sector, indicating a consequential shift from industry to farming. Just when it appeared that the country was gradually coming out of the tag of an agriculture economy, the consequences of this shift can only be imagined. The unrest in the countryside, as rec­ently witnessed during the farmers' movement, can spawn a chain reaction that can sev­erely impact society and polity. One could see its initial traces when jobless youth recently turned riotous in UP and Bihar.
The urban areas are not unaffected either. The Economic Survey notes that the share of manufacturing in total employment declined from 5.65 per cent of new workers added in 2018-19 to about 2.41 per cent in 2019-20, and so has that of construction from 26.26 per cent to 7.36 per cent. A study by the Centre for Economic Data Ana­lysis-Centre for Monitoring Indian Eco­nomy (CEDA-CMIE) shows that the manufacturing sector employed 51 million people in 2016-17, which nearly halved to 27.3 million in 2020-21. The real estate and construction sector, which drove employment generation from 2004-11, empl­oyed 69 million people in 2016-17, but could give jobs to 53.7 million in 2020-21, a decline of 25 per cent. Employment in the mining industry saw a 38 per cent decline from 2016-17 to 2020-21, from 1.4 million jobs to 0.88 million in 2020-21.
The number of people employed in the country came down from 407 million in 2016-17 to 378 million in 2020-21. While more people entered the market in search of jobs, the economy couldn't sustain even the previous number of jobs. The yearly unemployment rate that remained in the band of 5 per cent from 1990-2019, crossed 7 per cent in 2020.  The latest Economic Survey, however, points at "significant acceleration" in one sector, the monthly net additional EPFO subscription, which peaked with 1.39 million new subscribers in November 2021, the highest in any given month since 2017. The overall situation, however, offers little hope.
"Barring agriculture and non-financial services, all industrial sectors saw employment decline between 2016-17 and 2020-21. Instead of pulling workers out of farms and into factories, India saw employment in factories decline by 46 per cent," says Ankur Bhardwaj, CEDA's editor.
Numbers from the media and publishing industry show how the situation is weakening democracy as well. The industry employed 10,42,835 people in August 2016, which drastically came down to 2,92,263 in March 2021. In the last five years, a staggering number of journalists have quit their jobs or have been laid off. There are now fewer journalists to bring you information and truth, to act as watchdog of democracy, to hold the authorities accountable.
***
The government has been pushing for contractual workers, who get less salary, often not paid on time and have no job security. In 1998-99, Railways employed 1.51 million people, which came down to 1.27 million in 2021-22. Railway minister Ashwani Vaishnav recently admitted that over 0.265 million (2.65 lakh) posts are vacant in the railways. The CEDA–CMIE study shows that public administrative services employed 9.8 million people in 2016-17, but decreased by 19 per cent to 7.9 million in 2020-21. Jobs in defence services during the period declined by over a half from 1.864 million to 0.709 million.
There's something deeper here that the government is unable to identify, let alone address. Can it be traced to the prevailing economic model that ensures the control of a few industries, weakens the bargaining power of employees, and with decreasing government jobs, phases out reservation benefits to weaker sections? E.T. Mathew notes in his book, Employment and Unemployment in India: Emerging Tendencies During the Post-Reform Period, that "while the immediate impact of economic reforms on emp­loyment was positive, the long-term effect as refl­ected in the results of the NSS 55th round (1999-2000) was lacklustre". He underlines that "for all segments of the population except for urban males the employment situation deteriorated".
Congress vice president Rahul Gandhi said in September 2021 that the crisis is "not cyclical, it is structural". Underlining that the "economic crisis that we faced in 1991 has resurfaced", he admitted that it had hit during the UPA tenure itself, and "our plan for the economy, which worked from 1991 to 2012 stopped working after that". Exp­laining the reasons about the economy's inability to generate adequate jobs, CMIE's CEO Mahesh Vyas says: "Unemployment has risen in the past few years because, on the one hand, several small enterprises were rendered unviable by a series of shocks, including demonetisation, GST and lockdown, and on the other hand, new investments have stalled because their capacity utilisation is very low at about 60 per cent."
But Indian polity continues to find new ways to fail its jobless citizens. Political parties often promise government jobs during elections, but these jobs are mostly given to people from a few favoured castes. During the Samajwadi Party's rule in Uttar Pradesh opposition parties alleged that Yadavs bagged the maximum government jobs, whereas the current BJP government is said to have preferred Thakurs. Surprisingly, there's little reflection of the ongoing unemployment crisis in popular cinema or electoral politics. Not long ago, a large number of movies showed protagonists preparing for job interviews, queuing outside offices. The Hindi cinema is also wallowing in the myth of achhe din-turned-amrit kaal.
***
As with any other crisis, the weaker sections bear the maximum brunt of joblessness. In an October 2019 article in the Economic and Political Weekly, K.P. Kannan and G. Raveendran noted that in 2017-18, Muslims suffered the highest job loss by around 9.4 per cent or 5.1 million, of which 3.22 million were women, compared to 2011-12. The next in line were OBCs, who registered job loss by 4.2 per cent or 7.38 million. A whopping 9.6 million OBC women lost jobs, but since 2.23 million OBC men gained jobs, the offset was 7.38 million.
Significantly, overall women lost more jobs than men. While the national average monthly emp­loyment for men in 2021 was 1.3 per cent less than in 2019, the similar figure for women was 6.4 per cent less. The CEDA-CMIE study shows that the average monthly employment for men in the country in 2019, 2020, and 2021 was 359.64 million, 340.11 million and 355.06 million respectively, as against the female employment of 43.5 million in 2019, 38.83 million in 2020 and 40.73 million in 2021.
The latest Economic Survey notes that about 75 per cent of the female workers who joined the labour force as self- employed in 2019-2020 constituted 'unpaid family labour'. While 9.52 million women actively searched for jobs every month in 2019, the number declined to 8.32 million in 2020 and 6.52 million in 2021. A staggering three million unemployed women resigned to their helplessness and stopped searching for a job in a span of two years.
According to the CMIE, of the 35 million unemployed who were actively looking for work in December 2021, eight million were women. Besides, there were nine million women willing to work although they were not actively looking for work. Vyas asks a penetrating question: "Why are such a large number of women who tell interviewers that they are willing to work not actively applying for work? Is it the lack of availability of jobs or is it the lack of social support for women to join the labour force?"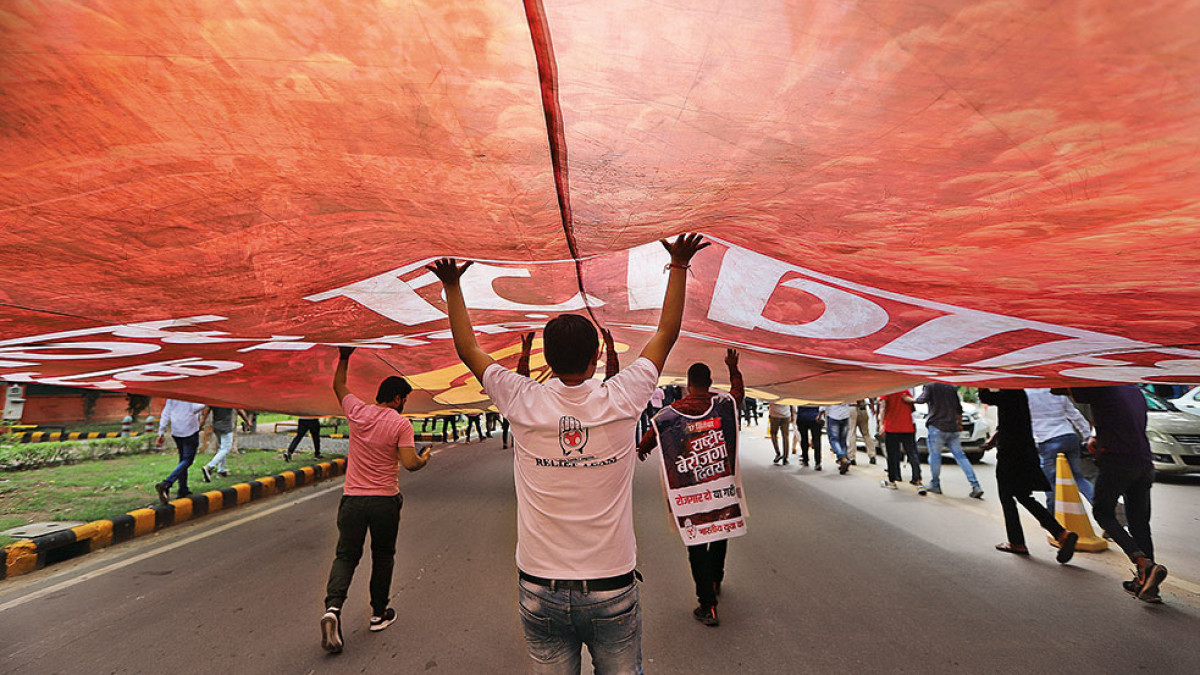 Other disadvantaged groups share a similar predicament. Dalit ideologue Chandra Bhan Prasad, currently an affiliated scholar with the Mercatus Center, George Mason University in the US, narrates his experience. "I recently visited several Dalit villages in my home district Azamgarh. Those who were working in cities and lived on rented accommodation were forced to come to their villages during the pandemic, and a large number of them are yet to return. They have no jobs in the villages."
He says that the surplus labour force in villages has pulled down wages in these villages. "There are no methods to study the impact of such migration on Dalits, either by any government or private agency," he says. "These people were humiliated during their migration back home...It will have a massive impact on the elections."
The situation seems similar in other parts of the world. The employment rate in the US, generated by the Bureau of Labor Statistics, reflects a bias against Blacks. In June 2015, the unemployment rate in the Black/African American community was 9.7 per cent, 6.7 per cent for Hispanics, while it was just 4.6 per cent for Whites. In April 2020, it touched 18.9 per cent for Hispanics, 16.7 per cent for Blacks and 14.2 per cent for Whites. In December 2021 the figure was 6.7 for Blacks, 4.9 per cent for Hispanics and 3.4 per cent for Whites.
In India, a large number of vacant positions against reserved seats in government institutions add to another bias against disadvantaged sections.
***
India's ongoing position is more worrying because the unemployment rate is not the best yardstick to measure joblessness in India. If a person is not willing to work or not actively looking for work, then such a person is not considered to be unemployed. Vyas notes that "this reduces the count of the unemployed and the unemployment rate". The unemployment rate goes down not because of more jobs, but because fewer people are searching for jobs.
The Labour Force Participation Rate (LFPR) denotes people who are either employed or are looking for a job. India's LFPR has been constantly declining over the years. For the age group 15-24, for instance, it came down from 47.09 per cent in 1991 to 36.7 per cent in 2010 and to 27.06 in 2019. India has among the least LFPR in the world, with countries like Pakistan, Nicaragua and Cambodia registering much higher rates. In other words, an increasingly large number of disillusioned young men and women have been withdrawing from the job market. Imagine the repressed energies and frustration of this youth brigade. India has to find jobs for those une­mployed people who are seeking a job, as well as those unemployed who have given up all hopes. Some 406 million people are employed in India at present, and the country needs 187.5 million new jobs. Vyas argues that in such a situation "a more useful ratio is the employment rate, the ratio of the employed to the total working age population".
The core question is whether unemployment is to be seen as an economic issue or a governance failure with serious social consequences? The disillusion among the youth breeds anarchy, also unleashes a savage troll mob that is always seeking an adversary, a mob that finds its only release in a riotous violence against the imagined other. If you accept that livelihood is a fundamental right under Article 21, then unemployment can't be a mere financial issue that hinders capital formation or economic growth. When many million people stop looking for a job, when they are forced to accept that the Indian state can't offer them any livelihood, it's the Constitution that stands questioned.  Unemployment, then, becomes a moral and existential crisis of the Republic.
***
Do Not Cross
187.5 million Number of new jobs needed
53 million Number of unemployed in December 2021
6.1% Unemployment rate in 2017-18
1.39 million Monthly EPFO subscribers added in November 2021
***
407 million Number of employed in 2016-17  
378 million Number of employed in 2020-21
2.65 lakh Number of vacancies in railways