"I was repelled, feared someone might tease me with the song. That sensitivity is gone, I've got used to this stuff now." Bela Negi, Film Director
"Honey Singh's songs, because it's about gender, we feel it's harmless, fun. But it's not, it's insulting and hateful." Onir, Film Director

---

"We shouldn't push things back to standard cages...otherwise cinema will become non-creative and boring." Shiv Visvanathan,
Sociologist
"In a hierarchical, unequal society, it's difficult to tell how individuals will be affected by cinema. We can't generalise." Shyam Benegal, Film Director

---
Would I have winced as much watching Dabangg 2 had it not been for the horrifying rape in Delhi, I wondered silently walking out of the multiplex. It wasn't just the oft-quoted, distasteful lyrics of the item number Fevicol se: "Main toh tandoori murgi hoon yaar, gatkaale saiyyan alcohol se", but also the uneasy machismo and patriarchy embedded in the narrative that I found myself recoiling against. The woman seems to occupy a defined space, has a clear role in the imagination of director Arbaaz Khan (taking care of the house and raising the man's brood), expressed rather eloquently in a throwaway dialogue—"Kisi ka ghar basaaten, kisi ko baap banaaten."
But Dabangg 2 is certainly not an isolated case. It's a universally acknowledged fact that the male-dominated and male-centric popular Indian cinema, be it in Hindi, Tamil, Telugu, Bhojpuri or any other language, has packaged women rather handily over the years. And viewers, including women, have lapped up these representations. Bela Negi, director of Daayen ya Baayen, remembers growing up listening to the Aankhen song, "O lal dupatte wali tera naam to bata." "I was repelled by it, feared that someone might tease me while singing that song to me," she says. "But that sensitivity is now gone. I have got used to the stuff that I once found objectionable," she confesses. In recent years, it's the excess that's seems to have turned us immune to the crassness on screen. Bombarded with the suggestive Munnis, Sheilas and Jalebi Bais, we seem to take them rather casually. "Getting exposed day in and day out desensitises us," says veteran filmmaker Shyam Benegal. The Delhi incident, though, woke the audience up from the daze, and how. Overnight, movies and songs became everyone's favourite whipping boys. And the one to draw the most flak was the tad silly and yet hugely successful Yo Yo Honey Singh of the unmentionable lyrics fame.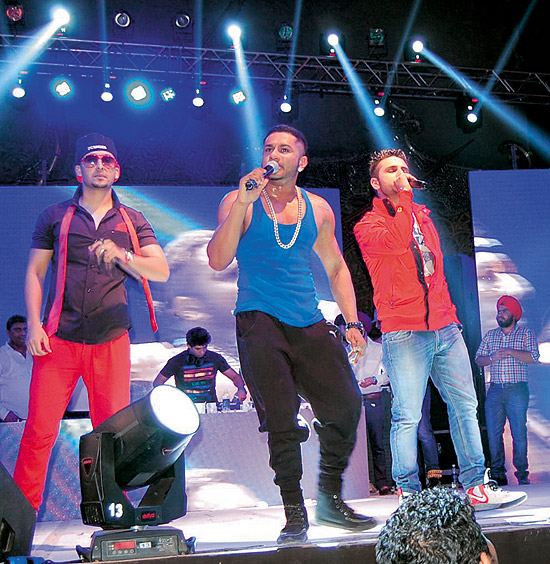 Honey Singh in Gurgaon/ Fotocorp
But it doesn't begin or end with some crass item numbers or Honey Singh. The larger question remains: who is to blame? Cinema or the society that willingly consumes it? Is cinema mirroring our perceptions or influencing them? Are we using cinema as an easy scapegoat for our own latent ills? The jury is still out on this but discussion has reached the filmmaking community as well. Filmmaker Onir thinks cinema is not mere passive entertainment and fun. "It can perpetuate regressiveness as well as progressiveness," he says. However, for Amit Khanna, lyricist and chairman, Reliance Entertainment, it would be simplistic and naive to see it as an either/ or, black-and-white situation. "In the last couple of decades, the audience has been consuming several things on multiple platforms. As a society, we are not developed/mature enough to handle so much at the same time," he says. "I am not absolving Bollywood of being irresponsible but it is part of a whole. Both our cinema and society are rotten," he says.
Benegal too thinks that in a large, diverse country like India the effect of TV or cinema is not easily measureable. "We used to watch so-called 'pondy' films while growing up. They gave us a thrill. Did they affect us? No. But in a hierarchical, unequal society, it's difficult to tell how individuals can get affected by cinema. You can't generalise," he says.
"It's a spiral, a chicken-and-egg situation as to whether we are stoking the audience hunger or reflecting it, but our cinema does objectify women," says director Rakeysh Mehra whose next film is Bhaag Milkha Bhaag. However, he feels that adult content should not be confused with objectification. "A film should have nudity, graphic violence if needed," he feels. Columnist Shuddhabrata Sengupta too wouldn't want to club all 'sexual' cinematic content under one group: "Sexuality can be affirmative. We should take it case by case and not collapse everything under one category." In that sense, one can't even paint all item numbers with a single brush. A song like Bunty Aur Babli's Kajra re was fun and frank, in an equitable way, despite the heavy raunchy overtones.
Sengupta's objection is specifically to the misogyny, the contempt and hatred towards women. "Hindi cinema of the '70s and '80s had this peculiar rape fixation. The only sex scenes in films were actually the rape scenes," he says. Sociologist Shiv Visvanathan isn't for brushing aside the good along with the bad and the ugly. "There are new explorations happening in films. There's a lot of experimentation in terms of sexuality," he says. According to him, the concept of 'sacrifice' is getting outdated, the vamp-heroine binary is vanishing and on-screen women are becoming "a bundle of contradictions". "We shouldn't push things back to standard cages, otherwise cinema will become non-creative and boring," he says. Specially at a time when the Censor Board is opening up and films with mature content are being tentatively welcomed in the cinemas.
Also, there are other tricky questions here. How much is too much? What's the thin line that divides irreverence from offensive? Benegal differentiates by taking the example of a nudist colony and a strip show. "In a nudist colony, nudity is taken for granted. No one ogles. But in a strip show, nudity is meant to arouse," he says. Khanna explains: "Our folk music is also boisterous, raunchy, full of innuendo. But in our film lyrics, a contextual root and intellectual honesty is lacking." So what's the way out? Visvanathan is for constant critiquing. "But it shouldn't be a moral edict or policing force," he says. The word 'ban' comes riddled with dangers. One ban can justify several others in a rather blanket way. Onus then is on the viewer, to practice civil disobedience against what's perceived as offensive cinema, to boycott and protest. "The viewers should make sensible consumer choice, should not see nor hear any rubbish," says Sengupta, adding, "bans lead to publicity, boycott to box-office failures." And no one finds it more difficult to take failures than the film industry.