At 25, she was at the helm of Tatler. Across the Atlantic, she has edited some of the world's foremost magazine titles: Vanity Fair, The New Yorker and Newsweek. As her own boss, she has launched Talk and The Daily Beast. If there is one person in magazine journalism who has been there and done that, to critical and popular acclaim, it is Tina Brown.
Over breakfast—a cup of coffee, actually—in New York, as she headed out to Delhi for her latest venture, a female-centred summit and website called Women in the World, Brown spoke to her former Newsweek colleague Tunku Varadarajan. Excerpts:
Tunku Varadarajan: How does it feel to be an acknowledged magazine queen at a time when magazines are dying? Do you feel your world slipping away from you?
Tina Brown: It is. I don't buy many magazines anymore. I will say, though, that when I come to India, I'm excited by how much print there is. When I was at the Columbia Journalism School giving a talk recently, I was asked by some of the kids, "What should we do? We want to be in magazines..." And I said, "I'd go live in India." I'm not being facetious. I do think the best, most lively print scene is in India. I love India for that reason. There's a vibrant intellectual climate. Delhi reminds me of the way London used to be before I left for America (in 1983). There seems to be a real literary culture there, which doesn't seem to exist anymore in New York.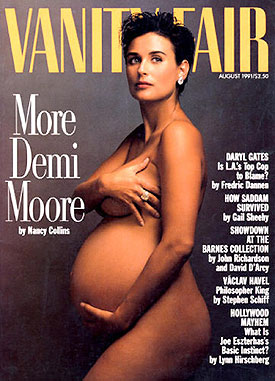 TV: You buy fewer magazines. What are the ones you do still take, in physical form?
TB: I still subscribe to my old ones. The New Yorker and Vanity Fair, and Tatler does still arrive. And the Week—our Week, which I like—though I do also subscribe to the Indian Week. I used to subscribe to Tehelka, but it seems to be no longer really viable.
What I do is read all the quick news online. I'm more in the hunt for amazing pieces, so I'm more likely to read a story from an Indian newspaper online than I am this week's copy of Time. And then I read books, many more books than I used to.
TV: So the sense I'm getting is that you see a world without magazines imminent upon us....
TB: Ultimately. But I do recognise that places are different. If India has such a durable print climate, it might take way longer there. Its time will come, too, I suspect and I mourn that.
TV: Tell us about your highs as a magazine editor.
TB: I'm writing a memoir at the moment and I'm deep in my diaries from Vanity Fair. I'd forgotten how very difficult it was to turn around Vanity Fair. It wasn't until my third year there that we were on a roll, and had achieved the platonic ideal I had of the perfect magazine. The highs were the Demi Moore cover—that pregnant cover. It broke down a lot of taboos about women being pregnant, and how they looked being pregnant, and how they should feel being pregnant, which I felt very victorious about because I'd just that minute given birth and had been resentful of having to waddle around in huge maternity clothes. And there was Demi Moore, bold, beautiful and naked, with her big bulge on a magazine cover.
TV: Was there resistance over the cover?
TB: The Conde Nast circulation department was in a complete state of anxiety about it. They thought we'd be thrown off news stands. I didn't actually see it as the sensation it was going to be; I just loved it. But Si Newhouse (the CEO of Conde Nast) said, "Do it." The circulation department was very worried it would turn off advertisers, but Si arbitrated in my favour. I'm glad he did.
There were other moments that I felt very good about. I went to a fundraiser for suicide survivors and the great writer William Styron was there. It was a low-key event, and he got up and spoke about how he'd gone through terrible depression and nearly killed himself. I asked him if he would write that up for Vanity Fair. He agreed, and we published it as an article called 'Darkness Visible' which he then made the title of his book. It made people talk about depression in a way they hadn't publicly. That was a real high point.
TV: That was Vanity Fair. What about The New Yorker?
TB: The New Yorker had a lot of great high points. I think the long, 15,000-word piece we published (in December 1993) by Mark Danner about the massacre at El Mozote was a really wonderful piece of writing. And Lawrence Wright's incredible pieces debunking the whole cult of 'recovered memory'.
TV: People say that you shook up The New Yorker. Is that true?
TB: What made me really proud about The New Yorker was that I had to call on all sorts of instincts that were against the grain for me. At Vanity Fair it was a case of 'Go in and remake the book in six weeks or the thing is dead.' When I took over sales were 250,000 and ads 12 pages. It was about to close. I was the third editor in eight months. And it was like, "Bring in this kid from London, and if this doesn't work we'll shut it down." I had to break eggs and do it fast.
I'd just turned 30. I didn't really know anybody in New York either, so I wasn't aware of whom I'd offend. So I made
tremendous mistakes for that reason. But it also made me good at what I did. I wasn't burdened by holy cows. The first year was like being in the shittiest of turnarounds. I took over in 1984, and by 1985 we still hadn't got traction. I learned that Si was about to fold the magazine. He suddenly blocked me from hiring anybody, and I realised what that meant. I was in San Francisco on a sales pitch and flew back and begged for another six months. I had three great pieces in my pipeline. I remember them every day to this day! They were the three pieces that saved Vanity Fair.
The first one was a fantastic cover story by Dominick Dunne, whom I discovered. He wrote about the alleged murder by (the socialite) Claus von Bulow of his own wife. It was a fantastic piece of journalism we called 'Fatal Charm', and we got Helmut Newton­—who was a legend—to photograph von Bulow. And Bulow posed in black leather! Talk about the wrong idea. He was accused of murder and he looked like an S&M fetishist.


Tina Brown's career has seen her found, save and take over magazines with panache
TV: He looked like a murderer, then?
TB: Exactly like a murderer, that's right. And we put him on the cover of the magazine and it was a huge sensation. The pictures were picked up everywhere.
The second great piece was the Reagan Kiss, a series of photographs by Harry Benson and an interview by Christopher Buckley with the Reagans. We photographed them just before they went into a banquet, and Benson had an idea to loosen them up, which was to take a boom box with Sinatra tapes in it. When they finished talking he put on Nancy (With the Laughing Face), and the Reagans started dancing together. It was magic. Benson of course immediately started snapping away, and they ended their dance together with Ronnie smooching Nancy. So we slapped that on the cover. It was a wonderful series of pictures. A wonderful, magical magazine scoop.
TV: Do you think that was a political boost for Reagan?
TB: They knew what they were doing, as they always did.
The third piece was the one I broke: the story of Princess Diana's marriage to Charles having become a sham. I went to London and reported through my old Tatler contacts that the marriage was a disaster. We put it on the cover of Vanity Fair with the headline 'The Mouse that Roared,' and that caused a worldwide sensation. The Daily Mail did spreads and spreads trashing me, doing a take-out on my marriage, as if Harry (Evans, Tina's husband) and I were Charles and Di. And Charles and Di actually went on television to say it wasn't true. Which meant that we all knew it was true.
When those three pieces came out (in 1985), we were #1 on the Adweek hotlist. After that there was no looking back.
TV: Let's go back to The New Yorker....
TB: When I took over The New Yorker, I saw it as a sleeping beauty. I felt at first that it wasn't the right magazine for me. It didn't speak to me like Vanity Fair, which was a wonderful combination of visual seduction and cultural zeitgeist. The New Yorker, I felt, mightn't be right for me, because I was only familiar with the magazine that had been edited by William Shawn in the 1960s and '70s. It was only when I went back to The New Yorker of the 1930s, of Harold Ross the founding editor, that I realised that it was right for me. His New Yorker was a pithy, news-aware, not-precious, scrappy magazine: the full-page cartoons, the marvellous covers that were actually topical. I was enchanted by it. It had none of those slow rhythms, those overly long pieces, those decorative covers. So I thought, 'I'm going to take The New Yorker back to its Rossian roots.'
I also was aware that The New Yorker traditions people loved had to be preserved even as it was refreshed. So I hired a very sensitive art director who was able to keep that brilliant Caslon typeface while adding elegant blurbs to the articles. They never had any blurbs introducing articles, which made them hard to get into because you didn't know what they were about. And I added photography. I went to Richard Avedon and asked him to be the only photographer in The New Yorker. I felt his clean, full-page black-and-white photos were the visual equivalent of the text. That was a very good idea, because it opened the windows of a closed place.
TV: But the photos met with resistance, didn't they?
TB: Oh my God, there was resistance all the way. At the first meeting I had with The New Yorker editors there was absolute hostility, with everyone looking at me with their Coke-bottle glasses around a table, mostly men. Funnily enough, the cartoonists were the most hostile of the lot. They thought I was going to take out all the cartoons and put Demi Moore in. Most hostile was a cartoonist called Bob Mankoff. I could see him snarling at me all the way through the meeting. I made him cartoon editor and had a special cartoon issue. I started the Cartoon Issue, the Black in America Issue, the Fiction Issue and the India Issue. Which was so wonderful to do.
I also brought in a lot of illustrators; Art Spiegelman, for example. He added a great deal of controversy to the magazine. He did a cover of a rabbi kissing a black woman (after race riots in Brooklyn). It was so criticised. But I thought it was what covers should do, make conversation. All of that brought the magazine into the late 20th century, instead of being aloof from it.
But I was widely pilloried. Jamaica Kincaid called me 'Stalin in high heels,' and George Trow called me 'the girl in the wrong dress,' was chauvinistic. And the old guard was in high dudgeon. Some quit, like Garrison Keillor. And I didn't mind, beca­use they weren't writing anything anyway. They were just sitting there, aloof. The really good writers I kept. John Updike was a huge supporter and friend. Roger Angell—one of the best, and Adam Gopnik. I let 72 people go, and hired 60. But then I hired people like Malcolm Gladwell, David Remnick, James Stewart, Ken Auletta and Jane Meyer.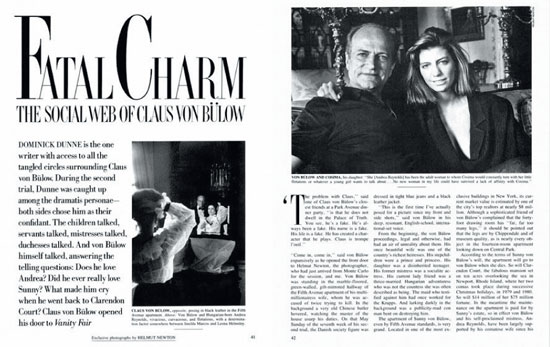 The infamous Claus von Bulow gave Vanity Fair its break
TV: And did you have any dealings with Ved Mehta?
TB: Ved Mehta was somebody who was problematic for me, and he was one of those writers who were just not writing, really. So he did have to leave in the clean sweep.
TV: Do you wish you were still editing The New Yorker?
TB: I left The New Yorker after six years because I wanted to expand it beyond more than just a magazine, into being a radio and TV show, into creating books. I felt that the future of publishing lay in a lateral accumulation of media. I was saying this in 1992. Unfortunately, Conde Nast did not understand that. By the way, they are 20 years behind even now.
So I left to go with Harvey Weinstein, who ran Miramax Films, who said I could do all that with him. We started Talk magazine. The Talk books division was a tremendous success. We had eight bestsellers. But the magazine was a problem to edit because Miramax didn't understand magazine publishing, and I didn't have the infrastructure I'd had at Conde Nast. By the time I got the right staff together, 9/11 happened and advertising collapsed.
Also, I think I started with too big a bang, an amazing scoop, with Hillary Clinton speaking for the first time about Monica, which she'd never done anywhere. The next two issues could only be a comedown. My only regret is that I didn't hold back. I threw all the aces into that first issue. It folded. The upsetting part was how good the staff was, and how good it could have been. I look at that first issue and I think it was the best magazine I ever did.
Talk was meant to be a combination of Stern magazine with The New Yorker and Vanity Fair, on beautiful paper. It wouldn't work now, because magazines don't work now.
TV: And The Daily Beast? That was our first stint together.
TB: I loved the Beast! It gave me as much pleasure as Tatler, my very first magazine, where I had a staff of 12, no high stakes; 10,000 sales, a tiny thing. I was 25. I just hired my friends and we made mischief. It took off like a rocket. The same at the Beast. After Talk's world-class belly-flop in terms of schadenfreude and sneers, I decided that I'd do the Beast the Tatler way, like a guerrilla operation. Barry Diller offered me the chance to do that. Calling it The Daily Beast was a great liberation, it was like a school mag. The ad side feared it was too feral a name. But it appealed to the person I am now, an eclectic, responsive journalist.
TV: And then Newsweek happened to you, right?
TB: I walked into that madness. I was seduced back into magazines just when I shouldn't have been. I sometimes think that editing Newsweek was like having an affair with an ex-husband. I should have just gone on doing a very successful news website. But then along comes Sidney Harman, who owned Newsweek, and started a very seductive courtship. And I started to think, 'Is there one last hurrah in magazines for me?' So we merged the Beast and Newsweek, which was a hopeless idea. It was a huge, dying magazine which advertisers had completely abandoned, with a formula that was totally unreinventable because it was a weekly. Nobody wants a weekly magazine now. You can't sell ads, and it's completely outdated as soon as it comes out. The New Yorker was different. It had writers who were the best in the business. Newsweek's best people had all fled. So it was doomed. And then, of course, the Beast staff resisted it.
TV: Is it only a matter of time before we lose Time, too?
TB: I think Time could even be a monthly. It was being called 'NEWSWEEK' that was the killer. Also, I've left out a big piece of the story. Sidney Harman died after three months of my starting and his wife pulled out the finance. So IAC(Diller's company) had to bear the cost. They'd never signed up for that.
TV: So if Harman had lived, you'd still be editing Newsweek?
TB: He really believed in it, and would have figured out a way.
TV: Are there any editors you particularly admire?
TB: Well, I do admire Tarun Tejpal as an editor. I know it's not fashionable, necessarily, to say that. But he was a great editor. I admire Jan Wenner of Rolling Stone, Clay Felker of New York Magazine, and Harold Ross—he was my hero. And Harry Evans, my husband! Harry has been an enormous help to me, in every way. He taught me how to do my first magazine layout on the wall of my house in London, when I was editing Tatler. I had no idea how to do a layout or even write a caption. Which was really quite hilarious, when you come to think about it.
I'll never forget him taking a pencil and drawing on my wall. "This is a spread," he said. "And you need a headline and a deck. And it's got to be punchy." Oh, and don't let me forget his best line. "You've got to sell its knickers off."