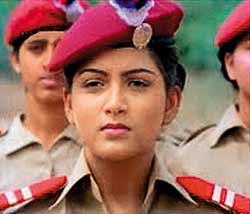 I had moved to Chennai (then called Madras) when I was 16 because I was acting in Telugu films. I was 17 when I debuted in a Tamil film (Dharmathin Thalaivan) and then in a Kannada film (Ranadheera). The responsibility of looking after my mother and three brothers was all I thought about and my focus therefore was to make a career. All I did those days was go to the studio for shooting and come back home to the place we had rented in R.A. Puram. I did not know anybody, did not have any friends and, in fact, did not even know the roads in Madras. I consider myself lucky that in whichever language (whether in Hindi, Telugu, Kannada and Tamil) I debuted in, I was always the leading lady.
Was I scared at being 17 in this adult world? Not at all. I was always optimistic, I never worried about how I would take care of my family. Although I dropped out of school at 14, I must say I was in good hands. My director, producers always treated me like a kid who should be protected. I've heard stories about actresses saying they were exploited, but it did not happen to me. I think it all depends on your behaviour and how you conduct yourself.
I have no regrets that in my teen years I did not lead a life of being carefree. But I want my two girls Avanthika and Ananditha to have a normal childhood—I want them go to college, bunk classes. And I would like them to choose their own career paths.
As Told To Pushpa Iyengar
---
Khushboo is an actress, producer, television host and DMK member