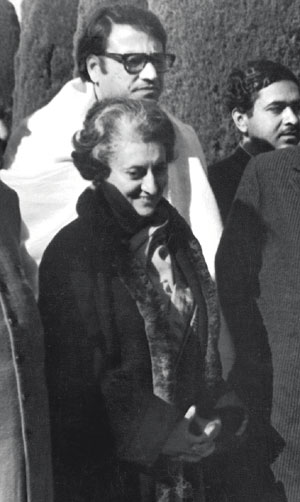 Entente cordiale
S.S Ray with Indira Gandhi in New Delhi
Taking out an old black and white photograph of a little girl sitting on a chair, scowling—Indira Gandhi, aged five—Siddhartha Shankar Ray recalls their first meeting (he was just two years old at the time). Motilal Nehru, Indira's grandfather, had come to visit 'Deshbandhu' Chittaranjan Das, Ray's grandfather, bringing Indira with him. "Apparently he couldn't remember whether I was a boy or a girl, so he brought a doll for me," says Ray, adding, "The first thing Indira did was to snatch it away from me. My mother told me later, 'Both of you struggled for possession of the doll—she took away the head, you were left with one of the legs—the body disappeared.' That was our first encounter." From that dramatic beginning flowered a warm friendship that soured more than five decades later because of differences over Indira Gandhi's son, Sanjay Gandhi, whom Ray holds responsible for the 'excesses' committed during the Emergency. Ray believes Indira did not "approve" of Sanjay's actions, but could do nothing.
During those years, the two corresponded often—sometimes, they were just personal letters, greeting her on her birthday or wishing before she set off on a journey, and sometimes on weightier political matters. In an interview with Dola Mitra, Ray talks about his relationship with Indira Gandhi and his role in the Emergency:
How much did Indira Gandhi rely on you while taking crucial decisions?
I don't know if she relied on me, but she certainly took my advice and wanted to know what I had to say. For instance, my advice was sought on the presidential candidate in 1974 and I wrote her this letter (he reads): "Dear Indira,... I think Mr. Fakhruddin Ali Ahmed is our best bet. Apart from being a Muslim, he is also from the Eastern region, and we have never had a president from that region. He will be completely loyal and Mrs Ahmed is eminently presentable.... I think the CPI will fall in line in the end...."
---
November 19, 1973

Dear Indira,
A friend from Bankura, more understanding than wise, tried to convince me, with reference to some book he had read, that a person is really born at 50 and it is only then that his life begins. By that reckoning you are six today. Many happy returns. In another 11 years you will be 17 which is a sweet thought!

I have come to Delhi for rice from Fakhruddin Ali Ahmed, rest from Bengal and reassurance from D.P. Dhar.

I would like to call on the six year old girl on the 20th or 21st if she is free.

Yours sincerely,
Siddhartha

***

May 31, 1976

Dear Indira,

I shall not be seeing you before you leave for Moscow. So here's wishing you 'Bon Voyage'. As I always say, "if you cannot be good, do be careful. Enjoy yourself - see all the ballets, let yourself go and examine the Russian way of life (not too intimately!!) but for Pete's sake do not come back as Indiraki Gandhikou!!!

Best wishes,
Yours sincerely,
Siddhartha
***
These letters, from Ray to Indira, show great proximity between the two
---
On January 8, 1975, six months before Emergency was declared, you wrote to her, telling her that Rajni Patel, D.K. Barooah and you had discussed a draft ordinance which the then law minister, H.R. Gokhale, was drafting that night. You wanted her to take that ordinance to the president the next day and have it signed. The tone is remarkably authoritative. Did you have the kind of relationship in which you could and would often command the prime minister?
No, I couldn't exactly command her. But I would tell (emphasis on 'tell') her what I thought. But then it was for her to decide.
Was this letter the first concrete attempt at imposing Emergency?
I've written many letters to Indira. In a letter written even earlier, in 1974 (August 30), I said: "As discussed with you last month, I am taking a firm line...against anti-socials or those who are connected with anti-socials. I know that this may create difficulties, but I have reached the limit of my patience. I have really nothing to lose in taking this line. Bengal has no future whatsoever unless all this is stopped. If the party goes against me for taking this attitude I am quite willing to step down. Whatever I have done in my life I have tried to do it well. I was a great success at the Bar and built up a reputation of being absolutely fearless and honest. I tried my best to keep up this reputation as a central minister and I do not see why at this age I shall allow people to point out to me and say that I have ruined Bengal by being soft."
In Working a Democratic Constitution: A History of The Indian Experience, Granville Austin writes that you had "mooted" the idea of an internal emergency in January 1975. Why did you think such a move was necessary at that stage?
Regarding the Emergency there is not much more to say. I've said everything in my evidence before the Shah Commission. In fact, I was the only person who said that I wanted appear before the Shah Commission. But when I was made West Bengal chief minister in 1973, just after Bangladesh, Indira told me several things. One of them was, "Lawlessness has to be stamped out from Bengal."
In retrospect, do you feel that there was an option other than Emergency at the time?
I want to be clear on this: I think the Emergency was perfect. But the excesses were bad and nobody could stop it.
Who committed the excesses?
I won't mention names. But I know who were responsible.
What kind of excesses?
As chief minister, I got reports from hundreds of slum-dwellers across Calcutta that they had received letters from their homes, either from their wives or wives' relations that some men had subjected them to some operations (a reference to Sanjay Gandhi's population control drive). The entire slum population at that time was talking about it. All my servants are from there and they told me about it.
And then there were the arrests. For instance, I had declared that nobody would be arrested in Calcutta. I told (CPI-M's) Jyotirmoy Basu (who was vociferous in Parliament on the Maruti issue), "Don't go to Delhi." But he went to Delhi and was arrested. The actual arrest took place when he came back to Calcutta at Howrah station. Jyoti Basu rang me up and said, "Manu (Ray's pet name), all lies. You said nobody would be arrested. But Jyotirmoy has been arrested." When I found out that the central government had arrested him, I had him released. And I told Jyotirmoy, who was a friend of mine, "Look, Jyotirmoy, don't go to Delhi now." But he told friends, "Indira wouldn't have done anything, so when I was arrested in Calcutta, Indira was furious." He said, "Manu ke diyechhe (She gave it to him). So I'm going to Delhi." He went to Delhi. The day he reached, he was arrested!