By now, most people have come to expect that India's Union budgets are—more often than not—mundane events hyped into a media-spun stratosphere. Even Union finance minister Pranab Mukherjee acknowledged the enormous pressure on him to do something—anything—saying that it mattered little that his seventh budget would not make it to "tomorrow's headlines". An army of spin masters can only take you thus far, and it certainly can't manufacture the feel-good factor that the Indian economy seeks—and needs. The irony is that, if asked who did a better job of putting reforms on track without clouding issues, more votes would go for the railway minister-in-waiting-for-dismissal Dinesh Trivedi, who bit off more than his party could chew by raising train fares after eight years.
Looking at the sorry state of the Indian Railways, which boasts of having the third-largest network in the world, but paints a dismal picture with filthy platforms and trains—even air-conditioned first class does not promise pest-free cabins or clean toilets—a hike in fares is not a bad proposition if it promises better service. As Delhi commuters, for instance, have collectively demonstrated, a higher fare is acceptable for most if it ensures comfortable travel in a clean Metro train or in air-conditioned buses. Unlike Trivedi, who claims to have put the larger, long-term interest of the nation and people before party politics, Pranab's roadmap for reviving growth, creating jobs and putting the country back on the path of fiscal consolidation has left many confused.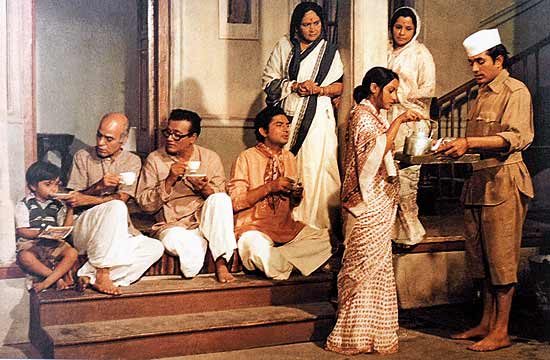 Budget 2012: Pranab platter is perfect for a coalition dinner
Bawarchi (1972): A newly hired chef brings appetising food back on the table and also helps the squabbling family come together.
In fact, senior economist Shankar Acharya narrated how many of his ilk are describing the budget as very reminiscent of the 1980s, with small concessions and largesse scattered across various sectors but lacking a long-term vision. "There is nothing particularly jarring in the budget, but then, there is also nothing in it to raise the spirits. There are only few small islands of positives," concurs K.T. Chacko, director of Indian Institute of Foreign Trade (IIFT). On the positive side, Chacko puts the focus on infrastructure, particularly power, fertiliser, roads and energy fuel like coal and gas—all of which could help attract private sector investments, which have fallen from 38 per cent of GDP to 35.1 per cent. While all this may not be new, it is a positive signal.
For agriculture—on which the single-largest segment of people in India are still dependent—incentives for investments in farming equipment, warehousing, cold-chain infrastructure are all expected to improve productivity and reduce post-harvest damages. Dr M.S. Swaminathan, agriculture scientist and Rajya Sabha member, feels the budget is trying to consolidate the gains made as a result of the initiatives launched during the previous two years. "Thus in agriculture, there is no new initiative except increasing the target for agricultural credit to Rs 5,75,000 crore during 2012-13. This represents an increase of over Rs 1,00,000 crore from last year," says Swaminathan.
Senior economist and IRMA chairman Y.K. Alagh concurs, and says there is nothing "big bang" about the budget. But as far as the roadmap for reviving the economy goes, he is optimistic that the focus on infrastructure through the proposed "selective relaxation for investments, resource-raising through taxation and attempt to curb government consumption through better targeted subsidies" would pay dividends. Alagh argues the farm sector will benefit if the economy grows faster.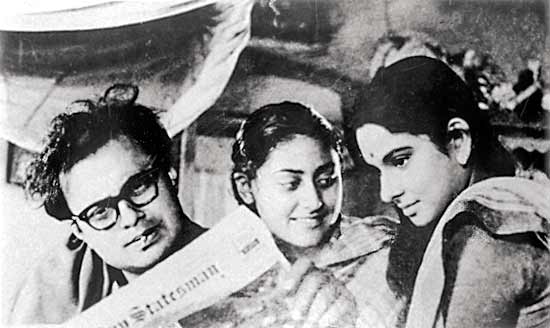 Budget 2012: Pranab promises to keep fiscal deficit at 5.1% of GDP
Mahanagar (1963): What happens when a woman takes up a job because of her husband's limited income and the increasing financial pressure on the family
Though the finance minister has strived to signal reforms, he has steered clear of major political potholes—like how he plans to put the farm sector on the path to creating more employment and reducing wastage. The budget mentions in passing the once-aborted opening up of multi-brand retail to foreign investment, while hinting at allowing 49 per cent FDI in airlines. In fact, airlines have been given more than a helping hand by opening the window for external commercial borrowings (ECBs). Most firms view liberal ECB norms as a blessing that would help them access funds at lower cost from overseas.
Given that the economic and political conditions are not the best (particularly the latter, with UPA alliance partners taking up confrontationist positions at various turns), D.K. Srivastava of the Madras School of Economics is not surprised that the finance minister has steered clear of any controversial pronouncements. "The budget has kind of left the macro side—growth and inflation—unattended. These will continue to be major problems next year," says he. Many experts also share the view that the fiscal deficit target of three per cent (set out in the FRBM Act) would be difficult to achieve in the foreseeable future. Even the projected reduction in fiscal deficit—from 5.9 per cent currently to the 5.1 per cent target set for 2012-13—seems difficult, they feel.
The proposal to give a fillip to revenues through an increase in excise duty and service tax from 10 per cent to 12 per cent (reverting almost to 2008 levels) and the expansion of service tax to all but a negative list of 17 categories is seen as positive. However, even this is couched with expectations of a negative impact on inflation. Srivatava points out that if investment demand remains high and savings increase by a small margin, then the pressure on interest rates will remain. Therefore, growth projections will be under risk and inflationary tendencies will remain stubborn. In fact, the excise and service tax hike will add to inflationary pressure. This offsets the marginal relief to salaried taxpayers accruing from the increase in the standard deduction level in income tax from the current Rs 1.8 lakh to Rs 2 lakh, and the slight rejigging of the slabs.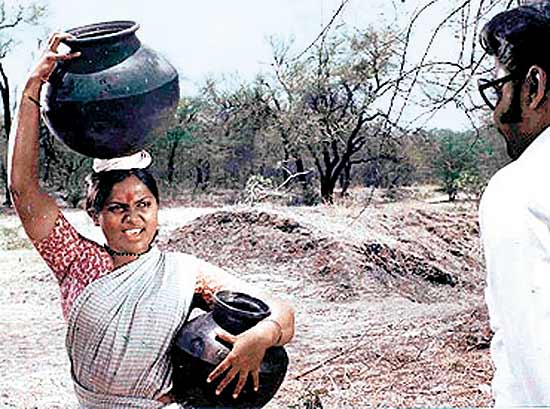 Budget 2012: Rs 14,000 crore for improving rural water supply and sanitation
Thaneer, Thaneer (1981): A drought-hit village tries out a cooperative model for water supply. But corrupt politicians want to exploit water woes for votes.
"An across-the-board hike in excise duty and increase in service tax would push prices and would be a dampener to growth. This will result in an increase in the price of cars across the board. Even for a small car like i10, this will amount to a price increase of Rs 8,000-9,000," says Arvind Saxena, director, marketing & sales, Hyundai India. For an industry grappling with high interest rates, Saxena is unhappy that the budget has offered no relief. The only redeeming factor is that the budget is silent on the much-debated proposal to levy tax on diesel cars at some point. This omission may help automobile companies to firm up their investment decisions.
Unless global commodity prices soften, particularly that of crude oil, the inflationary pressure on India will continue. Deferring a politically hard decision on keeping a check on subsidies can only hurt the economy. In the current scenario, the finance minister's budget expectation of being able to cap subsidies at 2 per cent of GDP may prove unrealistic if the crude oil prices scale over $150 per barrel (a projection the budget speech mentions).
On another front, though Pranab has promised to make available funds for implementing the Food Security Bill, once it is approved by Parliament, the assurance has failed to satisfy some campaigners for this right. "This bill is the only proposal on the anvil to assure promised food entitlements; perhaps the government wants to do this closer to 2014. The idea that resources are scarce to do this now are belied by the statement of revenues foregone—over Rs 4.8 lakh-crore this year," states Biraj Patnaik, a commissioner of the Supreme Court in the Right to Food case.
On social sector spending, experts are happy that the budget has provided more for sanitation than ever and also linked nutrition with sanitation for 200 worst-off districts. In fact, A.K. Shiv Kumar, NAC member and development economist, is happy that more schemes have not been introduced in this "ordinary" budget. But the fact that the allocation for the ICDs programme has been raised from Rs 10,000 crore to Rs 15,850 crore is also not a happy development "as I am not sure what they are trying to achieve". "I am not clear on the reforms to improve outcomes. Without that, putting more money into the same leaky system will not help," says Kumar.
On the proposal to kickstart public-private partnership in school education, experts are awaiting more details. After all, the devil is in the details—particularly in a budget filled with pages of them. As the fine-combing of the proposals begins, there are expectations that Pranab will support his railway colleague and help keep at least some reforms on track. It's time somebody took a stand about the "rollback" school of thought that drives our polity today.
---
Morning After
1991 MRTP limit goes 51% for FERA firms, PSU role diluted, large-scale delicensing Economic Times, July 25
1992 Budget opens up Indian economy Economic Times, March 1
1993 Rupee made fully convertible Hindustan Times, February 28

1994 Finance ministry rules out larger IMF loan in next one year Economic Times, March 2

1995 Sops galore in soft budget Hindustan Times, March 16

1996 Chidambaram presents please-all budget Hindustan Times, July 23

1997 Markets cheer historic budget Business Standard, March 1

1998 Record taxation in swadeshi budget Business Standard, June 2

1999 Sinha slaps taxes, picks up reforms Business Standard, February 28

2000 www.yash.sinha@thandagaram.com Economic Times, March 1

2001 Sinha deftly walks the reforms tightrope Financial Express, March 1

2002 Sinha lands a knock-out punch BusinessLine, March 1

2003 Please-all Budget misses big picture Business Standard, March 1

2004 Tax India, fund Bharat Hindustan Times, July 9

2005 PC makes magic, eyes global glory Times of India, March 1

2006 FM puts fizz back into Fisc Financial Express, March 1

2007 Fisc on track, but reforms go slow Business Standard, March 1

2008 All lines now open for voting Times of India, March 1

2009 Common Minimum Pranab Indian Express, July 7

2010 Pranab takes more than he gives BusinessLine, February 27

2011 Mister Mukherjee's mirage Mint, March 1
---
By Lola Nayar with Arindam Mukherjee, Pragya Singh, Arti Sharma and Namrata Joshi