For millions of spiritually inclined across the globe, the stairway to salvation leads from the venerable, timeless ghats of Benaras. While the holy city may still be a chosen destination for those in pursuit of nirvana, they may no longer wish to be in India to see their last sunset. If the recently released survey on the best place to die is anything to go by, it is the last country of choice to breathe your last.
According to the 'Quality of Death' index, a new study on the provision of end-of-life care, Britain is the best place to end one's life, while India is the least preferred on a list of 40 leading countries. Commissioned by the Singapore-based philanthropic organisation Lien Foundation, the index is essentially a close look at the quality of life and care made available to the old and the dying in developed and emerging countries.
In practical terms, the quality of death in any part of the world is determined by indicators such as standard of healthcare, government policy and social attitude, public awareness about end-of-life care services (known as palliative care), training availability for medical personnel, access to pain-killers and doctor-patient transparency.
While even the richest countries such as the US and Japan have far from perfect healthcare systems, as shown by the index, it is India's report card which looks most unsettling.
Here's why. India has the fourth largest GDP in the world, but in terms of providing for palliative care it ranks even lower than Uganda—an economy 90 times smaller than that of India.
"Less than one per cent is spent on healthcare in India, so it's not only palliative care that suffers. There is no public funding, there is no socialised medicine and the same holds true for palliative care," says Pallium India's M.R. Rajagopal, one of the experts consulted in the report. But then, in a country where even a decent 'quality of life' and access to basic healthcare is an incessant pursuit for millions of people, should it come as a startler that 'quality of death'—in a hard, practical sense—is a concept that still outstrips their collective imagination or priorities?
Whether or not India is ready to integrate palliative care into the broader fabric of healthcare policy, the need for improving the quality of death may soon be a major area of concern. The reason is that in a few years, those aged above 65 would soon outnumber children under the age of five; by 2030 their population would touch a billion.
"Even Japan is struggling with its burgeoning population of the old in spite of being a rich welfare state. Contrast that with India which, with over one billion people, has one-eighth of the world's population. It will need to have a strong system in place to deal with its ageing population sooner than its government thinks," says Gaurav Sharma, an Indian doctor practising in Britain.
---
The Quality Of Death Index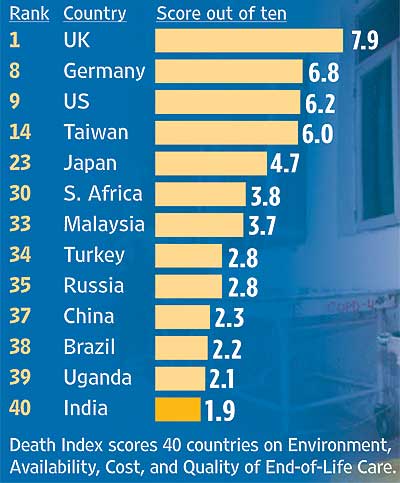 ---
Interestingly, India may not need to look far for inspiration. While the country as a whole was given a thumbs-down in the Quality of Death survey, it was Kerala that stood out as a 'beacon of hope'. With only three per cent of the country's population, Kerala is not only the lone state to have a formal palliative care policy in place, but also provides two-thirds of the care services available in India. The survey found that while India scored dismally in the overall ranking, Kerala as a state alone could rank well on the list, if measured on the same indicators as other countries.
In what could be an ideal and exemplary model in palliative care, the state government also provides funding for community-based care programmes. Moreover, it is also one of the first of India's states to relax narcotics regulations to permit use of morphine by palliative care providers.
In spite of limitations, the demand to enshrine palliative care as one of the human rights is getting ever stronger.
While policymakers may question the idea of replicating the Kerala model across the country on account of funding alone, experts point to factors that go much beyond mere wherewithal.
In the report, for instance, Dr Rajagopal argues that money is not the only answer to relieving suffering and improving the quality of life for those in the last stages of their lives. Community involvement and training of the caring staff and doctors, especially with respect to providing pain-killers, is also equally important.
However, the challenge for India does not just end at getting the right mechanism for palliative care in place. To improve the quality of death, it also needs to address the cultural and social attitudes associated with dying. For example, social taboos about discussing death are so deeply embedded in Chinese and Japanese societies that even language related to dying is avoided. In Hong Kong and many other parts of Asia, the buildings do not acknowledge the fourth floor in the storey-numbering system because the Chinese word for "four" sounds like the word for "death". In India, however, the taboos related to death have more to do with the extremely protective nature of families.
"In India if the patient is terminally ill, doctors always summon the family first and let it decide the patient's fate. Patients are often not even told if they are dying," says Dr Sharma, a practitioner at London's Ealing Hospital for several years. In Britain, the transparency between doctor and patient is not only central to the country's medical practice, it is also mandatory by law to inform the patient and keep their information strictly confidential, he says.
While it's a common practice for relatives in India to care for their dying at home, they often, unknowingly, prevent the desired communication between the patient and the practitioner. This, as the survey observes, hinders the development of a coherent palliative care system.
But regardless of the limitations faced by developed and developing countries alike, the demand to enshrine palliative care as one of the basic human rights is getting ever stronger.
As India's racing businesses continue to spur its economy into one of the world's fastest growing, it cannot overlook its burgeoning population. Indeed, it may soon have to deal with fast-shifting patterns within its demographics. As a cash-strapped, developing country, India took years to enshrine the right to education for every child as law, but with the right of demanding to die with dignity and care, it may not have much time in hand. As the survey rightly concludes, it's a race against time.