Instead of taking on each other with full vigour in the fortnight to the assembly elections, the ruling BJP and the opposition Congress in Madhya Pradesh are fighting dissidence in their own ranks. Predictably, many of the headaches relate to ticket distribution. Both parties have had their share of melodrama, farce, even tragedy. Denied a ticket, a Congress worker from Agar, 80 km north of Indore, consumed poison and died. In Neemuch, Meenakshi Natarajan, a Congress MP and aide to Rahul Gandhi, was locked up in a room by party workers upset with party office-bearers over ticket distribution. Even a senior like state unit vice-president Manak Agar­wal was seen quitting his post in a huff after being denied a ticket.
The BJP fares no better. Deendayal Parisar, the BJP headquarters, has seen so many protests by party workers and RSS workers that meetings for selection of candidates are no longer held there. Only last week, there was a clash at the party HQ after an MLA's effigy was burnt. Ticket discussions are being held in Delhi or at the chief minister's bungalow in Shyamla Hills.
In fact, someone as important and outspoken as minister and Mhow MLA Kailash Vijay­vargiya has faced trouble. He was not keen on repeating Mhow. Instead, he had made it known that he wanted his son Aakash to contest from the Indore-3 seat while he wants to contest for Parliament next year. The party has neither given his son the ticket nor asked him to contest from another constitutency. Another minister, Devi Singh Sayyam, quit the BJP after being denied the ticket from Mandal, a constituency he has represented thrice. In his place, the party is fielding district party president Sampatiya Uike.
Elections are hardly a fortnight away—on November 25—and there's a lot at stake for the two national parties facing off directly. Unlike in neighbouring Uttar Pradesh, the distinct identity politics of the BSP and the Samajwadi Party have not made inroads here. In the last election, of the 230 assembly seats, the BJP won 143, the Congress 71, and the BSP merely seven. For long a Congress citadel, Madhya Pradesh was first taken by the BJP in 2003, under the leadership of Uma Bharati, who then rode on the bijli-sadak-paani plank. The 2008 elections saw Chouhan take the gaddi. He is hoping to repeat the victory, but finds himself hobbled by ministers who are proving to be embarrassments and reb­ellions at every level. Quite unusual for a party with a cadre-based tradition.
Dissidence is nothing new to the Congress though. It has a history of managing egos over the decades it has ruled the state, always saddled with a gallery of competing leaders. Still, it's been quite frustrating of late. Kantilal Bhuria's outbursts against Union minister Kamal Nath and Jyotiraditya Scindia at a meeting with Rahul Gandhi have thrown a spanner in the high command's efforts to bring about a rapprochement among crucial leaders who could together take charge of organising and conducting the election campaign.
Another jolt came in the tribal belt of Jhabua, where Bhuria's niece and state unit secretary Kalavati quit all party posts. Some 75 of her supporters had already resigned from party posts in a show of solidarity. "I wasn't allowed to contest in 2008, and my aspirations have been trampled upon again," she says. "Despite working religiously for the party, I'm being continually ignored." But despite such setbacks, the Congress hopes its leaders will stick tog­ether, seeing that it's now or never. Satyadev Katare, a former minister, insists that while the BJP won't be able to manage dissidence, the Congress will.
Many Congress workers believe the party would have had no problems if the much-touted Rahul Gandhi formula for rationalising ticket allocation had been followed. "Where is the Rahul formula?" asks a Congerss leader. "Tickets have been given to Devendra Patel, who left the BJP and joined the Congress just ten days ago. R. Kushwaha, who came to the Congress from the BSP a week back, has been given a ticket. Many bigwigs manage to get tickets for their kith and kin."
The reference in part may be to Digvijay Singh, former chief minister and, some in the party say, a much-disliked figure in politics. Dethroned in 2003 by Uma Bharati, he had said he wouldn't contest elections for 10 years. The period of self-imposed exile is over, but he is still not keen on getting back to electoral politics. Instead, he has been pushing his son Jayvardhan for the Raghogarh seat. The lad, in his late twenties, was not on the first list; but the second saw him getting a ticket.
Digvijay, as is his wont, has been vocal in his criticism of the BJP government. But he finds himself readily taken on, especially because he himself is not fighting elections. "The only way Digvijay could have accepted the BJP's challenge was by plunging into the fray," says a senior Sangh parivar leader. The saffron brigade believes that voters will find it difficult to trust a party whose manoeuvres are being made by someone who shifted base out of the state after an election debacle 10 years ago and is still unwilling to pick up the gauntlet.
The Congress high command did its bit to foster unity among the satraps. Large crowds turned up for rallies and road shows in Vidisha, Raisen and Indore. Usually, ticket-seekers who are turned down are in no mood to help official candidates win. However, 10 years of being out of power may reverse that for the Congress: 15 years out of power will be too long, so all efforts are likely to be towards bringing the party to power. That, at least, is what Congress bigwigs hope.
The BJP's election strategy is to pitch it as a Shivraj Chouhan versus Congress battle. Chouhan's popularity ratings are high, as he has maintained a clean, down-to-earth image. To counter Scin­dia's influence, for whom the tag of erstwhile royalty presumably wins some following and votes, Chouhan is being projected as a farmer's son.
For all the optimism surrounding him, he is contesting from two seats, Vidisha and Budhni. Though Chouhan has represented Vidisha as an MP five times in a row, he is at present an MLA from Budhni. The Vidisha assembly seat is with ex-finance minister Raghavji, now under the shadow after an aide charged him with sodomy. Raghavji, who have been shown the door, poses a risk. "By fielding Shivraj, the party has manage to defuse the situation," says Girija Shankar, a political analyst. As many as four seats under the Vidisha division, he believes, have been saved by giving Shivraj a ticket from there. And though the party has denied tickets to 46 sitting MLAs, Chouhan has been able to check explosive rebellion by keeping the ann­ouncement of tickets to the very end. He is hoping dissidents will have no time to upset his calculations.
Another factor that cannot be ignored in the forthcoming assembly elections is the role of small parties like the Gondwana Ganatantra Party (GGP), the BSP and the JD(U). Though small parties may not win seats, the votes they secure often decide the fate of the bigger parties.
The GGP had contested 61 assembly constituencies in the 2003 elections and managed to win three. The vote shared by the GGP and the Congress in 12 seats exceeded the votes polled by the winning candidate. In 2008, the party split and couldn't win any seat. Whether the GGP will damage BJP prospects will depend on the number of seats it contests and whether it fights as a united party or as splinter groups. The BSP raised its tally from three seats in 2003 to seven seats in 2008, getting 15 per cent of the vote in the Vindhya and Chambal regions. It can prove to be a dark horse and change the game even if it gets one per cent more voteshare.
So as elections approach, both the Congress and the BJP must be hoping that the last weeks' frenzy and the concurrent changes work in their favour.
***
The Battle For The Middle Belt
Strengths
Weaknesses
BJP

Control of the government machinery
Better organisation
Committed support base, particularly in the majority community
Leader Shivraj Singh Chouhan has good rapport with the rural masses
Has RSS support which has good network

Suffers from anti-incumbency
Allegations of massive corruption, particularly against CM's close kin
Lax administration
Bad law and order situation
Growing mistrust at the top level among state party leaders

---

Congress


Liberal image of the party
Emphasis on youth
Scindia's clean youthful image
Welfare measures launched by Congress-led central government like NREGA
Legacy of Nehru and Indira Gandhi

Weak organisation
Bitter infighting at every level
Mismanagement in ticket distribution
Absence of a leader with a statewide appeal
Failure to raise issues against BJP government emphatically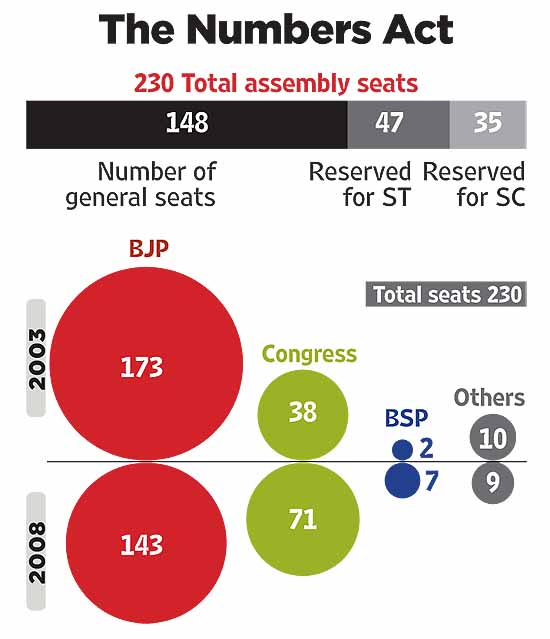 ---
By K.S. Shaini in Bhopal