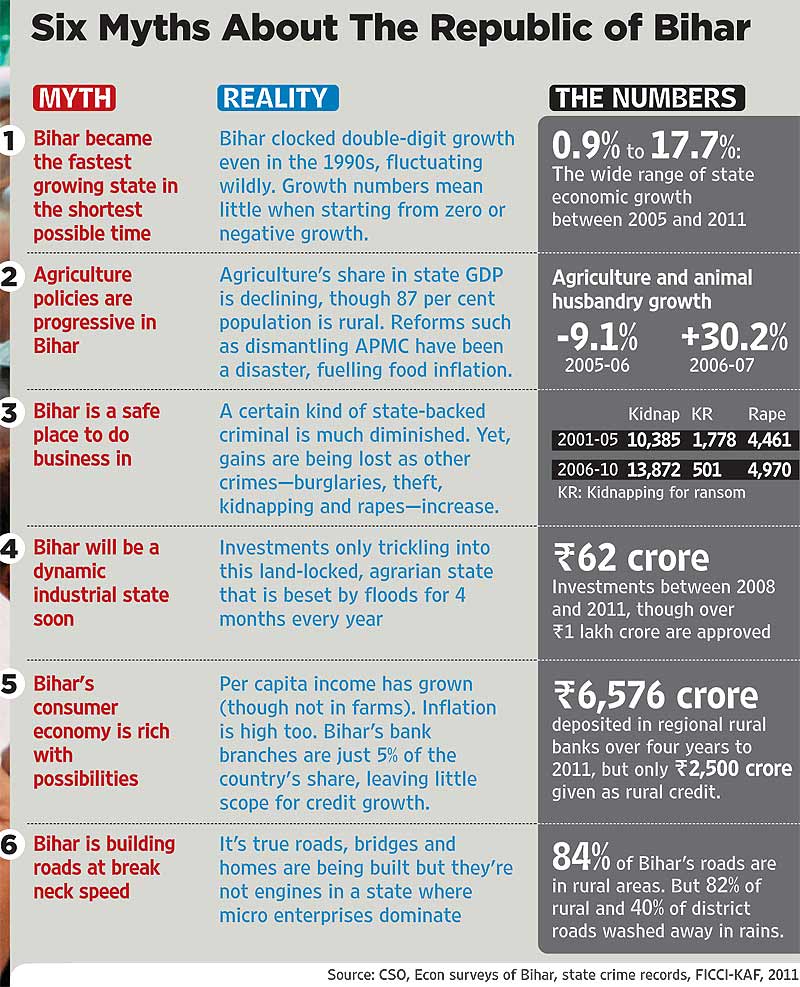 When Patna marches into the backlands of Bihar with its SUVs, ministers and secretaries, you know it's 'seva yatra' season. Despite the 51-degree loo blowing around, Nitish Kumar, the engineer-chief minister of Bihar, draws 5,000 to a tented venue in Buxar. If seeing is believing, this mighty effort—an idea the JD(U) leader claims full credit for—is a telescopic vision of everything Bihar residents want their state to be: service-oriented, corruption-free, a place where communities coexist in relative peace. Almost everyone at the yatra has brought petitions, and, security holding hands around him, the CM walks about, taking them, addressing all. Occasionally, he fires into a microphone: "Health secretary yahan aaiye", "Panchayati Raj secretary kahan hain?" Secretaries rally, promise action, all move on. Two gunny-sacks quickly fill up with petitions.
For a man heralded as Mr Clean across the country and as a responsive, down-to-earth leader in the state—even seen as a potential NDA head someday, a counter-weight to Narendra Modi—it's a surprise to see protesters roar against him in and outside the venue: "Murdabad! Murdabad!" The CM's entourage tries to explain away the protests as "anger over not being allowed into the venue", but the bystanders outside say the protesters are upset about other things—like bad roads, inefficient administration. A day before, on May 23, a defiant crowd threw a rock at Nitish's retreating motorcade over lack of electricity and poor roads, damaging one vehicle.
"In Bihar, the system is yet to reach an optimal level of functioning. One can now say the system has started functioning."


Shaibal Gupta, ADRI
Yet, with the state spending like never before on media, coverage of the stone-pelting was as muted as the news, two months ago, of the I-T raid on JD(U) treasurer Vinay Sinha, which unearthed Rs 5 crore and 50 houses. The secret, say mediapersons, lies in the cash Nitish throws at the press. State bodies place ads directly in publications they choose—instead of hiring agencies—which is seen as a means to directly exercise control over critical publications. Frankly, without a "spin", much of the Nitish phenomenon in Bihar might vanish. Despite repeated requests, Nitish did not speak to Outlook for this story.
Such is the aura of Nitish Kumar, now past his seventh year at the top (roughly half the time his RJD predecessor Laloo Prasad Yadav got) that tales of his successes, particularly to push up the sluggish economy, are customary. In his own words, Nitish's time in Bihar has turned it into one of "the fastest growing sub-national economies in a matter of years". The state uses statistics to back this claim. Going by the figures of the Central Statistical Organisation, which uses data collected from the state, Bihar's GDP grew 11.04 per cent between 2004 and 2009 (Gujarat grew 11.05 per cent). By April 2012, Bihar reported a staggering 14.08 per cent growth, beating last year's 11 per cent.

Empty ground State effort hasn't translated into enrolment
It is with confidence in such claims that Nitish faces nine crore people (nearly a 10th of India) of a state where 22 per cent of GDP is from agriculture (India: 15 per cent), and 81 per cent people are rural. To critics, Nitish's growth is a "chimera", the result of an overly critical eye on the previous regime's failings. They compare the last four years of Laloo's time, when growth averaged 5.87 per cent, with Nitish's first four years of 6.35 per cent growth, and see no 'miracle'. At times, indeed, there's no explaining how Bihar adds up. Agriculture declined 9.1 per cent in 2007, only to grow 30 per cent next year; an inexplicable variation that, experts say, highlights instability.
"People put their faith in Nitish seven years ago. He's unable to maintain that spirit. Hence the challenges in this term."


Razi Ahmad, Gandhi Sangrahalaya
Nitish's many supporters point to 15 years of Laloo's "misrule", during which the poor were neglected, crime and casteism ruled, ultimately turning average Biharis into a "cynical and disenchanted" people terrorised by gangs. Oddly, though, the state's economic survey pegs growth for the same period, 2004 to 2009, at 7.03 per cent, a 35 per cent contraction from the cso numbers that's hard to figure. "The difference was created by the method of calculation," says Prof N.K. Chaudhary, head of the department, economics, Patna College, and a vocal critic of assertions that Bihar is an economic powerhouse-in-waiting. "The correct figure would be 5 per cent, though the most liberal view allows 7.03 per cent."
The Bihar government has outsourced a number of services. For instance, the state's annual economic survey is brought out by a private think tank, the Asian Development Research Institute, since 2006. Since the move, it is regularly pointed out, data on critical performance indicators is selectively included or excluded in these reports. So the problem, says Santhosh Mathew, a senior bureaucrat in the Bihar government, may lie in "faulty, unreliable" data than in "spin".
The claims and counter-claims hardly bother Bihar's forward-looking industry. "Our worries are greatly reduced now that Bihar is safer," says O.P. Sah, who leads the Bihar Chamber of Commerce. "Investments are coming, will come." He rattles off approved projects to make biscuits, soya, agrotech and leather goods. A diamond unit assuring Rs 500 crore. Numerous visits and inquiries by Pepsi, Godrej, Max, Nestle, Britannia, HUL, Bharti company chiefs. He cannot, however, say how many projects are under way.
The state's principal industry secretary, Alok Kumar Sinha, doesn't seem to know either. "It's all on our website," he says. It isn't, actually. The government lists 529 projects approved between 2007 and July 2011 (including non-starter power projects) but says nothing on their status. A ficci study with the Konrad Adeneur Foundation in December 2011 found none of the Rs 42,941-crore investment approved by June 2011 was implemented. Only Rs 62 crore of the Rs 93,577 crore approved since 2008 saw the light of day.
In 2008, industry was a mere 3.8 per cent of Bihar's GDP (India: 20 per cent). "Weak industrialisation in Bihar," explains Sinha, "is because nearly all large industries went to Jharkhand after the state was bifurcated."
"Becoming a statesman from a politician is a big challenge. But there must also be pride in running successful projects."


Manoj Srivastava, Secretary, PRI, Bihar
This is true. The share of agriculture in Bihar's GDP, too, has declined from 42 to roughly 20 per cent, while farm incomes fell alongside three years of negative agriculture growth. So what explains Bihar's high overall growth pattern? Even a casual glance around Ara, Buxar, Hajipur, Samastipur and Darbhanga—towns within hours of Patna—shows palpable change from seven years ago. Restaurants abound, especially in Patna, whose residents eat out regularly, saying they're released from the old fear of being kidnapped. (The numbers show 57 "kidnappings for ransom" in 2011 compared with 411 in 2004. Interestingly, "kidnapping without ransom" increased from 9,199 in 2004 to 9,768 in 2011.) Indeed, restaurants and trading—an employment intensive business—grew nearly 30 per cent over 2008-11.
The capital, in particular, seems in a constant state of construction, as older homes give way to new property developers. Where once leaving city limits meant venturing willy-nilly into agricultural fields, now metalled roads, bridges and suburban infrastructure rim the cityscape. Bridges over the Ganga still wear old signs that declare: "This bridge is severely damaged." Yet, brand new housing blocks designed after their counterparts in Gurgaon or Vashi are coming up, their basements chock-a-block with SUVs, as owners, said to be erstwhile landlords, gentrify in urban centres. Since 2006, registered vehicles have also grown 50-fold in Bihar, from around 80,000 to 3.87 lakh by 2011.

Tough asks SUCI members leading a protest against power hike. (Photograph by Manoj Sinha)
Property in parts of Patna is, residents proudly declare, priced at par with suburban Delhi or Bombay. "Every Tom, Dick and Bihari wants to be a builder," says Vikram Singh, who runs Ashiaana, a property development company. He's not being cocky—surveys unequivocally establish a construction boom; the sector grew 10 per cent since 2008 (and over 13 per cent last year compared with just 4 per cent in 2004.) Bihar also had the highest off-take of cement in India last year. And this boom rides residential demand more than anything else, supplied by the ubiquitous brick-kilns springing up across the rural landscape—the only apparent sign of industrialisation.
"Bihar has a feudal past. Government systems mimic that. People would live on rent from property than start industry."


Prof N.K. Chaudhary, Patna College
It's not just number-crunching or the "low base effect"—when a small absolute growth in a low number adds up to a big percentage change—that characterises Nitish's 'panacea'. Critics say it's also that the government smartly focuses on the small, prosperous section that has made windfall gains, while underplaying the hasty decisions of JD(U)'s first term that haunt the rest of the state during his second. "If there's a construction boom, the question is, who is shining in Bihar," quips Razi Ahmad who heads the Gandhi Sangrahalaya in Patna.
In Darbhanga, at one of the three largest mandis of Bihar, the irony of one kneejerk decision is playing out. The state dismantled a profitable agricultural marketing board in 2006 on the charges that it was inefficient and corrupt. Traders here say they're relieved to see the last of corrupt officials; but now that they straddle the strange in-between zone of privatisation and public ownership, they must provide for their own maintenance, electricity and water. More importantly, mandi prices have vanished too. As talk of privatising the market creates a buzz, traders are insecure. "We've been here for years, will we be moved out?" asks Niraj Kumar Pansari, secretary of the bazaar samiti.
Bihar's roadmap for agriculture admits the state has no record or information for arrivals or prices for farm produce since 2006. The attempt to bring the state agriculture market in sync with the Centre's policies has backfired, leading to huge variations in estimates of production and arrivals, a tough situation in a state that is largely farm-based. Food inflation in Bihar has therefore beaten national food inflation rates. "This was a mistake," admits one public figure in Bihar, an aide to Nitish. "Dismantling apmc should not have been done. Nitish should have taken a longer-term view."
Sure, Nitish hardly inherited a prosperous, effective state machinery. In fact, 42 per cent of Bihar's population lived below the poverty line (Planning Commission) in 2008. His government also introduced new ideas. For instance, the chief minister responded with road-building and education, to create a backbone of skilled manpower and industry. But expectations are higher than that. "Biharis are culturally and politically critical and sharp," says Manoj Srivastava, principal secretary, Panchayati Raj. "Today they don't leave much room for benefit of doubt."
Nitish's initiatives have also been accompanied by tragic irony. Take schooling, for instance. The state provided uniforms, bicycles, mid-day meals, scholarships, free textbooks and appointed over 1 lakh teachers. Yet, up to 20 lakh student enrolments turned out to be bogus; the enrolment rate refused to cross 50 per cent—partly because the new teachers were ill-equipped. The state then trained these teachers, weeding out the fakes. After training, these teachers, who were hired at much lower salaries (Rs 6,000) want parity with regular teachers who earn Rs 36,000. This is a monthly bill the state says it cannot afford, while the protests rage on, earning the moniker "chhah banaam chhattees" or Bihar's six versus 36 battle.
"People are kidnapped for ransom and the police registers 'missing persons' cases. There is your safe Bihar."


Abdul Bari Siddiqui, RJD
To top it, Bihar now depends excessively on central grants to meet expenses. Debt is spiralling. The CAG has revealed that Nitish's bureaucrats are not spending effectively, as ever. For 99 schemes in 2011, the bulk of expenses were drawn on the last day of the financial year. Says Abdul Bari Siddiqui, leader of the Opposition in the Bihar Vidhan Sabha, "There's little scope for industry in Bihar that isn't agro-based. The state refuses to focus on cooperative models, so sold are they on big industry."
Actually, grants from the Centre, which grew six-fold to Rs 24,000 crore last year, could be the real secret to Bihar's growth, not agriculture, not entrepreneurship, not even services. It's not all black-or-white, though. Call it overcentralisation but even Nitish's critics agree that every new project in Bihar—from building bridges to school education—works, but only as long as Nitish's watchful eye is on it. Like the eye of Sauron, the moment he blinks, "the project ceases to exist".
***
Growing Steadily
Four sectors—communications, trade, hotels, manufacturing and construction—grew at over 15 per cent from 2004-11
Bihar tops in vegetable production. A Nalanda farmer beat the world record for rice last year.
Micro food products, beverage and tobacco units account for 80 per cent of industrial income
Number of registered vehicles grew 50-fold from 80,000 to 3.87 lakh in 2010-11
Since 2005-06, Bihar has added more than four crore phone connections
Gap between female and male literacy rate narrowed to 20.1 per cent.
***