Suren Vikhash is an unusual guy. He sees possibilities where others see trash. Not metaphorical trash, but the don't-know-what-to-do-with-it, filling-up-our-landfills variety. He is into upcycling—the design-driven green movement that converts waste into valuable products that look as chic as anything new you get at a branded store.
Upcycling is still a newfangled concept in India. We are used to the three 'R's—reduce, reuse, recycle. Also, there is a sanctimonious halo that surrounds recycled products that rely too heavily on their do-gooder aura to sell themselves, but usually look, well, trashy.
So we buy them to assuage our conscience, but then bury them at the back of our wardrobe. However, extracting beauty and value from what is conventionally seen as waste, by re-imagining, reusing and re-inventing it, is what upcycling is about.
So Suren and his dynamic band of designers at Thunk in India have created a new fabric woven from waste polythene and scrap cotton yarn to make funky laptop bags, backpacks, handbags, wallets and home decor products such as tablecloths, mats and curtains.
They manage office waste from several corporate houses, use waste like tetrapak containers and coffee cups to make stationery items, pen stands and CD cases. Their design innovations include beautiful lampshades created from bottle caps and futuristic furniture from tyres. Their range of fashion and decor accessories, priced between Rs 80 and Rs 2,300, can be bought from hi-end boutiques such as Mother Earth, Bombay Store, People Tree and Amethyst.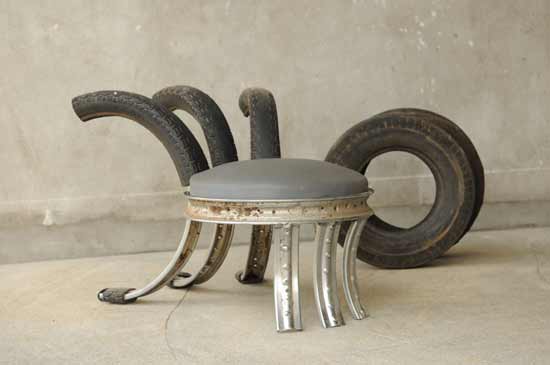 A stool made from the refuse of decrepit bicycles
"I loved the colour combinations, the trendy designs," says Kejal Shah, 20, a business management student, who picked up a handbag, clutch and wallet from a Thunk kiosk at a fair in IIT Bombay. "There is no element of sympathy when people buy our products," says Suren. But he confesses that some do turn up their noses, literally. "When people come to know that our products are made from trash, their first reaction is to smell it," he laughs.
However, upcycling is already a big phenomenon overseas. Anita Ahuja first heard about it in America. Both Anita and her husband, Shaleb, had been collecting and recycling household waste in Delhi since 1998 through their ngo Conserve India and had been stumped by the proposition of reusing the mountains of discarded plastic bags.
The couple had their 'eureka moment' in 2002, when they realised that these plastic bags could be cleaned and pressed into sheets that could then be used to fabricate quality bags without melting the plastic or adding chemical dyes. By 2004, they had trained and employed a small band of ragpickers who converted these plastic bags into high-end fashion totes and wallets for markets in Europe and the US, where they sell their products through stores like Fairtrade Original, Ragbag, Gepa, Globalcraft, Habitat and Karma Karma.
Over the years, they have added other kinds of trash to their oeuvre such as packaging material, tyres, old clothes and also industrial waste from companies like Dupont. Recently, Anita managed to rescue "interesting trash" from the Commonwealth Games to create a limited line of bags that were sold at a premium, mimicking the way the London Olympics website has put up upcycled products, made from the trash generated by the event preparations, for sale.
Upcycling doesn't just ease our burden of waste, but can also generate employment. Conserve India employs hundreds of ragpickers, paying each three times more than what they would ordinarily earn and upcycles about 10 tonnes of waste every month. Suren's Thunk employs around 120 ragpickers. This year, they have sold 25,000 products and upcycled 40 tonnes of non-biodegradable waste.
For Vimlendu Jha, founder of ngo Swechha, upcycling has also been about one cause supporting another. He decided to start his upcycling project, Green the Gap, to generate funds for his Yamuna clean-up campaign. In a ground floor workshop in Delhi's Malviya Nagar, 12 tailors work in tandem to create 'trashion' that is sold from a small kiosk at Select Citywalk mall in Saket and from stores like People Tree in Delhi, Tribal Route in Mumbai and Chilli Billi in Bangalore.
However, upcycling businesses need not be big design studios or ngo-supported drives. They can also be small, personal initiatives. Like Shruti Rohit Dandekar's one-woman show in Sangli, Maharashtra. Shruti was appalled one day when she received just one steel utensil from her neighbourhood 'barter woman' in exchange for three bagfuls of post-pregnancy clothes. What started as a personal project to better reuse her old clothes is now a full-time job that earns her a tidy packet.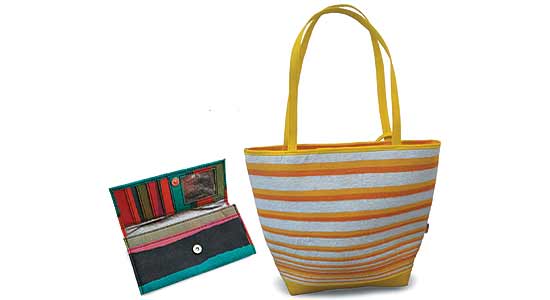 Bags fashioned out of waste plastic
She retails to international and domestic clients through her online store on etsy.com, a niche eBay-like site that connects buyers and sellers of handcrafted products and her own site www.13woodhouseroad.com. Her products include gorgeous patchwork quilts and home decor objects. She works on them herself and also takes the help of 20 women who work on her original designs.
Shruti points out the one big difference between her domestic and international clients. "My Indian customers have a problem with products made from other people's old clothes, no matter how many times they are washed. They send me their own old clothes for upcycling, usually with sentimental value attached," she says.
Indians truly are a sentimental lot. "We all have something in our wardrobes that we just can't throw away. An old sari, an old T-shirt or that shirt you swiped from your dad," says Aarti Nichlani, co-owner of Vitamin K in Mumbai. She upcycles old clothes for customers, who pay between Rs 900 to Rs 1,500 for them.
Last year, Aarti, her partner Prachi Rashmi and Karishma Shanbag of Taxxi dedicated an entire week to having customers walk in with their old stuff that the trio would then transform into new products. An old shirt became a halter top, ties became handbag straps, a sari became a uber chic cocktail dress and, as the day wore on, new ideas on how to upscale old things with a bit of cutting and sewing bubbled on.
"The idea was to show people how a little creativity is all you need to make beautiful products from old stuff lying around the house," says Aarti.
So just look around. What do you want to upcycle today?