Power Point Presentation
Goldman Sachs, Nov 2013
"Currently, the macro challenges that India faces in terms of external and fiscal imbalances, high inflation and tight monetary policy are being dominated by expectations of political change, specifically that the BJP- led NDA could prevail in the next parliamentary elections due by May 2014. Equity investors tend to view...the BJP's prime minister­ial candidate Narendra Modi as an agent of change."

Standard and Poor's, Nov 2013
"The negative outlook indicates that we may lower the rating to speculative grade next year if the government that takes office after the general election does not appear capable of reversing India's low economic growth."

CLSA, Nov 2013
"Part of this rally relates to the end of tapering neurosis, but part also relates to growing hopes that BJP prime ministerial candidate Narendra Modi can win the pending general election which has to be held by May next year,"...the 'Greed & Fear' report stated.
***
In a pre-election scenario where the electorate is disenchanted with the government and the economy is sagging, it is normal to have an impassioned debate and a demand for change. What's perhaps not so kosher is the participation of credit rating agencies, global investment bankers and analysts in the fray, passing definitive judgements eight months before a general election. So was global investment advisor Goldman Sachs trying to merely capture the mood of the market when it put out a report titled, 'Modi-fying Our View: Raise India to Marketweight' earlier this month? Or was it a case of political interference, as dubbed by commerce minister Anand Sharma?
Goldman Sachs is not the only one to have put out a report that comments on the political scenario unfolding in the country. Others like credit rating agency Standard and Poor's too have put out advisories stating that they would review the situation post the general elections in May 2014. "All equity and investment decis­ions have to take note of the politics of the inv­esting country," says Pradip J. Shah of Ind­iaAsia Fund. "In this case, they are not favouring any particular party but are commenting on what they see as an unfolding scenario."
Neelkanth Mishra of Credit Suisse is not surprised that politics is being watched closely. "Given the disaster that UPA-II has been over the last five years" and the "resultant slowdown in growth, it is but natural that people will watch for political signals to understand what policy measures will be taken and whether the sense of all-pervasive gloom and doom can be uplifted," he says.
On the flip side of the argument, for a government trying to woo foreign investments through FDI and FII, such reports give weight to the impression that India is saddled with a lame-duck government and only a new government led by BJP-nominated prime ministerial candidate Narendra Modi can deliver the desired economic growth.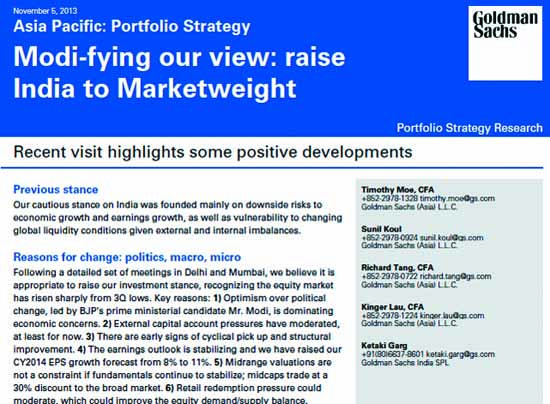 Weight watchers The Goldman Sachs report for Nov 2013
Even the upswing in India's benchmark BSE Sensex, which has risen by 16 per cent since August, is being attributed in part to the Modi factor! Whether it is indeed that or more due to signs of a growth revival and improved sen­timents on the back of good monsoons this year, combined with the US Federal Reserves deferring the expected pull-back of the $85-billion-per-month stimulus programme (which has kept global markets awash with liquidity) and the current account deficit narrowing from $88 billion last year to the government's new estimate of around $60 billion (thanks to a resurgence in exports and decline in gold imports), no one is saying. While core sector output rose 8 per cent in September (comp­a­red with 2.2 per cent in April), high inflation, particularly food inflation, remains a major challenge.
But is that reason enough to put a question mark on the government? Many analysts Outlook spoke to rubbished commerce minister Sharma's umbrage at Goldman Sachs, saying such an assessment of the Indian scenario "is not a deviation from traditional practice". Some, in fact, faulted the government response to "heightened sensitivity" in what is set to be a very high-profile election.
Amitabh Dubey of Trusted Sources feels there is considerable NRI interest in the outcome of next year's election. This, he says, is amply illustrated by the fund flows to the Arvind Kejriwal-led Aam Aadmi Party's campaign in the Delhi assembly polls and the increased activity on social networking sites on the theme. Dubey, a childhood friend of Rahul Gandhi, had noted two years back in a report that if Rahul were to take up either of the two slots—party president or prime ministerial candidate in the 2014 elections—it would "have a galvanising effect" on the party.
Experts say that before elections, depending on the issues and import, it is normal for the level of commentary to pick up. For example, there is almost a frenzy now to comment on the third plenary session in China, the results of which will be known later this month. "In recent times, Thailand, Malaysia and Australia have attracted a lot of commentary in the run-up to their elections. So has Germany, given the debate on what is happening in EU. The point is when politics is seen as a big driver of economics, it attracts a lot of commentary in India or elsewhere. No investment bank has an ulterior motive on India. We should stop looking for the foreign hand after all these decades," says Anirudha Dutta, a former head of India research at brokerage CLSA.
But considering the pressure such advisories, apart from rating agencies, exert on the government (it does tend to influence access to overseas funds and inflow of investments), the political connotations have much bearing on the outcomes. Many, like Dubey, also dub the headline of the GS report as a "marketing gimmick to create a buzz", which it has clearly done.
Indeed, Edward Naylor, Goldman Sachs managing director and head of corporate communications, Asia-Pacific, defends the report saying that "part of our role as a securities firm is to provide objective, impartial and independent research that explains to investors the fundamental reasons driving market sentiment and direction, including relevant political factors. Our Asia Pacific Portfolio Strategy report dated November 5 contains no political bias, nor any political opinion by Goldman Sachs or its analysts". He adds subtly that the report simply notes that investor sentiment is being influenced by the state of politics.
Mahesh Vyas of CMIE feels there is a growing tendency among research arms to comment on politics. So the Goldman report is in line with this trend. "But it seems to be captioned to sensationalise. It can also be seen as somewhat speculative. This sensationalisation and speculative aspect may be pushing the limits of what is accepted as fair research," says Vyas.
The timing is crucial as it seems geared to capitalise on the growing industry fascination with the Modi factor and his track record of nurturing industrial growth in Gujarat. But as he is no one-man army, attributing to him a set of context-defying qualities vis-a-vis turning the tide of the economic slowdown seems far-fet­ched given that ultimately the mechanisms of coalition government will come to play.
Analysts say they don't recall any such reports ahead of the 2004 elections when NDA with its India Shinning campaign seemed set to return to power, or in 2009 when the UPA team itself was surprised to come back with a bigger mandate than anticipated, riding on social dev­el­opment and employment generation schemes like NREGA. This time too, the UPA has dangled the carrot of direct cash transfers and social development projects before the electorate. Of course, only the ballots will show whether this tack will work or not. But comment is free.