Thirty-one years ago, when ad-man Santosh Desai went to study at IIM Ahmedabad, he got quizzical reactions from people there. Studying management was an alien concept among Gujaratis—the only way to learn how to do 'bijnis' was by actually doing business. Few among the Gujarati business class had a clue about management education. Fewer believed that business could act­ually be taught. Despite India's first IIM coming up there, studying 'doing business' in an institution was culturally detached from anything Gujarati.
In Narendra Modi's vibrant Gujarat, the one thing that mattered most was business. It continues to be so. It is a cliche, but bears repeating—business runs in the blood of Gujaratis. With a business-­minded Gujarati at the helm of India's affairs, one has to see why 'bijnis' will occupy a greater share in the scheme of things. How will it affect governance in New Delhi? For answers, look no further than the zooming values of Gujarat-based companies in the stock market. They sense what a Modi victory will mean for business.
Across ages, Gujaratis have been known as India's largest mercantile class that set up much of India's industries. The first textile mill, the first polyester making facility and India's largest milk cooperative all have had a very prominent Gujarati stamp. With Modi at the Centre, it is expected that Gujarati business, which has made the state one of the biggest business success stories in India, will come into greater national focus.
Gujarati business successes have come through family traditions and on-ground experience rather than higher education. For a true Gujarati, the time-tested for­mula was to get a BCom degree and then plunge into 'dhanda'. True Gujaratis have accept this readily. "Education is not as valuable as it is in other states.... Education does not get the importance it needs even from the state government," says senior journalist Aakar Patel
"Gujaratis have a mercantile tradition and strong business ethic, with the ability to take business opportunities and risks."


Raman Mahadevan, Business historian
Nor do Gujaratis join the rat race for government jobs or for the IAS or other services. A 'true' Gujarati would join a fam­ily business or set up his own. That's why Gujarat, despite being a developed state, lacks a good human resource talent pool. Kingshuk Nag, who has studied the Gujarat model, says, "Gujaratis never asp­ire to become top government officials. Even state police service recruits come from Delhi and other states as the locals rarely sat in these examinations."
Unlike India's other business community, the Marwaris, Gujaratis have been more of go-getters, taking risks and boldly entering uncharted territories. Take for instance Dhirubhai Ambani, who, in the land of Gandhi and cotton, introduced polyester as the poor man's fabric. Or Karsanbhai Patel, who went a step further and started making synthetic detergent by hand, thereby merging Gandhian small-scale industry with modern chemistry. "More than others, Gujaratis have always been counter-intuitive businessmen. They tend to get into new businesses and try out new opportunities. For instance, the Adanis went into ports when no one was looking at it," says author Harish Damodaran.
Unlike Marwaris, Gujaratis have been outward-looking, and have been the first among India's trading communities to go beyond Indian shores, to East and South Africa, Burma and to the US to set up their business and networks.
So why is business so deeply rooted in Gujarati tradition? Experts say that Gujaratis' business instinct resulted from the state's geographical location—it has for centuries been a trading centre and an entry port for supplying India. Business historian Dwijendra Tripathy says, "With locational advantages of a long coastline, ports including Cambay and Surat—considered to be the best in India before the rise of Bombay—Gujarat is a virtual window to the outside world. Its rich hinterland and well-developed trade routes connect it to the rest of the subcontinent and beckoned its residents to profitable business opportunities."
Commercial ethics is so pervasive in Gujarat that it drew in even non-mercantile groups. Business historian Raman Mahadevan says, "The strong mercantile tradition and business ethic rooted among Gujaratis, along with the ability to take advantage of opportunities in business makes for a success story." Examples are aplenty. For instance, who ever thought that India can make a success of importing rough diamonds and become one of the world's largest hubs of cutting and polishing them? The Surat diamond industry, one of the largest and most valued in the world, is almost entirely managed by Palanpuri Jains.
In many parts of India, bus­iness is still a last resort and an apologetic proposition. Except in Gujarat. "For Gujaratis, business, not education, is top on social acceptance. They are more comfortable with business and trading where they exchange assets and there is no time lag between investment and returns," says Santosh Desai, CEO Future Brands.
"Gujaratis are more comfortable with businesses in which they exchange asssets, with no time lag between investment and returns."


Santosh Desai, CEO, Future Brands
That also explains Gujaratis' felicity with the stock market, where a majority of brokers and operators are Gujaratis. Says Patel, "Some years ago, I asked som­eone in CNBC how many of their in-house analysts were Gujaratis, and he said he couldn't think of a single one who wasn't." This is related to the fact that they understand the self-generating nature of money, being a money-­lending and tra­ding community his­t­orically. In earlier times, Guj­aratis were familiar with financial instrum­ents like the hundi, which made them naturals in the money trade. With their ability to understand and take risks, the stock market trade is a natural home.
Consider the long list of Gujarati firms (or those whose promoters are Gujaratis) that are stock market stars—Adani Enterprises, Alembic Pharma, Cadila Healthcare, Cipla, Gle­n­mark, hdfc Bank, Kotak Mahindra Bank, Rel­iance Industries, Sun Pharma, Torr­ent Pharma, Wipro—the list rattles on.
Gujaratis are also better networked within their community than others. Patel-owned motels in the US, for instance, are a great example how Guja­ratis have taken advantage of cheap land outside larger cities and created a chain of budget hotels on highways.
As the earlier Brahmins and Vaishyas have given way to Patidars or Patels who have taken centrestage among Guj­­arati businessmen, traditional busi­nesses like textiles, chemicals and com­­modities trade have today given way to modern industries like petrochemicals, pharmaceuticals and manufacturing. Many have bra­­­n­­ched out to newer areas. As a result, some of the fastest growing industries are located in Gujarat. Land acquisition (a prickly issue nationally) has been (often controversially) tackled with speed. Who can forget how Modi found space to relocate the Tata Nano project?
One of the success formulas of PM-elect Narendra Modi too has been to package the Gujarat model of business-led development and present it to the world. A few years ago, his Vibrant Gujarat initiative attracted the biggest names in India Inc and has continued to be India's biggest business showcase. His detractors say this is marketing led, pro-corporate hype that fills the coffers of the rich and ignores the poor.
The Gujarat model is partly responsible for giving Modi a convincing political mandate. The Modi administration is lik­ely to cut-and-paste the formula of business-led growth nationally. This, they hope, will bring in prosperity and economic gro­wth. Millions of Indians anxiously await those returns.
***
Ode To The West Wind
Truly, there is no end to Gujarati enterprise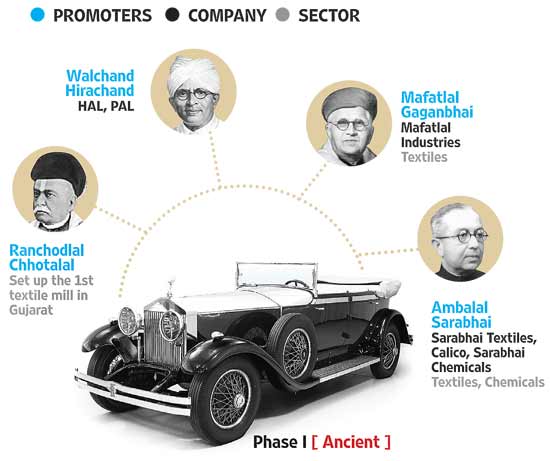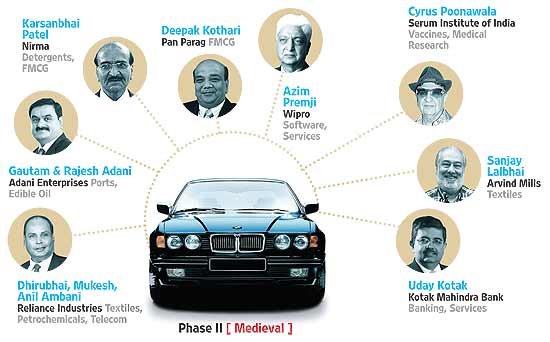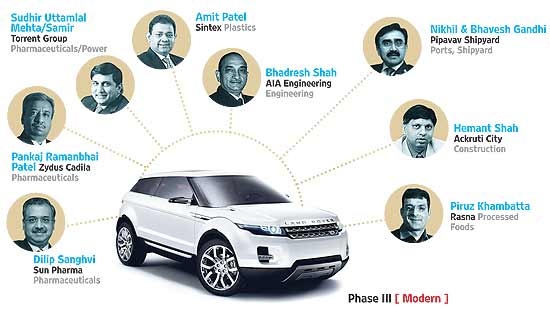 ***
Mitron: The Not-So-Small Club Of Gujaratis Who Fell Foul Of The Law
Jignesh Shah: High flying founder of commodity exchange arrested 2014 for his role in the Rs 5,600-cr NSEL scam.
Ketan Desai: Former president of the Medical Council of India was arrested in April 2010 on bribery charges.
Rustom Nagarwala: In 1971 Nagarwala mimicked voice of PM Indira Gandhi by phone and withdrew Rs 60 lakh from SBI.
Ketan Parekh: 'KP' was a stock market darling, pushing new economy stocks. The 2001 crisis walloped his investors.
Shobhan Mehta: The cricket betting syndicate man was accused of fixing cricket matches
and arrested.
Jayant Patel: This Gujarati-origin doctor was arrested by FBI and faced charges of botched operations in Australia.
Bharat Shah: The diamond merchant (and Bollywood financier) was arrested for his underworld links.
Harshad Mehta: 'Big Bull' stockbroker was brought down by the securities scam. Died in jail, aged 47, in 2001.
Santokben Jadeja, Abdul Latif, Sukur Bakhia: Gujarat has a long list of worthies who were part of the underworld
Roopalben Panchal: Opened thousands of demat accounts to take advantage of a booming IPA market in 2003-05; SEBI penalised her and stock broking firm Karvy.