What would life be without the three Khans? For most '90s kids like myself, our childhood and teenage would definitely have been robbed of a few milestones. Like the first time we heard someone in our Montessori school bus sing Papa kehte hain. Or when we saw Abhi from Fauji turn into that guy who cartwheels into the frame with Aisi deewanagi dekhi nahin kabhi and opens his arms out wide for the heroine. Salman was our first introduction to the roads of Bombay—Kabhi Linking Road, kabhi Warden Road, kabhi Peddar Road—SRK gave us all a romantic contagion called Loveria and we had never seen a song that looked and sounded as fresh as Aamir's Pehla nasha....
Point being, we have first rights over the troika. After all, we have ridden the wave with them when films were still running into weeks and not into hundreds of crores. Except that DDLJ is still running. And that's the thing about the Khans. They are the last bastion of Bollywood as we know it and we aren't ready to let go of them so easily. For letting go of them is to let go of who we are and where we came from. A time before social media made it easy to reach for the stars. A time before Hindi cinema bec­ame cool. When you still had films like Tum Mere Ho (a love story between snake charmers) or Suryavanshi (Norse God meets Indian Reincarnation Fable). The Khan trio, in fact, is the very harbinger of coolness in Indian cinema. Aamir's Dil Chahta Hai is that watershed moment in film history when it suddenly became cool for us to watch Hindi movies. Sal­man continues to redefine cool by wea­ring his shades ulta; and I don't even want to get into the Cool Q of DDLJ's Raj Malhotra, because he is singularly res­ponsible for how an entire generation typifies an ideal lover.
Maybe we as a nation are drawn to trinities. Whether in the form of our gods—Brahma, Vishnu and Mahesh. Or our favourite cricketers—Sachin, Saurav and Rahul. Or perhaps, why this triumvirate captures our hearts, minds and imagination so consummately and passi­onately is because they each have their own voice. No, not Udit Narayan, S.P. Balasubramaniam and Abhijeet Bhatta­charya. But the fact that they are each so distinct and niche, that together they are our ultimate collective fantasy. In a Bollywood version of Maslow's pyramid, Aamir would be right at the top, our first step towards self-actualisation, SRK would be at the centre, fulfilling our need to love and belong, and Salman would be the foundation of the pyramid, its wide base, he who satiates our most human urges, our roti-kapda-makaan-maa-aur-cinema outlook towards life.
How would each of them, so unique and distinct and now set in their own epicness look at all the ingredients that go into making a typical '90s potboiler? The kind of film they all rose from and above. The kind of film we all fondly remember. Here's a fun paralleling of the three Khans to see how they fit into and own the ridiculous, zany, cheesy, emotional and hard-boiled constituents of a Masala Hindi Film.
---
Hero Ka Intro Scene
---
Hero Ka Intro Song
---
Funniest Onscreen Name
---
Hero Meets Heroine
---
Dosti Aur Pyaar
---
LOL Moment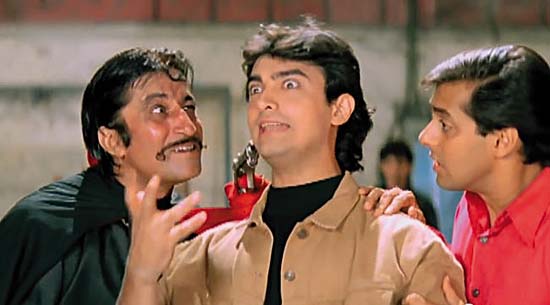 Aamir Aamir and Salman's Andaz Apna Apna is so replete with hilarious, cult lines and moments that it's tough to choose one of them. But Aamir's rendition of "aap daani hain, gyaani hain, antaryaami hain, bahut bade swami hain, shaktimaan hain, buddhimaan hain, balki main toh kehta hoon aap purush hi nahin—aap mahapurush hain" has got to be a top contender.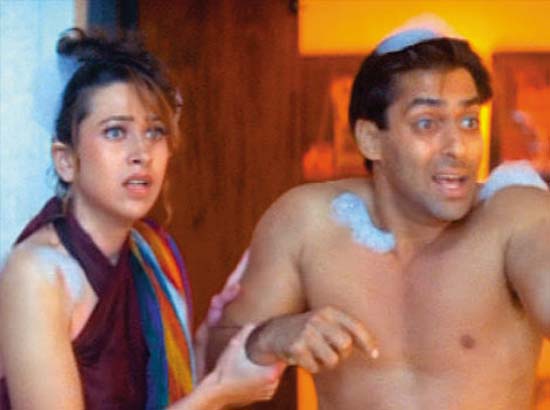 Salman Two Salmans, one Karishma and a bathtub. Karishma, confused, asks Salman how he changed already? He says, "Tumhare saath nahane ke liye utaavla tha na. Isliye quickly quickly!" Mad scene in a mad, mad, film—Judwa.
SRK A fake eye hospital, Shahrukh pretending to be blind, Johnny Lever faking it as a Parsi doc who transplants goat and owl eyes on people, a very earnest Twinkle Khanna and a totally crack ROFL scene. Badshah.
---
Iconic Dialoguebaazi
---
Romantic Moments
---
Intensity Overload
---
Motivational Mantra
---
Fight Sequence
---
Best Title Song
---
(Ishita Moitra is the screenwriter of Mere Dad Ki Maruti, Ragini MMS2 and the forthcoming Bank Chor.)