"What would you do if your mobile number was disclosed on the worldwide web?" I'm asked this rather odd question by Bollywood PR consultant Dale Bhagwagar. "I'll ask the service provider to change it at once," I reply matter-of-factly. But that's definitely not the way Bhagwagar's agile mind, adept at turning trivia into hype for the benefit of his famous Bollywood clients, would have reacted. In fact, one of his major triumphs arose from precisely such a situation. A few years ago, when his then client Shilpa Shetty's number somehow got leaked on the internet (he avoids telling you how), he used the incident to whip up a media frenzy that planted her firmly in the day's headlines. Press handouts were distributed widely and TV reporters were persuaded to take up positions outside the police station where Shilpa went to file a complaint. Candid, even boastful, Bhagwagar says happily, "We used the incident very effectively to hardsell Shetty." And then, as we sip our cold coffees in suburban Mumbai, he casually proceeds to take a call from Rakhi Sawant to advise her how her run-in with the censor board over a music video could be played out in the media. "Good publicity is good. Bad publicity is better. Ugly publicity is the best because it travels the fastest and hits the hardest. The worst of all is no publicity," declares Bhagwagar.
That is his motto, and indeed the motto of every film publicist in the business, though few are as brazen as Bhagwagar. They are more likely to favour sophisticated MBA-speak about "expectation management", like Prabhat Chaudhary of Spice PR, the man behind the marketing success of Three Idiots and Ghajini. The promotion of films and stars has become a big, clever and crafty enterprise and image managers and publicity gurus are riding the wave. Some even have management students clamouring to join them and investors willing to put serious money into their once hole-in-the-wall companies. Film marketing budgets are skyrocketing, more inventive ways are being deployed to manufacture hype for a star or a film, and the media, without which none of this would work, has emerged as a willing handmaiden for the Bollywood publicity machine. "Movies are becoming commodities. What we're witnessing is FMCGisation—movies becoming like soaps and shampoos," says Siddhartha Mukherjee, senior VP, communications, at TAM Media Research.
Take this week's big release, Kites. The film's first "look" was unveiled last year at the Cannes film festival and it has relentlessly been in the news ever since. The publicity machine has been fed stories of a Hrithik-Barbara Mori "affair"; of Suzanne Roshan walking out of her marital home; of Hrithik turning alcoholic; of director Anurag Basu's supposed misunderstanding with producer Rakesh Roshan; of the climax of the film getting leaked in a tabloid; of a controversial kissing scene between Hrithik and a topless Mori. Last week, Hrithik got into a scuffle with journos at Shirdi; shortly after, the film got into copyright infringement trouble in Bihar; last Sunday, a glowing advance review of the film by a foreign critic started doing the rounds on the internet; and then, to top it all, came a tweet of heady approval from none other than Karan Johar.
Is this just a string of coincidences or a variety of cunning schemes hyping the film and its stars? That such a question can be asked about so many films that have hit the screen in recent times strongly suggests the latter.
---
1The Hype Machine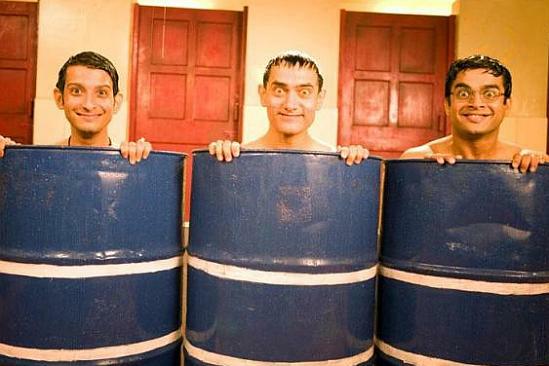 Playing Endlessly on Controversies
Vidhu Vinod Chopra's spat with Chetan Bhagat over denial of proper credits to him for Three Idiots
MNIK's run-in with Bal Thackeray
Karan Johar's apology to Raj Thackeray on the use of "Bombay" rather than "Mumbai" in Wake Up Sid
Kurbaan's posters with a bare-backed Kareena Kapoor removed by Shiv Sena supporters
Billu Barber faces the ire of barbers' associations. Title eventually changed to Billu.
Rann runs into trouble over Jana Gana Mana remix
Deshdrohi's Kamaal Khan gets 5 seconds of fame because of the Marathi-Bihari issue in his film
---
2Issues

Katrina claims to have modeled herself on Priyanka Gandhi in Rajneeti
Aligning Rang De Basanti with causes like the Jessica Lall case, and fatal MiG-21 accidents
Making dyslexia a hot topic for the causerati to sell Taare Zameen Par
Playing up the failures of the education system to sell Three Idiots
Organising college debates on the role of youth in politics to kickstart publicity for Rajneeti
---
3 Sex

The LSD sex scene was leaked to a tabloid
LSD sex scene makes its way to a Bombay tabloid
Neil Nitin Mukesh's nude still in Jail does the round of newspapers
Arshad Warsi-Vidya Balan kiss in Ishqiya turned into talking point of the nation
Mallika Sherwat's record 17 kisses is all that Khwahish is remembered for
---
Much like the multi-crore Kites, the small and critically adored Love Sex Aur Dhokha also very shrewdly played the "sex" angle. First, stills of the film's controversial sex scene were "leaked" to a Bombay tabloid to make sure all the Peeping Toms came to watch it. This was followed by a huge debate around the use of the word "nangi" (naked) in a song, which was subsequently changed to "gandi" (bad). And in the midst of it all, filmmaker Dibakar Bannerjee blogged constantly to assure his core fan base that "all was well" with the content—the film was not titillating at all!
Such calculated marketing overdrive comes for a reason. The stakes in filmmaking are getting higher and higher. Production budgets have been rising steadily, and there are too many films vying for the attention of a fickle and fragmented audience, which means even less certainty than before about the returns. The days of silver and golden jubilees are over, and a film's success essentially depends on how much it can amass over the first weekend. "In an attention deficit society grabbing eyeballs is the be all and end all, by fair means if possible, by foul if necessary," says filmmaker Mahesh Bhatt.
Such is the stress on publicity that the media promotion plan of a film is usually in place even while the film is still being shot. "Rohan Sippy's Dum Maro Dum is already being built up as the next definitive cop film," points out Chaudhary of Spice PR. Ajay Devgan has already begun mouthing inanities about his new film Golmaal 3—"revealing" to a journalist that he has taken his shirt off in the film but does not want to be perceived as a gay icon—even though its release is as far away as Diwali.
Controversies chase each other in the run-up to a film, occupying huge space in the media, only to suddenly fizzle out once the film has ended its tryst with the box-office. Does anyone remember the Sikh community's objections to Singh Is King or Love Aaj Kal? Or the forced change of name of Shahrukh Khan's production Billu Barber to Billu, after the barber community took offence. "We are bombarded with controversies these days," says P.N. Vasanti, director of Centre for Media Studies, Noida.
"There's a lot of noise. I am under pressure to make myself be heard and to be in the news even if I have nothing to say," admits actor Rahul Bose. As the decibel levels have risen, the marketing budgets of films have been rising too, and now range from anywhere between 15-50 per cent of a film's budget, while earlier they would never have crossed five per cent of the production cost. Indeed, in the case of a low-budget film like Love, Sex aur Dhokha, the marketing budget even overshot the production cost of the film. Blue is rumoured to have had a marketing budget of Rs 18 crore, Ghajini Rs 7 crore and Three Idiots Rs 6 crore. "Any medium-sized film will spend at least Rs 4 crore on marketing these days," Chaudhary estimates.
It's not just publicists and producers, the stars themselves are turning marketing gurus, with Aamir Khan—more hard-nosed, calculating and canny than any publicist—leading the pack. His forte lies in effectively projecting his films as being at the cutting edge of modern-day debates and "causes"—middle-class activism with Rang De Basanti, dyslexia with Tare Zameen Par and education with Three Idiots. He is the master of the photo-op, popping up in different disguises in unlikely places such as Varanasi and Palanpur, and even Sourav Ganguly's house in Calcutta. For Ghajini, he used a new hairstyle as a marketing tool, and even gave his fans a free cut in Delhi's Bengali market. No wonder the marketing of Ghajini became a case study at IIM Ahmedabad. So what will he do next with his production Peepli Live? "These days it's not just the Aamir film that people look forward to, he even creates anticipation about how he will market it," says Chaudhary.
---
4Talking Up Trivia
Twinkle Khanna fixing Akshay Kumar's zipper on the catwalk
Mandira Bedi's Ek Omkar tattoo
Shilpa Shetty wearing her mangalsutra as a bracelet
SRK's six-pack abs in OSO
Aamir travelling incognito across the country for Three Idiots with TV cameras following him
Ram Gopal Varma offering to pay viewers to watch Phook 2 alone, without getting scared
---
5 Sneaking in Rumours

Hrithik and Barbara Mori topless in Kites
Hrithik and Barbara Mori romance in Kites
Arbaaz Khan-Malaika Arora split
---
6 Media Tie-Ups

Abhishek talks about Paa in a TV programme
Amitabh Bachchan heads an edit meeting and anchors prime time news on CNN IBN to sell Rann
Rani Mukherjee and Abhishek Bachchan turn newsreaders for NDTV to plug their film Bunty Aur Babli
Previews and on-location access organised for "friendly" media
Film controversies played up as "breaking news" before release
---
Admittedly, without the media, the marketing hype would fall flat. "It's a mutually beneficial arrangement," says Chaudhary. "Everybody has a vested interest and the loser is the reader/audience," says Pritish Nandy less flatteringly. An evening with a publicist in Bombay is enough to understand how the relationship works. The publicist is bombarded with calls from a tabloid for a "juicy" story, and she willingly obliges. Sure enough, her spiel is carried the next day—verbatim. From an ethical perspective, the worrying aspect of the interface is that not just film magazines, or movie, entertainment and music channels, but the mainstream media, too, has become a megaphone for Bollywood's publicity machine. Publicity material masquerading as news stories now occupy central space in the country's most reputed newspapers and TV channels. One media house is known to brazenly, and officially, offer editorial coverage for a price. Every film these days comes with non-stop television promotions, tie-ups with news channels and popular online websites. On some channels, even the footage of audience reactions to a new film is provided by the filmmaker himself. "Earlier, the editorial and commercial spaces were distinct," says Rahul Bose. "Now they are getting merged."
Does it always work, or can it also backfire at times? Many of the most publicised films have bombed, and some have taken off with the slimmest of publicity budgets (see box). "Money alone does not help. The publicity must communicate with the viewer rather than just be visible to him. It should be true to the content of the film," says Chaudhary. However, rarely does it fit these criteria, as some filmmakers themselves admit. "The hype is just meant to grab eyeballs. It doesn't say anything relevant about the film to the viewer," says filmmaker Srinivas Bhashyam. At a time when the film business is highly risky, with 90 per cent of films flopping, is it prudent to spend so much on marketing? And does it not harm the cause of small films, which have a hard time raising even production funds? There are many hard questions in need of answers. But no one really seems to be looking for them in Bollywood, where, after all, nothing sells like excess.
---
Despite the hardsell, they sank

Lara's bikini flaunt in Blue couldn't rescue it
Blue The Kylie Minogue 'Chiggy Wiggy' item song, the much-bandied about underwater sequences and Lara Dutta's ably flaunted bikini bod couldn't stop Blue from going into the red
Tashan Kareena's 'Size Zero' launched many a slimming aid, and even a 'Size Zero' laptop. The film, for which the term was coined, however, remained just that—a big zero.
Kurbaan A bare-backed Kareena, shirtless Saif and talk of "hot" scenes got the film into trouble with the Shiv Sena. Good for business? Well, even as posters were torn, the film was ripped apart by critics and fans.
---
No Gimmicks, Just Hits

Naseeruddin in A Wednesday
Chak De India!
Khosla Ka Ghosla
A Wednesday
Bheja Fry
---
Dancing to the Southern Beat

Malayalam actor Sreenivasan
A scene from NTR's son Balakrishna's film Simha fuels rumours of him taking over the TDP from Chandrababu Naidu
Sreenivasan accused of plagiarism for Oru Naal Varum
Sakshi Sivanand accused of playing truant in Sainika and sending twin sister to stand in
Malavika accuses Rajendra Prasad of forcibly kissing her in the film Apparao Driving School