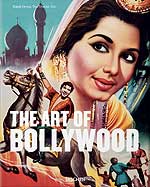 Love affairs are made memorable by their time, place and backdrop. Any Indian film buff with even a passing infatuation with Hindi cinema will remember the first awakening thrill of a film by its publicity—the mega-sized hoardings that erupted at street junctions, the blitz of black-and-white print adverts in newspapers and vivid posters outside theatres and the endless dawdling over lobby cards and song books in cinema foyers and film magazines. Lately, Bollywood poster art has acquired the patina of both cultural cliché and pop art collectible—an over-the-top, lurid image of Indigestible India rather than Incredible India. Since the gradual demise of hand-painted billboards and the transition from paper to vinyl prints to digital technology in the 1990s, there have been a few erratic studies of the social and cultural significance of this art; but it's been too historically dense and pictorially diverse a subject to take on, given the quantity of films produced since the dawn of silent cinema.
Rajesh Devraj, a 45-year-old screenwriter (author of the cult Tamil western pastiche Quick Gun Murugan) and former creative director of Channel [V] in Mumbai, together with a British film books editor, Paul Duncan, have now produced a lasting memorial in The Art of Bollywood (Taschen, Timeless Books, Delhi; pages: 192; price: Rs 1,800). Accompanied by more than 250 high-resolution images, they tell an absorbing decade-by-decade story since the earliest available colour poster of a silent film (with Shivaji piously bowing before the goddess Bhawani) called Kalyan Khajina in 1924 made by the Maharashtra Film Company of Kolhapur.
Five years of assiduous research, of delving into private collections in India and abroad, trawling the archives of the Film and Television Institute and haunting the backrooms of the film industry's producers, distributors and art studios, have produced a rich and visually exciting saga that is not merely a vital adjunct to film history but throws new light on varied subjects—media advertising, innovations in printing, type design, artists' fluctuating fortunes and much else.
For example, in 1948, when Gemini Studios of Madras produced its blockbuster Chandralekha, at an unprecedented cost of Rs 30 lakh, the budget for newspaper advertising alone was a staggering Rs 5.75 lakh for the Tamil and Hindi versions, and an astronomical Rs 6.42 lakh for posters, banners and billboards! And when Gopal Kamble, a modest banner painter from Kolhapur, was lured away from Prabhat Studios by V. Shantaram to work on films like Do Ankhen Bara Haath (for which he produced a 350-ft banner at Bombay's Opera House in 1957), he was presented with a Hillman car; and later when K. Asif stole Kamble to produce Mughal-e-Azam's hoardings, he bought up all available stocks of Winsor & Newton paints in Bombay, Delhi, Calcutta and Madras at a cost of Rs 6 lakh to enable the artist to produce quality art for his high-octane historical epic.
Not all creators of Bollywood art were unlettered street painters or out-of-work geniuses like M.F. Husain. Some, like Diwakar Karkare (associated with B.R. Chopra, Yash Chopra and Raj Kapoor for films like Naya Daur, Daag and Mera Naam Joker) and S.M. Pandit (who painted for R.K.'s Aag and Barsaat), were graduates of the prestigious J.J. School of Art. Others such as B. Vishwanath (Do Bigha Zamin and many R.K. films till Bobby) and Vasant Parchure (who produced the first 24-sheet poster for Kaagaz ke Phool for Guru Dutt) held degrees from Pune's Fergusson College. The big daddy of them all was Baburao Painter (1890-1954), an early pioneer of silent cinema in the mould of Dadasaheb Phalke.
It is to Devraj's credit that his invaluable investigation not only unveils the vast canvas of Bollywood art but also the lives of the men who disseminated the imagery to a devouring public. Devraj grew up in Jaipur, where his father ran an advertising and film distribution business, watching billboard painters in his backyard (mostly hoardings for Coca-Cola). While working in the Lamington Road area in Mumbai in the mid-'90s, he began picking up vhs copies of obscure B-movies and posters and encountering poster-sellers like the late Hussainibhai with their rag-tag collections. "I was struck by some rare 1930s booklets in the Art Deco style," he says, "and realised that this art had a much older and stylised design vocabulary". (There are several lovely examples of these in his book, including one for a 1932 film, King of Ayodhya, with Durga Khote decorously billed as "Mrs Khote".)

Gradually, Devraj began to build a data base, sifting through 15,000 images, including every slide in the Pune film archives and about 7,000 movie booklets in chronological order. "Few posters survive from the pre-Independence era so booklets are often the only available evidence. Dating posters is also difficult because regional distributors would cheaply reproduce the film producer's originals, sometimes altering the artwork to the taste of their audience. Dharmendra would be highlighted in Punjab posters; in Uttar Pradesh, heroic and violent images would take centrestage."
Asked what the rarest image in his book is, Devraj says it's probably the Mughal-e-Azam poster by Gopal Kamble. "I've only seen one copy of it and I was also lucky to find an account of how this image was conceived".
Luckily, Devraj is a big-hearted film fan and not a high-brow snob. His selection of images and stories extend well beyond movie milestones and marquee stars in the 80-odd years of film art that his history covers. The Art of Bollywood includes sections on obscure and racy sub-genres: Indian B-movies and mythologicals (Tarzan, Ali Baba and a host of serpent lore films like Naag Mani and Naag Champa), Bollywood's pop decade (Teesri Manzil, Hare Rama Hare Krishna etc), art films (Paar, Paroma, Party et al) and horror and sex films (with lurid titles like Khooni Murdaa and Bister ka Mazaa).
To complaints by historians, bibliophiles, film buffs and publishers that explorations of unusual territory are scant, here is an exhaustive and entertaining take on the great Indian love story with movies, as it played out on the streets for close to a century.