How did mining baron and former Karnataka tourism minister, Gali Janardhana Reddy, go from pauper, to prince, to prisoner in a little under a decade? After his arrest and remand into judicial custody in September, hitherto unknown details of Reddy's investments and assets in India and overseas are emerging. The amount of wealth discovered at his palatial home in Bellary alone has baffled onlookers.
The raid teams found gold idols of various Hindu gods, weighing many kilos. They seized several gold necklaces; hundreds of gold bangles, many encrusted with diamonds; several hundred pairs of gold earrings, again studded with diamonds; and over a thousand gold rings, many bejewelled with precious stones. A stash of platinum jewellery that has been unearthed is yet to be inventoried. Gold was also uncovered in the foyers and bathrooms of the Reddy 'palace'. The number of bank lockers maintained by Reddy, his family and their associates in various banks is mind-boggling. Add to this a fleet of luxurious, custom-made cars and choppers. Not to mention the golden chair—reminiscent of the throne of a former Mysore maharajah—that has his initials GJR inscribed as the coat of arms.
Just how did a collecting agent of a floundering chit fund company come to head one of the richest and most notorious mining firms in the country and amass so much wealth (unofficial figures say he is worth Rs 5,000 crore) in an incredibly short span? There've been many renderings of this fairy tale in the recent past, but here is a unique take through the pinhole of Reddy's income-tax papers and documents accessed by Outlook.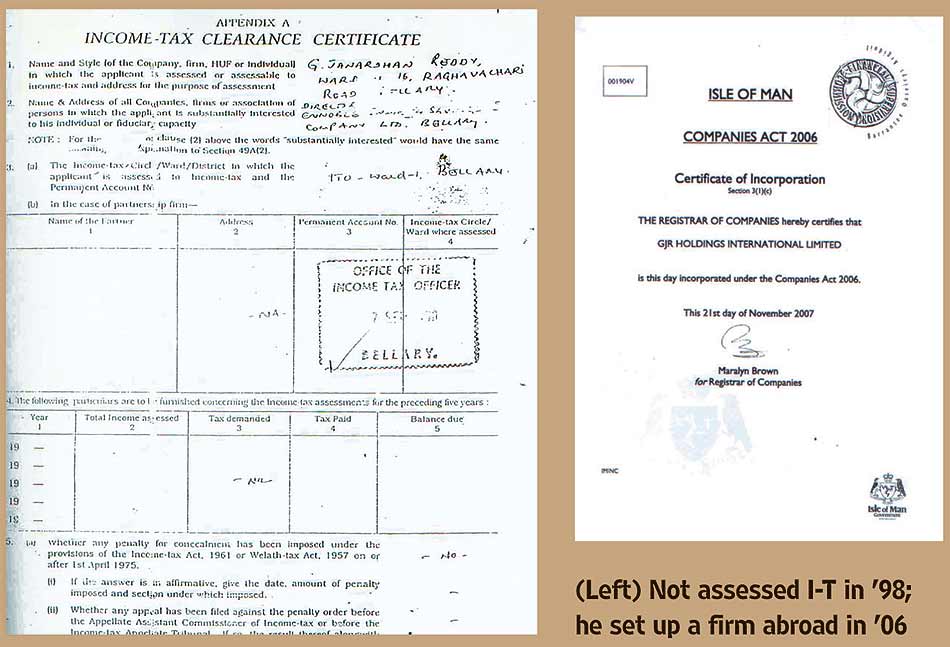 The revelation that Reddy, when filing for an 'Income-Tax Clearance Certificate' in Bellary on September 7, 1998, declared that he had not been assessed by the I-T department in the five preceding years, is astounding. At that point, Reddy, all of 31 years, was associated with Ennoble India Savings and Investment Company Ltd. He had joined the company in 1989 as a collecting agent and rose to become its director in 1991. The share capital of the firm for the fiscal year ending March 31, 1997, was Rs 4.35 lakh. By the end of the next financial year, this had risen to Rs 25 lakh.
Nearly bankrupt in '03, Reddy's fortunes saw a dramatic revival with brother Karunakara's election as MP, Bellary.
Ennoble India's accounts for 1997-98 show that the premium collected from the public was Rs 6.10 crore. But most of this money was diverted to purchase immovable properties and make investments in other Ennoble Group companies—in gross violation of RBI norms. On October 5, 1998, the RBI prohibited the company from accepting money from the public. It said the net worth of the company had become negative—its liabilities exceeded its assets—and cancelled its registration. Interestingly, despite the RBI's intervention, the company's financial statement in the subsequent financial year denotes an increase in share capital from Rs 25 lakh to Rs 7.49 crore. The source of the enormous influx of funds is not apparent at this time.
Between 1991 and 2003, Reddy, a matriculate, promoted more than half-a-dozen firms. Many of these defaulted on the payment of loans to the Karnataka State Financial Corporation between 1998-2003. The loan amounts accumulated to Rs 4.71 crore from Rs 2.80 crore. By March 31, 2003, his net worth was in the red due to the burden of unpaid loans. Reddy was nearly bankrupt. He also had no personal assets except for 10 acres of agricultural land in Bellary district.

Photograph by KPN
What finally turned Janardhana Reddy's fortunes around was the controversial Obulapuram Mining Company (OMC) that was incorporated in October 2001. The firm had not undertaken any major activity till 2003. However, OMC's financial statements on March 31, 2004, indicate the following: Rs 28.16 lakh is denoted as cost of land (mine area). The cost of extracting iron ore is listed at Rs 35.50 lakh. The capital of the firm was a mere Rs 10 lakh. And unsecured loans amounted to Rs 5.96 crore. The firm's turnover that year was Rs 35.52 crore from iron ore sales. A company with an investment of Rs 63.66 lakh had parlayed it into a turnover of Rs 35.52 crore, 58.8 times in terms of investment. His rivals say the returns are unheard of. It's alleged that the OMC suppressed not only its turnover, but also declared low profits that year by showing inflated mining expenditures. It also paid 'abnormal' service charges to M/s Raghavendra Constructions and Ennoble Constructions, in which Reddy and his wife were partners.
The OMC's robust mining activity coincided with Janardhana Reddy's brother Karunakara Reddy's election as MP from Bellary. In 2003-04, the ore extracted was 5,42,050 MT. At Rs 650 per tonne, the turnover was Rs 35.50 crore. This figure jumped manifold in subsequent years. In 2004-05, the turnover was Rs 149.03 crore and in 2005-06, Rs 207.99 crore. These are official figures and Reddy's rivals say they only tell the 'partial truth'. They point out that the rate per tonne of iron ore from 2003 to 2006 was cited as Rs 1,100, while the international price of the mineral had gone up to $225 (roughly 10 times that figure).
Cut to Janardhana Reddy's personal income-tax declarations during these years. As mentioned, his net worth was reduced to the negative as of March 31, 2003, and prior to 1998, he was not even an I-T assessee. But, for the financial year 2003-04, he declared a total income of Rs 12 lakh and a taxable income of Rs 9 lakh. For 2004-05, there is a stupendous jump in total income to Rs 8.38 crore. In 2005-06, this doubled to Rs 17.8 crore. In the same period, there was a simultaneous increase in his moveable and immovable assets. The total value of these assets rose from Rs 32.45 lakh in 2003-04 to Rs 43.52 crore in 2005-06. A similarly mercurial growth can be observed in the total assets of his wife Lakshmi Aruna. Incidentally, Reddy has been charged with grossly under-representing his earnings.
By 2007, he had spread his wings beyond Indian shores. He became a director of the GLA Trading International in Singapore. And his GJR Holdings International Limited was incorporated in the Isle of Man on November 21, 2007. In November 2009, he floated GJR Holdings (Mauritius) Limited and in 2008, he made investments in Dubai and Indonesia.
With the varied assets of the entire Reddy family coming under CBI scrutiny following Janardhana Reddy's arrest, more dirt is likely to surface in the months to come. The dream run enjoyed by the Bellary brothers appears to be in for a nightmarish conclusion.