What's The Fight About?
Apart from the Rs 13 crore assets declared in his election affidavit last year, insiders say there is more big money involved:
Three flats in the names of Municipal Mazdoor Union, Bombay Labour Union, party journal The Other Side and a basement leased to Dastakari at 6/105 Kaushalya Park, Hauz Khas, New Delhi
Rest of the money from the sale of a 10-acre plot in Nelamangala, on the outskirts of Bangalore, valued at Rs 22 crore, but sold for half that amount
A property in Mangalore valued at Rs 2-3 crore sold a couple of years ago for Rs 60 lakh
***
Is the fiery Socialist giant-killer George Fernandes being torn alive, as a long-time loyalist of Fernandes and his fervent admirer, put it, "like a mouse between two cats"? He was referring to the high drama in the former defence minister's official residence at 3, Krishna Menon Marg on January 2, when Fernandes's estranged wife Leila walked into the house late at night with their son, Sean, daughter-in-law and infant grandson, sealing the gates against Fernandes's constant companion of the last 26 years—and his only minder while he steadily deteriorated from Alzheimer's—Jaya Jaitly. It really depends on which version you buy.
According to Richard, the youngest of George's four surviving brothers, it was nothing short of "a medieval palace coup", prompted by unfounded suspicions of George's assets being "looted" by those in charge of him. Richard says he arrived in New Delhi on January 2 from Bangalore in response to an urgent SOS from Jaya. She had written to the four brothers, informing them that the power of attorney granted to her on March 21, 2009, "to enable us to use George's salary for his immediate work and expenses", had been mysteriously revoked in "an attempt to prevent me from caring for George or running his establishment, which includes his health, medication, food etc".
According to Jaya's letter to the four brothers, ever since the family started discussing with George his personal assets last November, his mental health deteriorated rapidly. The letter says on December 18, Leila and Sean came to the house at 2 pm, "and after getting rid of the attending staff, behind closed doors have forced George to affix his thumb impression on some papers. They left soon after. Since then, he keeps staring at his thumb."
Jaya describes his behaviour as "deeply agonising to watch and handle. He hums, groans, twitches violently and resists medicines and sleeping". But "they"—Leila and Sean—have never bothered to enquire about his doctors, medication details or progress. "Only someone spending 12 or 24 hours with him will know his problems," she adds.
Now, with "no finances to pay persons, nor any caregiver to provide him physical and psychological comfort," Jaya urged the brothers to come as soon as they could to settle these issues.
But by the time two of the brothers arrived, it was too late: Sean had already dashed off a letter to the police requesting security for the family "since I apprehended foul play/physical harm from some people who I believe have been looting whatever is left of my father's assets and taking advantage of his poor health". He also demanded the police forbid entry to all except "such people who my father, mother and I wish to meet".
"I have as much money as my father has. And by the time I'm his age, I'll surely be worth many times that."
But Richard managed to elbow his way into the fortified government bungalow, and says the changes he found were alarming: "Even George's two beloved dogs were blocked off from entering the living room." In an attempt to dodge his new minders, Richard says he talked to his brother in Konkani, a language that neither Leila nor Sean can follow. When he asked George about signing the paper revoking his power of attorney, George merely mumbled: "I don't remember." What was even more disgusting, according to Richard, was the tea party the family organised where George was paraded before his erstwhile political colleagues like Sharad Yadav. "George was led in, looking blank, refused to sit down, and led away to his room in ten minutes."
Richard claims George was whisked away to a hospital when he was briefly away from the house. The doctors wouldn't let him meet his brother, nor can he get in touch with George's main attendant, who has been a member of his household staff for the last two decades. He is convinced now that his brother is being used by Leila and Sean to get back at Jaya. "She's getting a raw deal," he says, pointing out that Jaya was the only person whose visit George looked forward to every morning. "From changing his diapers to giving him his medicines, she was everything to him. In the 20 years I've seen them together," he says, "I've never seen any friction between them." And now, he points out, "George was being used as a stick to beat Jaya with."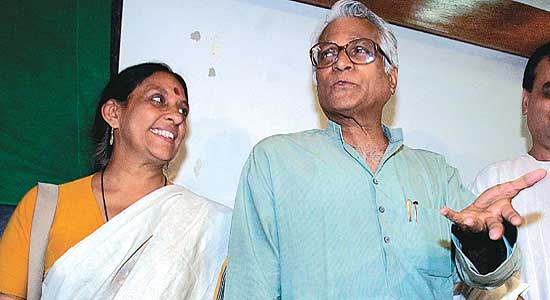 Jaya Jaitly, George's partner for 26 years
Lawyer Abhijaat Bal, a close associate of both George and Jaya—and a witness to the paper granting power of attorney jointly to Jaya and Frederick D'Sa ("George's most trusted confidant for last 20 years")—agrees: "She cared for him as if he was her child. And now it's like someone has kidnapped her child."
So why have Leila and Sean walked in so abruptly into George's life after all these years? Is it greed, as the other side alleges, for George's considerable assets—estimated at Rs 26 crore? Sean, an investment banker based in New York, says such accusations are "ridiculous": "I can show you my bank balance—I have as much money as my father has. And by the time I'm his age, I'll surely be worth many times that." As for his mother, Sean says, "her house in Panchsheel Park is already worth ten times more than what my father has in his bank account."

The reason he took the drastic step, he says, is because he had been asked by people close to his father to safeguard his interests. "I'm his son, and it's my responsibility to ensure he receives the best care in his old age and to see that whatever assets he has are used for his care."
Even Leila waves off the accusation that she reappeared in George's life because of his financial assets. After all, this daughter of a minister (Humayun Kabir) was a first class first from Oxford who decided to take up nursing as a career, starting on a salary of Rs 150. For the last 26 years, she points out, she has abstained from being part of his life and she would have continued to do so if she believed he was happy and comfortable. "Our relations were never inimical—we continued to exchange flowers and cakes on our birthdays, or Sean's birthday." Although she never formally divorced him, Leila says she harboured no resentment against him— "only sorrow—because I wanted my son to have a Dad".
But there were a few catalysts that led her to re-enter George's life, Leila says. The first time was when she read in the papers that he was going to contest for a Lok Sabha seat in 2009. Leila says she was fully aware that he was in no condition to contest elections. "It was a travesty, and I wanted him to retire with dignity." She didn't prevail then, but was happy for him when he was sworn in as a Rajya Sabha member a few months after he lost. Soon after, before a visit to the US to see their son and daughter-in-law, she says she was suddenly overcome by doubt: was she doing the right thing by staying away? "My nose gave me the answer," she recalls now. She was led into his bedroom, "a dreary room with no natural light, stinking bedsheets and mattress which hadn't been changed.... He was incontinent, but so what? That's part of the condition."
Being a practical person, Leila says, she intervened: she wrote to a close friend, Sampa, asking that more care be taken about George's environment. She wrote also to Paul, the only brother of George she was in touch with, pleading for a male attendant on a 24-hour basis, adding that George had liked the idea. However, Leila says, Jaya rejected the proposal saying "George is fit enough to take care of himself. Also appointing an attendant-cum-helper will send the wrong message in political circles, which may affect his present political position."
The next catalyst, Leila says, came when she returned from New York and went to visit George and give him Sean's gifts. Jaya insisted on sitting there with George, depriving them of any private time together, she says. "George was very changed, cowering and glum." So she decided to invite him to her home instead, so they could together look at the pictures of their grandson. With great difficulty, he could be fed a bowl of dahi, and he was very insecure, kept repeating, "I have no money". Saddened by his plight, Leila says she gently and slowly explained to him that it was not true: he had plenty of money.
What she did, she says, is for Sean's sake, for George's sake, not hers. She intends that George live in a small but beautiful home close to hers when his Rajya Sabha term ends this May, so she can be at hand for taking care of him. "He needs peace, music, and eventually all those who are near and dear will be part of his life." Yes—even Jaya.