"Whatever you're meant to do, do it now. The conditions are always impossible."

—Doris Lessing
Of the many fears that the December 16 gangrape of a young paramedic in Delhi last year unleashed, one important but cynical one was that the public outrage that had erupted in its wake would fade away just as quickly as it had built up. That the perpetrators would get away, the case would drag on for years, and nothing, really, would change on the ground. That what Lessing had exhorted women to do would not materialise. But that fear seems unfounded. Exactly a year after the barbaric rape, the discourse on women's rights has not only persisted, it has acquired new shades, more nuance and a stronger, more assertive tone. Be it of Suzette Jordan, a single mother of two who was gangraped in Calcutta, but refused to be referred to as the 'Park Street rape victim' and demanded she be identified by her real name, even though the law prohibits anyone from naming a rape victim; of the law intern who plucked up the courage to blog about retired Supreme Court judge A.K. Ganguly as the man who harassed her in a Delhi hotel; of the young journalist from Tehelka who spoke up against her powerful editor Tarun Tejpal and subsequently quit; of the women who exposed godman Asaram Bapu and his son Narayan Sai, landing both in jail on rape charges.
"A discourse on women, bodily integrity, dignity, is now going on in the media, the courts, living rooms, chai stalls."


Karuna Nundy, Supreme Court advocate
A renewed feminist voice is rising from other quarters too. As Zubaan publisher Urvashi Butalia says, "This is a new urban generation of women which is speaking up with new-found confidence." The women's movement has new members, urban and rural, and among them are women who may not have previously identified with the lofty ideals of 'feminism' as it were, but find themselves at a crossroads—standing up to prejudice and violation, or drowning under its weight forever. For those who hesitated to speak up before, the revival of public interest and active debates around women's issues have provided the push. Whether it is a grassroots-level movement like the No Toilet, No Bride campaign, in which rural women in Madhya Pradesh refused to marry into houses which had no toilets, or an elite drive like the 'Moustache Campaign' in Bangalore, in which women sported moustaches to subvert stereotypes of femininity, the momentum is powerful, one that may be hard to reverse. And refreshingly, those giving a fillip to this momentum are ordinary, small people like you and me.
Mumbai radio jockey Meera Damji, 34, had friends teasing her about turning into a hard-core 'feminist' when she walked the talk and brought a man to book for assaulting her on the stretch between her office and train station. "If fighting for equality makes me a feminist, then I am one. Keyboard activism is important, but it's important to get out and do the real thing, get your hands dirty." With a group of three women and a young man, Meera has gone a step ahead and formed an activist group called 'War Against Railway Rowdies'. "We wanted to do something about the dozens of men who hang out of trains not due to lack of space, but because they like to touch women waiting to get on at the platforms. So we mobilised other women who used the local, and with the help of the railway authorities, the women's commission and the police, nabbed more than a dozen men. We'll be carrying out this operation every few weeks," she says.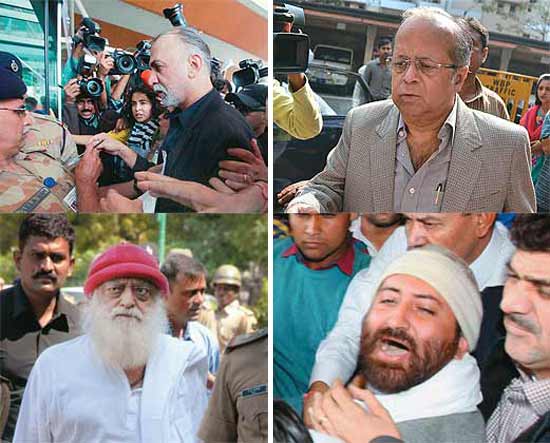 Hell hath no fury like a woman assaulted. No one escapes it, be it a powerful editor, a retired judge of the Supreme Court, a godman with unshakeable mass appeal, or his son...
"There's a cultural shifting of plates. It's still unsteady, but the female voice is coming out sans layers of editing."


Advaita Kala, Author
Up north, in Jind, where violent crimes against women are a well-documented litany, Dimple, 28, an activist with the Haryana chapter of the All-India Women's Democratic Asso­ciation, is witnessing a slow, but silent change in attitudes of women. She herself refuses to attach either her father's or her husband's surname to hers, and says, "We've had nearly 10,000 young girls join the women's movement in the last two years. There is now an aggression among them, where they express anger at increasing restrictions and assaults. But they are still not able to speak up in public spaces, in front of their fathers and husbands, though they open up within the confines of the women's forums we organise." The growing solidarity within the women's movement and outside of it has no doubt pushed the boundaries and allowed a lot more room for exchange of ideas. "There is a larger support system for women who decide to speak up. There is empathy and sympathy, but I think the one who complains still needs a lot more acceptance," says actress-politician Khushboo. She faced a lot of flak a few years ago and was dragged to court for saying in an interview: 'None of the educated people will insist that their bride be a virgin.' "There is a broader platform to voice concerns, which is great. We see the social media playing a good role here, women are blogging, writing posts on social networks. It's a new generation joining the conversation," believes women's rights activist Kavita Krishnan.
If the female voice feels more empowered, taking on a fiery, go-getter tone, the nature of debates, too, has shifted. "The discourse has moved on to include talk of gender neutrality, sexuality, the very definition of rape. The laws, however, despite the amendments, do not reflect the complexity of women's issues," says feminist scholar Nivedita Menon, who has been writing actively on ongoing issues of crimes against women.

Taking to the streets Calcutta erupts in protest over a the gangrape and murder of a 20-year-old in Barasat, West Bengal. (Photograph by AFP, From Outlook 16 December 2013)
"This moment must be exploited. How many people knew about the Vishakha guidelines before this outrage?"


Harish Iyer, Activist
"People are talking not just about violence, but violent stereotypes, like the lyrics of certain kind of music, for example Honey Singh's," says actress Swara Bhaskar, who is one of the organisers of the upcoming week-long mobile music campaign 'Jurrat', to mark one year of December 16. The actress found herself in the middle of an angry debate on her role in the film Ranjhana, that some felt was glorified stalking. It's true: with every new song, film, debate, complaint, a new standard is being set—a talking point at least, for greater reflection.
From seminars and conferences, Feminism 2.0 has now come to the streets. So the ripple effect of the recent high-profile cases has been felt not just on public platforms, but even in homes. "This is a time when one is reflecting on the old-school feminism vs the new, simply because young girls are now guided by a sense of personal violation. Young men have also joined the debate," observes women's rights activist Akhila Singh. Documentary filmmaker Shilpi Gulati, who divides her time between Delhi and Mumbai, feels a sea change in how she negotiates her space in her conservative home, where she has had to fight for every little issue, unlike her older brother. "After the December 16 incident, what has become vital to me is to assert my right to be out, to loiter on the streets, anytime I want to, like my brother. I have had to fight off the efforts of my family to 'protect' me by restricting my space."

Walkovers Slutwalk in Delhi. (Photograph by Tribhuvan Tiwari)
"Ten years ago, I may not have protested gentler discriminations, but now I find myself asserting my right at every level."


Nandita Das, Actress
Not that the Indian woman's voice hasn't been ringing over the decades. In the '90s, it was Bhanwari Devi's public cry for justice against gang rape; in the '80s, it was the widespread solidarity for Shah Bano's controversial maintenance lawsuit, in the '70s, it was the anti-alcohol agitation in Andhra Pradesh. "The modern Indian women's movement has its seedbed in the women's movements Gandhi incorporated into the Quit India movement. Post-Independence the emphasis of the Indian women's movement was on fair treatment in the work force and the right to political parity. With these emphases bearing fruit, the newly toothy women's movement has its work cut out," says author Sally Howard, who has closely observed the movement in India and has written The Kama Sutra Diaries: Intimate Journeys Through Modern India (out in March next year), which details the changing sexuality of Indian women.
In 2013, the agenda, above all, is one of introspection. "We, who claim to be so liberal, sorted-out, really need to sort out our own issues first before pushing others to do so," says actor-activist Nandita Das. "Subtle inequalities exist everywhere. There is discrimination at every level. Ten years ago, I may not have protested gentle moments of discrimination, but now I see myself asserting my right at every level."

Walkovers Moochi walk in Bangalore. (Courtesy: Wooplr)
"There's a real sense of outrage among young Indians that's giving rise to grassroots feminist activism," says Howard. "Some of these groups are very inventive in their tactics. Consider Mind the Gap, who stage anti eve-teasing flash mobs on the Delhi Metro wearing T-shirts reading 'Main cheez nahin hun mast mast' or 'I am not an Item', or the Blank Noise Project, a campaigning community art group that put a lie to the tired argument about eve-teasing victims 'asking for it' by wearing western outfits when they staged an exhibition of garments Indian women were wearing when they were sexually molested—most, of course, turned out to be in saris and salwar kameezes." While in the West, a 'third-wave feminist uprising'—with sexualisation of young girls and objectification of women in the media as key issues—may be taking root, back home, we are just about coming to terms with both an increase in violent crimes and an understanding of the inequalities women face every day but have learnt to brush under the carpet over the decades.
"There is a change in the way people treat victims now. There is now a lot more sensitivity rather than slander."


Urvashi Butalia, Feminist scholar
The past year, though, has been a tipping point, as many within the movement agree. "We have had a bunch of concrete changes—the new laws, a lack of tolerance of daily harassment by women who have now internalised a sense of right," says Supreme Court advocate Karuna Nundy. "Even men with 'progressive' values are waking up to the subtleties of true consent. We have cross-party political support on a Delhi Womanifesto, that sets out six achievable goals to limit violence within one year. It's part of a new social contract, which may have been difficult to get a year ago." Adds Nandita Das, "The number of rapes hasn't come down, but the reporting has doubled. Issues are out in the open, the police seems to be stepping up, there is an urgency." Biswajit Paul, a student of Andrews College, Calcutta, says none of his female friends "can even relate to this keeping quiet business". The public discourse on women's issues has expanded to schools, colleges, even parents who are concerned about what their kids may be learning, finds Butalia. "My speaking out," says Suzette Jordan, "has motivated so many young women to share their stories. Women are feeling less victimised."

On Youtube Kalki Koechlin's satirical rape video went viral
The widening space of women's issues has sparked off niche initiatives, too. Shilpi Gulati is off to Mumbai to shoot a documentary on women's rights within the Parsi community. In Bangalore, journalist-activist Nisha Susan launched The Ladies Finger with her peers to "write about gender-related issues but not necessarily gender violence". The biggest hit on the irreverent, quirky website is a post by Swati Bhattacharya, national creative director of JWT India, titled: 'My Dirtiest Secret As A Mother'. "Her secret is that she leaves work everyday at five in the evening. It turns the notion that women have to work late hours to prove their worth on its head," says Nisha. "What is heartening is that there has been continuous engagement on gender issues in the last year, and the kind of people talking are not the usual choir gang," she adds. The general refrain is: this is a good time to capitalise on the momentum. Harish Iyer, a Mumbai-based activist, speaks of the amplification of thought thanks to social media. "Due to the revival we're seeing, every issue pertaining to women has surfaced. But through the online network, there has been a sense of widespread support—it has revolutionised the revolution." On the ground—in our homes, across dining tables, in the bedroom, out on the street, in public forums and political spaces—the wheels seem to be moving. It should please Doris Lessing that Indian women are "doing it now".
***
Tamil Muslim poet Salma pens The Hour Past Midnight in 2005, an intimate portrayal of Muslim women, friendship and love, braving the threat of obscenity charges.
Goolrukh Gupta takes her community elders to court in 2012 challenging why Parsi women married to non-Parsis should be denied access to the fire temple.
Acid attack victim Laxmi takes her fight to the Supreme Court, following which the crime becomes part of CrPC and states are directed to pay Rs 3 lakh as compensation.
Tribal women in Himachal Pradesh hit the streets in July protesting a century-old law barring women from inheriting ancestral property.
Sarpanch Sushma Bhadu, a 33-year-old mother of three, mobilised women in 25 Haryana villages last year to say no to the ghoonghat as it hindered their work.
The Bharatiya Muslim Mahila Andolan set up sharia courts for women, by women, in Mumbai, Pune, Gujarat and TN in October to deal with marital discord, property issues.
Women from Jharkhand's Oran and Ho communities challenge legality of Chhota Nagpur Land Tenancy Act, which limits right to till jungle land to male descendants.
An internal committee in JNU created after a fatal attack by a spurned lover on a girl student this July reveals 53 per cent JNU students have faced sexual harassment.
Thirty women students from NIFT, Bhopal, lodge a sexual harassment complaint this year against the institute's joint director, following which he is transferred.
Kanpur girl Vandana refuses to marry her prospective groom after his greedy family demands a four-wheeler in dowry just a few days before the wedding.
Actress Shweta Menon files FIR this November against a Congress MP from Kerala charging him for sexual misconduct. Takes it back after he apologises.
Women members of the Goa Writers' Group sexually harassed by the moderator seek legal recourse after lack of support from members of the group.
---
By Neha Bhatt with Dola Mitra