As an intern at a Mysore hospital in 1984, Dr R. Balasubramaniam came across a 44-year-old patient with idiopathic hypertension, or high blood pressure from no readily indentifiable causes. All that doctors could do was write out prescriptions. Some medicines were not available at government hospitals; others were expensive and out of the patient's reach. Ultimately, the patient died. The cause of death, as Dr Balasubramaniam puts it, was treatment that was never administered. The death of someone in his mid-40s from an easily manageable condition left a deep impression on Balasubramaniam's mind. He vowed to reach out to people with little or no access to healthcare. Teaming up with 20 like-minded students from the Mysore Medical College, he set up the Swami Vivekananda Youth Movement (SVYM) to take healthcare to poor villagers.
Diagnosis by slovenly trial-and-error, batteries of unnecessary tests, overprescription—these are the bane of treatment, burdening patients, and in India, keeping treatment out of the reach of the poor. By focusing on keeping treatment "ethical, rational and cost-effective", the SVYM has been able to bring to villagers the kind of healthcare generally available only in the cities. It has been doing so for three decades now.
In the initial years, Balasubramaniam says, SVYM members drew inspiration from the teachings of Swami Vivekananda. They were also moved by beginner's pluck. "Not knowing the intricacies of organisation-building gave me
the confidence to venture forth," he says. "It also gave me the courage to treat without being too prescriptive, allowed me to listen to the voices of the indigenous communities I was working with." For three years, the SVYM's outreach was small: it would distribute physicians' sample drugs, organise blood donation, diagnostic camps and mobile clinics around Mysore.
The big leap happened when the SVYM team visited Heggadade­vana­kote taluka of Mysore district, one of Karnataka's most backward talukas and home to displaced and dispossessed forest-dwelling tribespeople. Most of them suffered from acute malnutrition and a host of debilitating diseases. The doctors set about treating what immediately needed attention but soon realised that wasn't enough. Working in the taluka yielded the lesson that illiteracy, the lack of clean water and sanitation and similar factors all contributed to the medical problems, which could not be add­ressed in isolation. "You cure a child with cholera or typhoid and send her back to the same environment that caused the illness!" says Dr V.S. Sridharan, who abandoned a lucrative paediatric practice in the late 1980s to devote himself to work in the villages. "Poverty and deprivation cannot be solved with pharmacological care."
Despite the limited resources, the SVYM decided to take a holistic approach. Among those early initiatives was an informal school for tribal children, run from a disused cowshed and a 10-bed hospital in Kenchanahalli town. As some of the student members completed their medical studies, the SVYM was able to set up a multispeciality hospital in Saragur. These were the beginnings of the community-based health, education and development initiatives of the SVYM that today cater to some four lakh people in and around the taluka.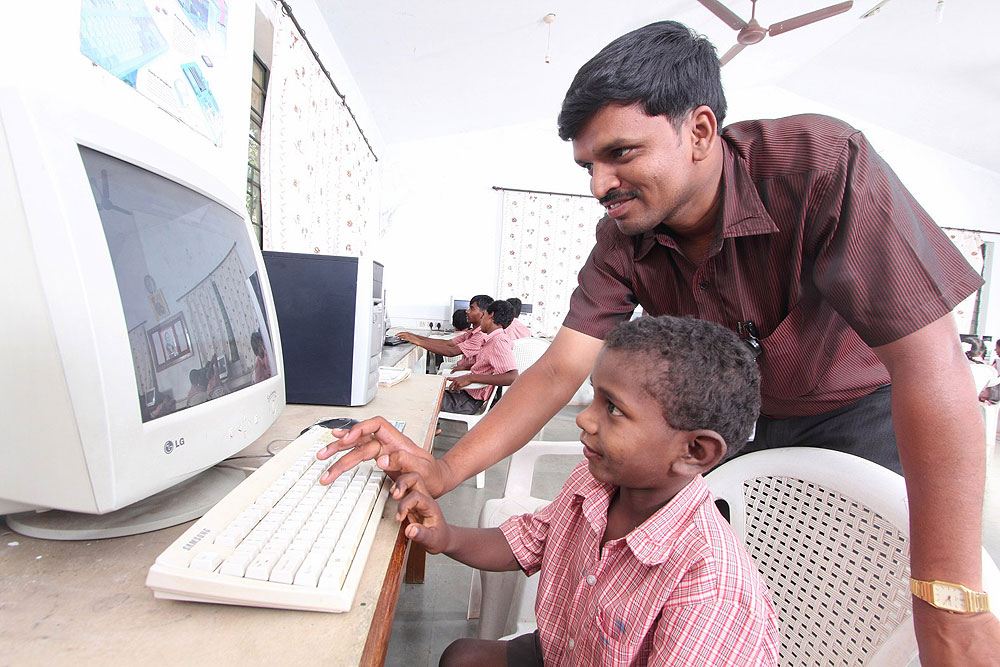 From providing just medical care, the SVYM has started addressing rural issues holistically. Providing education (above) is one of its major goals today.
Every step of the way has been difficult. The biggest challenge has been getting financial assistance and enough manpower—not just doctors—to carry out the work. Just 8-10 per cent of the SVYM's funds come from the government, an inconsistent trickle. The rest comes from donations. Equally difficult is getting people to bring their skills to rural areas. Even the state takes an apathetic attitude towards rural healthcare: senior doctors shy away from rural postings; juniors posted in villages play truant; infrastructure is minimal or absent. Certain health problems don't even light up the government's radar. For ins­tance, says Dr Datharth, an ENT specialist with SVYM, there are affordable ophthalmological care programmes funded by the government—aimed at treating cataract, glaucoma etc—but hardly any for deafness. "Deafness can be rectified with hearing aids, intensive therapy and implants. Patients can learn to speak, communicate and lead a normal life," Dr Datharth says. "But this is yet to reach the government's attention."
Such challenges haven't sapped the spirit of SVYM's members. Not content with the change they have wrought in Heggadadevanakote, they plan to exp­and into the more inaccessible regions of north Karnataka, and later other parts of India. In education, the SVYM has graduated from running a school in a cowshed to running the Viveka Tribal Centre for Learning in Hosahalli, a semi-residential institute, and the Viveka School of Excellence in Saragur, a CBSE-affiliated school. It also runs four community-based educational init­iatives called Shikshanavahini, Pre­repana, Vidyakiran and Premavidya.
The focus now, says Dr Balasub­ramaniam, is on building a commu­nity's capacity to change for the better on its own. The empowerment the SVYM aims at now is social, economic and political—of far greater ambit than merely handing out medicines. He quotes Swami Vivekananda: "All the wealth of the world cannot help one little Indian village if the people are not taught to help themselves."
It bothers Dr Balasubramaniam that when expensive multispeciality hospitals are mushrooming in the cities, even basic government-run clinics in rural areas are non-functional. Also that young medical graduates no longer feel the need to give something back to society. "When students today spend lakhs of rupees on acquiring medical education, their only focus is going to be on recovering their investments," he says. And with medical practice becoming commercialised—the badges of a doctor's success being big Mercs, club memberships and regular vacations abroad—it's difficult to attract talent in less lucrative areas. At least one group of doctors is trying to make a difference.