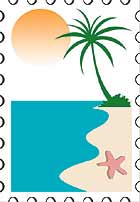 The Blackwaters, No Longer
I would wager that nobody in India could spot Havelock island without a bit of help from Google maps. Yes, it is in India, in the Andamans, with a minuscule population of about 7,000, mainly post-partition/1971 war settlers from East Pakistan (Bangladesh), government employees and descendants of kaalapani convicts. Here is a little tidbit that threw me: more than one lakh tourists visit Havelock every year. Interestingly, the figure was around 5,000 (and that is being liberal) before the tsunami.
The only way to reach Havelock is a two-hour ferry trip from Port Blair. The ferry runs twice a day from Port Blair and carries around 150 passengers. During the tourist season, a bigger catamaran with a 300-passenger capacity plies. One could take a sea plane from Port Blair. But be warned: the service is reportedly unreliable. With a tiny maximum capacity of eight passengers, you may have to lighten your holiday luggage (you are allowed 10 kg in all). Sail, swim or fly—once you have made it to Havelock, there is tonnes of fun to be had. Beautiful resorts to just sit and relax if all you want is to read a book. But if you are the sort who likes a bit of adventure, I suggest scuba-diving, snorkelling, trekking and biking. With the influx of tourists—largely foreigners and upper middle-class Indians—the buzz in Havelock is infectious. And maybe, more and more people will discover this tiny and delightful dot on the map soon.
---
Non-Generic Volcanic Activity
When you are in Havelock or the Andamans in general, please forget all the other seafront places you have seen. It is not Goa or Phuket. It is not your regular tourist, 'let's just chill' destination. Havelock is an experience. It is like another planet: daybreak at 4 am and darkness by 5 pm. Though we are technically still on IST, the actual time is closer to the Thai or Burmese or Sumatra zone. By air, the Andamans is about 1,200 km from either Chennai or Calcutta. A ship sails from Chennai twice a month. It takes 60 hours to reach the island. Sumatra is four hours by sea. Phuket is 300 km away. While you can do all your regular touristy stuff here, I recommend the Barren Island, where you can get up close and personal with an active volcano. Barren is an uninhabited island. Though diving is allowed near Barren, landing is prohibited.
---
Elephantine Adroitness
Rajan is 60 years old and was about to be sold for Rs 25 lakh to a temple in Kerala. But his managers wanted to keep him on the island. So, they went about collecting donations from his admirers around the world. Rajan was brought to Havelock for Hollywood film The Fall. He is happily at home there and has even taken to the sea like a child in a candy store. He joins tourists on scuba-diving and snorkelling missions in return for toffee, jaggery and bananas. He poohs the moment he steps in the water, but swims like a fish despite his tonnage. Did I mention Rajan is an elephant? Be prepared to shell out Rs 10,000 a head for a 30-minute swim with him.
I was dismayed when I was served frozen fish time and again in Havelock. The 'catch of the day' doesn't come cheap either—it is as expensive as on the mainland. There is not much organised fishing in Havelock. Almost the entire catch is sent to the mainland as the local fishermen source their boats and wares from the traders there. If you expect fresh snappers, jack fish, surmai, lobster and tiger prawns, go fish yourself.
---
Gunja In The Jungle
The Nicobari Cottage at Barefoot Resorts is built on a minor elevation. A few steps up, and you're amidst a lot of flora and fauna. Whenever I park myself at the spacious sit-out with a book and beer, I get a curious visitor—a brown-hued stray dog who plops down and wags his tail non-stop. Only when I beckon does he climb up and quietly come sit beside me on the floor. And no, he doesn't ask for my beer or crackers. He leaves me at the restaurant some 100 meters away and goes about his routine. I named him Gunja. Whenever I'd sit on a rock in the empty beach and meditate, Gunja would silently come and lie down next to me. I'd spot him only when I open my eyes. One day, I was returning after a bike around. It was dark and I lost my way in the minor jungle surrounding the resorts and was going around the trees in circles. Gunja came ambling along with a friend of his in the jungle, spotted me and stopped in his tracks, wagged its tail and ran back a distance, turned around and gave me a look that seemed to say: 'Follow me'. He did this escorting act a few more times till I could see the lights of the resorts. After safely depositing me at the entrance, he ran back to his friend waiting in the jungle.
---
(The author is the president of Outlook Group)